The Atlantic Daily: Contact and Conflict
Trump eschewed the two-state solution, his campaign may have talked to Russian intelligence, Andrew Puzder withdrew as labor secretary nominee, and more.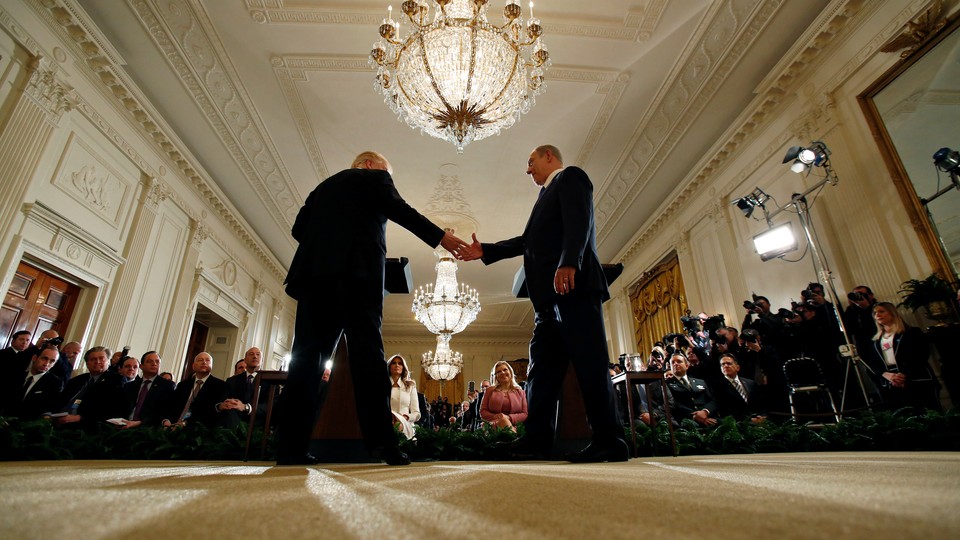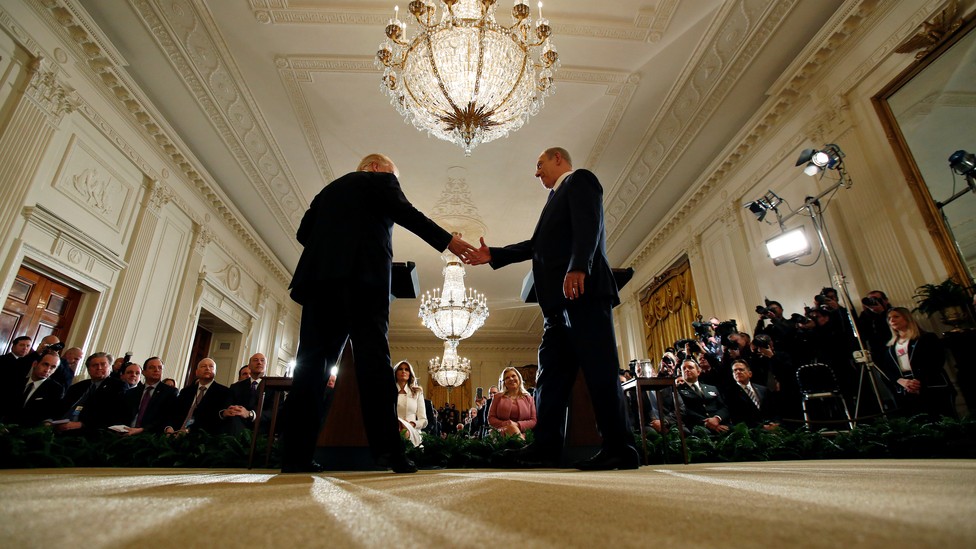 What We're Following
Netanyahu's Visit: During a joint press conference today with Israeli Prime Minister Benjamin Netanyahu, President Trump said he wouldn't commit to a two-state solution for the Israeli-Palestinian conflict. Instead, he said, "I'm looking at two states and one state, and I like the one that both parties like." The two-state solution, though, has had bipartisan support as a key piece of U.S. foreign policy for decades, and it still doesn't have workable alternatives. As for cooperation between the American and Israeli governments, Israel's ambassador to the U.S. is getting along well with the Trump White House, though Netanyahu may end up missing Obama as a political foil.
Flynn Fallout: The saga surrounding the former national security adviser's firing took another twist last night with reports that Trump aides were in contact with Russian intelligence during the campaign. Congressional Democrats are calling for an investigation, but the minority party may not have the leverage it needs, and the pressure to respond is mounting for Republican leaders. For his part, on Twitter, Trump is directing criticism toward the officials who leaked information, arguing that such revelations are "just like Russia" and "very un-American!" In some respects, the leaks actually illustrate the power of American institutions to check the president. But on the other hand, this form of bureaucratic resistance could have dangerous consequences.
Puzder and Pruitt: Trump's nominee for labor secretary withdrew from consideration today after several Republican senators said they wouldn't be voting for him. Democrats had long been skeptical of Andrew Puzder's record of opposing labor regulations, but what ultimately cost him the GOP votes was a series of revelations from his home life: past allegations of abuse from his ex-wife, plus his admission that he employed an undocumented housekeeper and failed to pay the required taxes. Meanwhile, the Senate is set to vote this week on EPA nominee Scott Pruitt, and he'll likely be confirmed—even though he's a leading advocate against the agency he would head.
---
Snapshot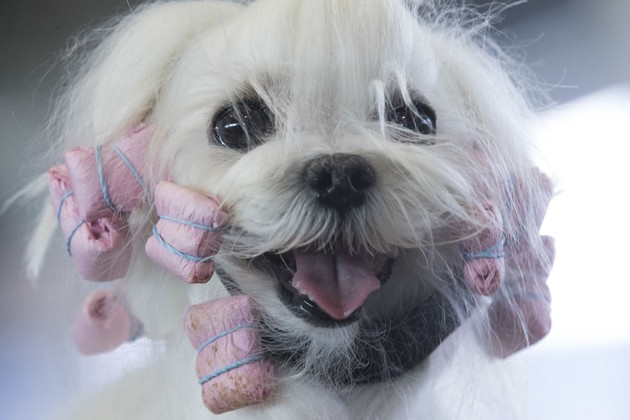 ---
Who We're Talking To
Adam Schiff, the top Democrat on the House Intelligence Committee, shares what he hopes to find out from congressional investigations into the Trump campaign's contact with Russia.
Andrei Soldatov, a Russian investigative journalist, explains what it means to have "repeated contact" with Russian intelligence.
Steve Vladeck, a law professor, discusses the history of the Logan Act, which Flynn may have violated—and what's at stake now that he's resigned.
---
Evening Read
Sophie Gilbert asks: "What kind of art will come out of this moment?"
If Ali Smith's Autumn is a harbinger of things to come, the work that emerges over the next decade will be extraordinarily rich. The novel, the first book in a quartet inspired by the seasons, considers post-Brexit Britain at the tail end of last summer, experienced through the perspective of a 32-year-old art history lecturer named Elisabeth. But its ambition and craft allude to—and cite—great works of literature, from  Brave New World to The Tempest. Through Smith's dazzling, whimsical feats of imagination, a news cycle described by Elisabeth as "Thomas Hardy on speed" becomes the backdrop for a modernist interrogation of history. … As the novel proceeds, she layers together fragments of books and paintings and song lyrics in an act of literary decoupage, as if to mimic the fragile patchwork of national identity.
Keep reading here, as Sophie examines how Smith responds to a tumultuous moment in history—and finds lightness in unlikely places.
---
What Do You Know?
1. Green sea turtles nest about every ____________ days, laying 100 to 200 eggs in each clutch.
Scroll down for the answer, or find it here.
2. Balneotherapy, the practice of bathing in mineral water for healthy skin, originated in ancient ____________.
Scroll down for the answer, or find it here.
3. ____________ is the author of CivilWarLand in Bad Decline, Pastoralia, and Lincoln in the Bardo.
Scroll down for the answer, or find it here.
---
Reader Response
Yesterday, I asked whether it's okay to break grammar rules in the name of wordplay. Knox, a self-described "ambiguity ally" when it comes to language, shares a point from her family's ongoing debate:
My youngest brother has a favorite defense; he likes to define "a word" with a sly smile and a hefty dose of side-eye. "Well. Don't you know the definition of a word?" He'll pause for dramatic effect. "According to the dictionary," a stab at my English degree, "a word is a unit of language that functions as a principal carrier of meaning. The purpose of a word is not grammatical accuracy but a mode of conveying meaning. So, if you understood what I meant, then my mastery of language is intact."

I'll argue with him in the name of a good dinner debate, but truthfully I can't help but agree. The English language for me is less a network of rules and codes and more a tool for impact. However, the upshot here: It's always the combination of the two—the codes and the meaning—that will craft the highest-impact message.
More linguistic debate to come in Notes this week. For now, if you've got a rebuttal for Knox's brother—or a rule you won't break under any circumstances—please tell us about it: hello@theatlantic.com.
---
The Renewal Awards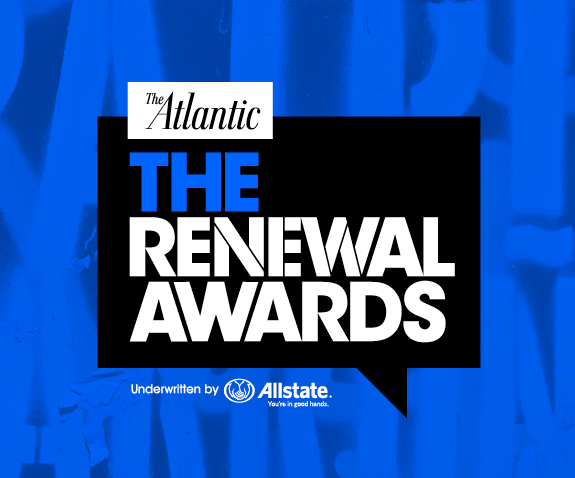 Twenty-five nonprofits from across the country have been chosen from nearly 500 nominations to compete for $100,000 in funding. This nationwide competition aims to recognize local organizations driving positive change in their communities and bringing progress to the country. Vote here by Friday, February 17, to choose the winners.
---
Verbs
Vouchers vouched for, wellness cured, panda shipped express, answers questioned.
---
The newsletter dated February 14, 2017, mistakenly referred to 2008 as the year Obama took office. Oops! Of course, that was the year he was elected. Our apologies for the error, and thanks to readers Joseph, Mary, and Roger for pointing it out.