The Atlantic Daily: Ethics and Exit
Michael Flynn stepped down as national security adviser, the Office of Government Ethics censured Kellyanne Conway, a judge denied a request to halt the Dakota Access Pipeline, and more.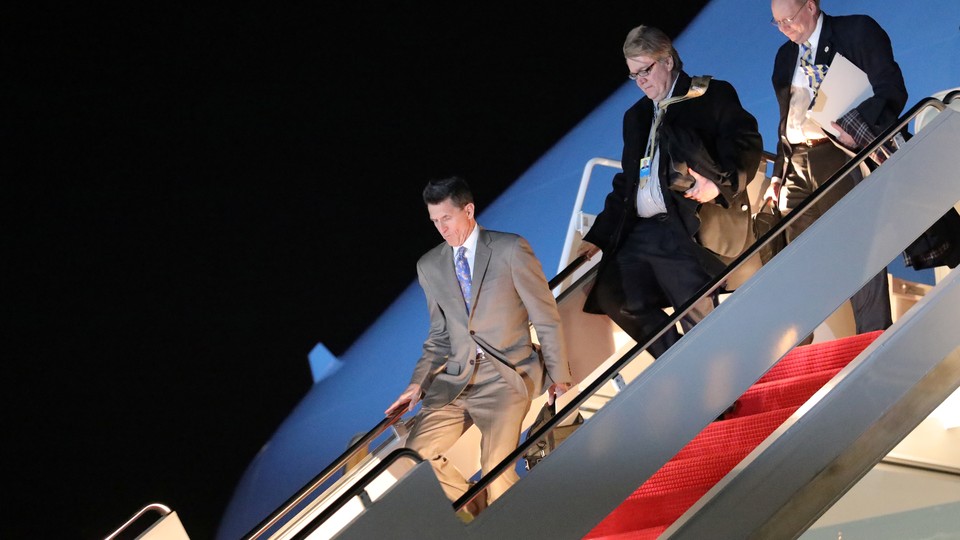 What We're Following
Michael Flynn: Trump's national security adviser resigned last night after admitting he misled Vice President Mike Pence about his talks with Russia's ambassador. The White House's explanation of how that happened has been shifting—it's unclear whether Trump, his adviser Steve Bannon, or Flynn himself made the call. But here's a full timeline of the private meetings and public statements that ultimately led to Flynn's ouster. Though the FBI has investigated whether Flynn violated the Logan Act by talking to a foreign government representative before Trump took office, his possibly compromising relationship with Russia poses a much more serious problem. And meanwhile, conflicts among Trump's closest advisers may paralyze the administration. For now, here are the five most pressing questions raised by Flynn's departure.
Kellyanne and the Cabinet: The Office of Government Ethics says "disciplinary action is warranted" against Trump's adviser Kellyanne Conway after she endorsed Ivanka Trump's products on air in what looks like a clear violation of ethics rules. The effort to fill Trump's Cabinet isn't going especially well either: The confirmation process is running well behind the pace set by the last five administrations. Even so, Steven Mnuchin was confirmed as treasury secretary last night. Here's how each senator voted.
Meanwhile, Outside the Political Bubble: The NASA spacecraft Juno has sent back the first-ever images of Jupiter's south pole. As U.S. states up their investment in higher education, D.C. schools are bringing on "pathways coordinators" to help at-risk kids stay on track to graduate. And construction is continuing on the Dakota Access Pipeline after a judge denied a request to stop it. Here's where the legal case stands.
---
Snapshot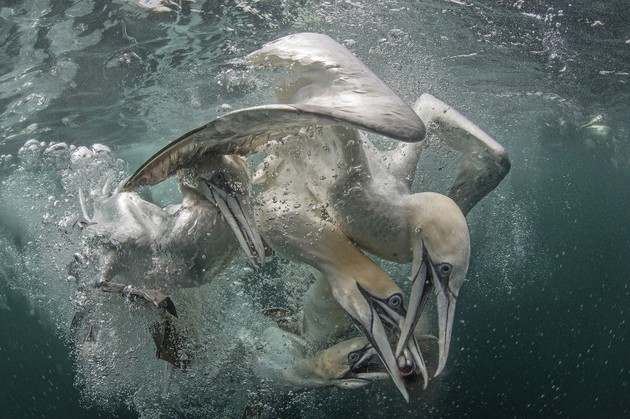 ---
Evening Read
Olga Khazan on searching for a cure for under-eye bags:
I've tried sleeping more, and less, and with my head raised, and with a little strip of plastic adhered to my nose to open up my airways. I've watched endless YouTube cover-up tutorials, many of which seem to be made by Irish teenagers and none of which seem to work for me. … Over time and varying levels of poverty, I've tried cheaper and more expensive "de-puffing" creams, but all of them seem to be equally effective—which is, not at all. … When a phalanx of allergists and ENTs and endocrinologists couldn't help me—during one appointment, the doctor exclaimed "you look like a vampire!"—I began Googling plastic surgeons.
Keep reading here, as Olga considers a new treatment that might be forthcoming. And for more on beauty routines and when they fail, check out our new series "Rituals and Potions."
---
What Do You Know?
1. Of the 186 AMBER Alerts about missing children issued in 2014, ____________ led to a recovery.
Scroll down for the answer, or find it here.
2. When Obama was elected in 2008, the U.S. economy was losing an average of ____________ jobs each month.*
Scroll down for the answer, or find it here.
3. A recent survey found that ____________ percent of Americans think the government "should be responsible for ensuring health-care coverage for all Americans."
Scroll down for the answer, or find it here.
---
Urban Developments
Our partner site CityLab explores the cities of the future and investigates the biggest ideas and issues facing city dwellers around the world. Adam Sneed shares three of today's top stories:
It's Wastelands Week at CityLab, and we're digging into wasted spaces, wasted buildings, and wasted efforts. To kick it off, we look at one of America's largest and most ill-conceived initiatives: urban renewal.

Before 1980, places in America with lower average incomes grew faster than their richer counterparts, so that incomes converged—but that's no longer the case, Richard Florida writes. Today, we have the "Great Divergence."

Are refugees dangerous? The Trump administration unequivocally says yes, but there's pretty convincing evidence connecting refugees to a decrease in crime at the local level.
For more updates from the urban world, subscribe to CityLab's daily newsletter.
---
Reader Response
Forgive me, dear readers: I have sinned against grammar and in thy sight, and as I might have expected, you've caught me. As Michelle wrote in a few weeks ago:
While I loved seeing the Verbs section reinstated, I was a tad dismayed when "add up" appeared alongside "unimpressed," "soured," and "swiped."  As a former English teacher, I always impressed upon my students the importance of parallel structure to assist readers in following along, which is perhaps why I found the shift from past to present tense jarring: Why not "Press unimpressed, sugar scientists soured, identity swiped, figures added up"?  I realize there is a slight difference between the phrase "add up," which connotes "making sense," versus "added up," which suggests "tallying."  Perhaps you should have selected another example since the first three verb forms function as past passive participles (adjectives), while the last is definitely a verb.
And another reader, Joseph, pointed out: "Please note that 'unimpressed' is an adjective, not a verb." It's true! I throw myself upon your mercy. (Being also at the mercy of Merriam-Webster, I have verified that preposition.) But what's a would-be wordplayer to do? All I can say in my defense is here.
Is it ever okay to break grammatical rules in the name of wordplay? Are you a devoted grammarian with a secret love for nonstandard language? Please send me your copy confessions and internal conflicts at hello@theatlantic.com. For now, here's Verbs, assonant and consonant but—alas—non-parallel:
---
Verbs
Singles sniffed, history hyped, beetles bite, romance found.
---
---
*This newsletter originally misstated that Obama took office in 2008. We regret the error.