The Atlantic Daily: Security and Songs
North Korea launched a ballistic missile, SNL sent a message to Trump, Adele dedicated her Grammy win to Beyoncé, and more.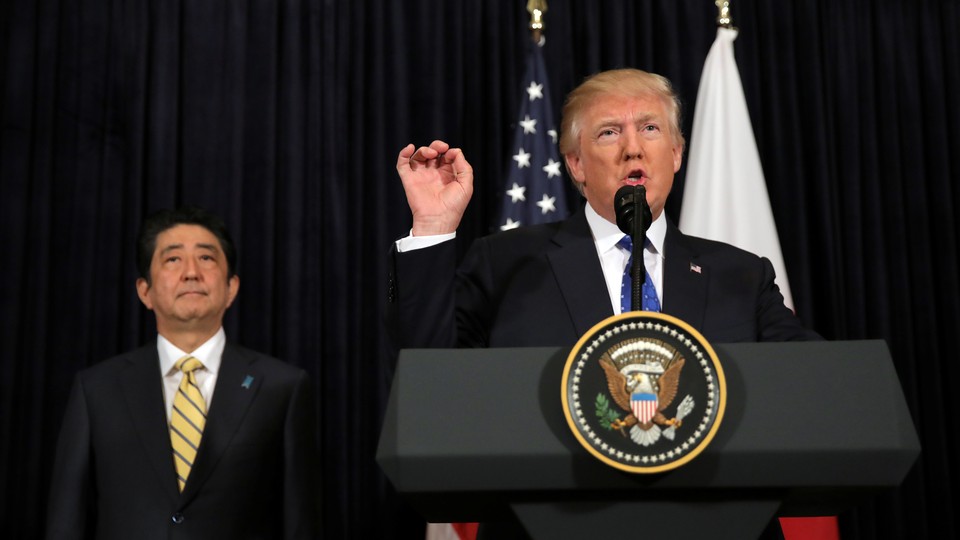 What We're Following
The North Korean Missile: On Saturday night North Korea launched a ballistic missile while President Trump hosted Japanese Prime Minister Shinzo Abe at Mar-a-Lago. As photos posted by members of the club on social media later revealed, Trump chose to handle the crisis in full public view—a strange choice from a security perspective, and one that seems to highlight the president's desire to perform. At a joint press conference with Abe, though, he was notably restrained, revealing little about America's next move apart from expressing his support for Abe. Here's why that may have been the best choice he could have made—and here's one way Trump could make a deal with North Korea.
Election Security: It looks like National Security Advisor Mike Flynn will keep his job. He's reportedly apologized to Vice President Mike Pence after a scandal in which Flynn—contrary to public statements made by Pence—may have discussed sanctions with the Russian ambassador before Trump took office. Those sanctions were imposed to punish Russia for interfering in the 2016 U.S. election—and that interference has Democrats in Congress especially worried by a Republican effort to eliminate the federal agency that helps states improve their voting systems. But there's only so much the agency can do, because what makes America most vulnerable to cyberattack may be the democratic system itself.
Talking to Trump: Once again, Saturday Night Live seemed to speak directly to the president with a series of skits calculated to make Trump angry as much as to make audiences laugh. Meanwhile, John Oliver announced he was buying cable news ads to educate the president about, for instance, the nuclear triad. Artists at the Grammys last night also entered the political theater, with A Tribe Called Quest condemning Trump's immigration policies while Katy Perry sent a more ambiguous message. Aesthetically, though, the Grammys were conservative. Best Album went to Adele's 25 over Beyoncé's Lemonade, reflecting the awards' long tendency to recognize traditionalism over experimentation—something even Adele herself chose to call out in her speech by giving Beyoncé credit.
---
Snapshot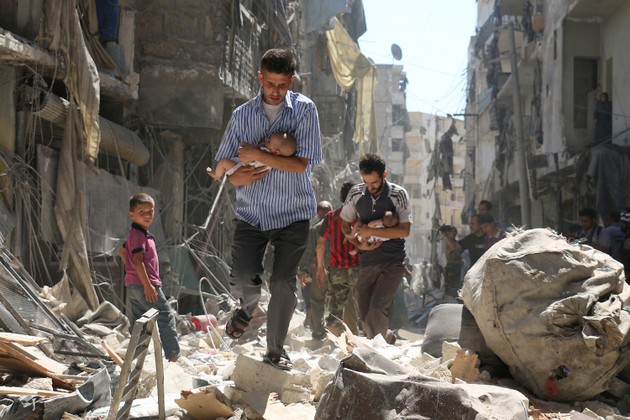 ---
Who We're Talking To
Sidd Bikkannavar, a NASA engineer born in California, describes how he was required to give up the passcode to his phone at the U.S. border after Trump's travel ban.
Sarah Cherry Rice, who founded a startup that lets community members fill in as substitute teachers, discusses how "Parachute Teachers" can bring unique expertise to the classroom.
Ta-Nehisi Coates shares why he was once afraid of journalism and why he's come to love it in an animated interview. Watch here.
---
Evening Read
Elizabeth Limbach on the rise of weed-themed weddings:
Getting stoned at weddings is nothing new. Guests have long been slipping off to hotbox their cousin's Corolla or sneaking a joint away from the dance floor. "This movement is simply making it more acceptable to enjoy cannabis as part of a group in a social setting at a wedding," [Colorado wedding planner Bec] Koop says. Couples looking for subtle ways to work cannabis into the ceremony might consider a hemp-silk wedding dress for the bride, pot-leaf-shaped cuff links for the groom, or joint-spiked goodie bags for the bridal party.

Those are what Koop calls the "don't-piss-off-grandma options." Then there are those whose affection for the plant leads them to celebrate with a four-foot-tall ice bong or—Koop's particular specialty—boutonnieres and bouquets studded with smokable buds. For one couple that wanted to tie the knot while smoking, Koop commissioned a glassblower to make a "unity bowl"—a stoner twist on the traditional unity candle, it was a pipe with two mouthpieces that the couple hit during the ceremony.
Keep reading here, as Limbach looks at how legalization has turned marijuana into "a grown-up product with gourmet options."
---
What Do You Know?
1. Some form of acne afflicts ____________ percent of young people.
Scroll down for the answer, or find it here.
2. Galentine's Day, an increasingly popular (and commercialized) celebration of female friendship, was inspired by a 2010 episode of ____________.
Scroll down for the answer, or find it here.
3. At an auction of website domain names, a URL like archeology.com (misspelled or not) can sell for as much as $____________.
Scroll down for the answer, or find it here.
---
Look Back
The last original Peanuts cartoon appeared in newspapers on this day in 2000, hours after the death of its creator Charles Schulz. In our November 2015 issue, Sarah Boxer looked back at the characters:
Peanuts was a drama of social coping, outwardly simple but actually quite complex. … The Charlie Brown way was to keep on keeping on, standing with a tangled kite or a losing baseball team day after day. … Lucy, dishing out bad and unsympathetic advice from her "Psychiatric Help" booth, was the picture of bluster. … Schroeder at his piano represented artistic retreat—ignoring the world to pursue one's dream. And Snoopy's coping philosophy was, in a sense, even more antisocial than Schroeder's. Snoopy figured that since no one will ever see you the way you see yourself, you might as well build your world around fantasy, create the person you want to be, and live it out, live it up. Part of Snoopy's Walter Mitty–esque charm lay in his implicit rejection of society's view of him. Most of the kids saw him as just a dog, but he knew he was way more than that.
My late grandmother loved to send Snoopy-themed Valentines, so that memory resonates for me today—though as Boxer writes, critics of Charlie Brown's dog saw his character as far from lovable. Read Boxer's full defense of Snoopy here. And here's a video of Schulz drawing Charlie Brown.
---
America by Air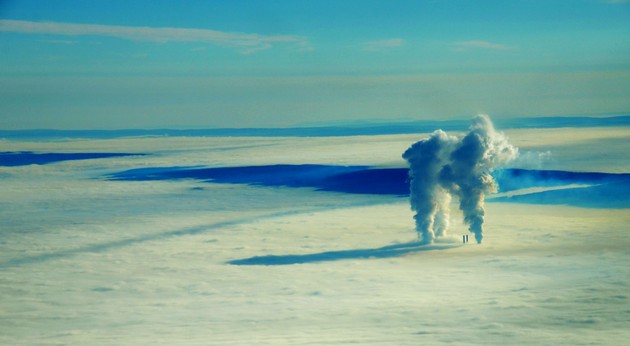 ---
Reader Response
Alana Semuels did a Q&A with the TAD group last week about her reporting on the economy. One reader asks:
I live in the heart of the Rust Belt—Pittsburgh—and I was wondering what you see as the best hope for river towns like Aliquippa and Beaver Falls that were founded on steel but now barely scrape by. We are losing young people at a rate of  30 percent, I think. A couple towns have found a niche and have become viable, but I just don't see many of these places recovering. Do you think they will inevitably eventually disappear like so many other towns in the Midwest?
Alana:
I started my journalism career in Pittsburgh, at the Post-Gazette, so I have a special alliance to the region (except to the Steelers. Go Pats!). There are towns—like Goshen, Indiana—that have survived the rural exodus, mostly by specializing in a few niche industries. My article "America Is Still Making Things" talks a little more about this. But only a few towns are going to be able to pull this off.
Read more questions from readers and Alana's replies here.
---
The Renewal Awards
Twenty-five nonprofits from across the country have been chosen from nearly 500 nominations to compete for $100,000 in funding as part of The Renewal Awards, a project brought to you by The Atlantic and Allstate. The nationwide competition aims to recognize local organizations driving positive change in their communities and bringing progress to the country. Vote here by Friday, February 17, to choose the winners.
---
Verbs
Cravings rewired, reflections recognized, horses fight crime, kids keep safe.
---
The quiz portion of the newsletter dated February 10, 2017, misstated that the current level of carbon dioxide in Earth's atmosphere had not been seen for 400 million years. In fact, it was 16 million years ago that carbon dioxide levels in Earth's atmosphere were last above 400 parts per million. Our apologies for the error, and thanks to reader Ron for pointing it out.
---