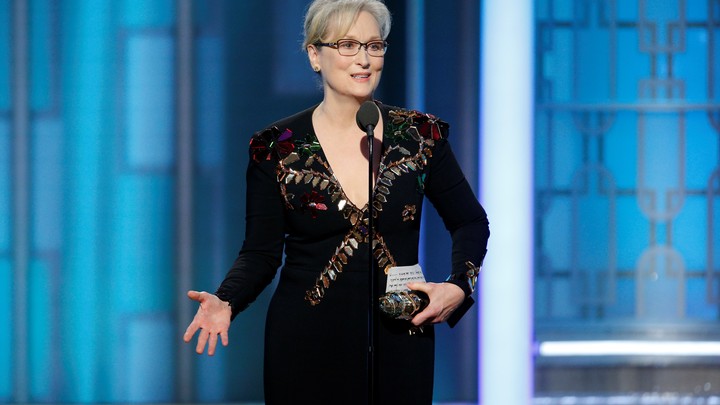 What We're Following
Star Power: Last night's Golden Globe Awards placed a spotlight on the films La La Land and Moonlight—and on Meryl Streep, who used her lifetime achievement speech to make a political statement against the bullying behavior of president-elect Donald Trump. She also rose to the defense of Hollywood, whose "outsiders and foreigners," she implied, are in a position to model empathy for all of America. But the full picture is more complicated: Mixed martial arts, which Streep invoked as a symbol of provincialism, is in fact a highly multicultural sport. And even the dreamers of Hollywood—portrayed in last night's big winner, La La Land—can be guilty of a regressive degree of nostalgia. Either way, it's clear that stories, including movies, are a powerful political tool—which gives a special importance to films like Hidden Figures, whose three heroines are inspiring both in their individual achievements and in their community spirit.
Nominee News: Trump has named Jared Kushner, his son-in-law, a senior White House adviser. Federal nepotism laws seem to prohibit such an appointment, but Trump and Kushner may be able to bend the rules. In a similar vein, Senate Republicans are rushing to hold confirmation hearings for eight of Trump's Cabinet nominees this week even though four of them haven't yet completed the ethics review process—breaking a longstanding tradition and causing concern from the independent Office of Government Ethics. Meanwhile, Jeff Sessions, the nominee for attorney general, continues to defend his civil-rights record. One example he and his allies have cited is his role in prosecuting two members of the Ku Klux Klan in 1982—but the details of that case don't seem to support Sessions's claims.
A Leader Remembered: Ali Akbar Hashemi Rafsanjani, the former president of Iran, died on Sunday at the age of 82, leaving behind a deep impact on Iranian politics. Rafsanjani began his career as a revolutionary, allied with the movement that established the Islamic Republic in 1979. Later on, against the more extreme conservatism of Supreme Leader Ayatollah Ali Khamenei—a rival he'd formerly placed in power—Rafsanjani became known as a more moderate figure of the establishment, though he was tainted by rumors of corruption and by a failure to curb repressive policies.
---
Snapshot
---
Evening Read
Geoff Manaugh on LAX's new anti-terrorism intelligence unit, led by Anthony McGinty and Michelle Sosa:
LAX is a city within a city. At more than five square miles, it is only slightly smaller than Beverly Hills. More than 50,000 badged employees report to work there each day, many with direct access to the airfield—and thus to the vulnerable aircraft waiting upon it. More than 100,000 passenger vehicles use the airport's roads and parking lots every day, and, in 2015 alone, LAX hosted 75 million passengers in combined departures and arrivals.

LAX is also policed like a city. The airport has its own SWAT team and employs roughly 500 sworn police officers, double the number of cops in the well-off city of Pasadena and more than the total number of state police in all of Rhode Island. …

For their work to have any real tactical value, McGinty and Sosa need to assess a world that exists far beyond the perimeter of LAX. "This is global," [Los Angeles World Airports executive Ethel] McGuire said. "We're an international airport. We have about a hundred different countries flying here. If you stop traffic at LAX, it has an immediate global impact on aviation; if LAX shuts down, it immediately affects [one] hundred other countries."
Keep reading here, as Manaugh spends a day with the LAX team and takes an in-depth look at the hypothetical threats they'll confront.
---
What Do You Know?
1. To safeguard against the loss of digital data, one archivist wants to store human knowledge on a material that's impervious to water, chemicals, radiation, and fire: ____________.
Scroll down for the answer, or find it here.
2. In the atmosphere, methane can trap over ____________ times as much heat as carbon dioxide can.
Scroll down for the answer, or find it here.
3. Approximately ____________ American students attended urban public schools in the 2010-11 school year.
Scroll down for the answer, or find it here.
Answers: ceramic, 25, 14 million
---
Look Back
The philosopher and writer Simone de Beauvoir, born on this day in 1908, would have turned 109 today. In our June 1972 issue, Elizabeth Janeway reviewed de Beauvoir's book The Coming of Age, on the experience of aging:
In the interior world inside each graying head there is an equally unsettling confrontation. One's old identity is somehow no longer acceptable in public exchange. One may feel nineteen or thirty-one or no age at all, but those out there get up and offer a seat on the bus, listen for a moment, laugh and go on talking, or don't listen at all. One is faced with the task—if one wants to keep in touch with reality—of remaking one's sense of oneself; and remaking it downwards, to incorporate that unflattering figure seen in the eyes of those others, the young and the powerful. One lives between lies—the inner feeling of youth, the outer judgment of age, which is true? To accept the outer judgment, one must be false to oneself; falseness, then, can spread to all one feels or knows. "Old age," writes Mlle. de Beauvoir, "is life's parody." Again, her documentation of this bitter conclusion has compelling weight.
Read more on de Beauvoir's work here. Above, 101-year-old Ida Kachanov rests her hands on a blanket at her apartment in Brookline, Massachusetts, on October 20, 2016. See more photos by Amanda Swinhart of elders and their caregivers here.
---
Reader Response
Conor Friedersdorf today accepted an invitation from the TAD group of Atlantic readers to do an "Ask Me Anything." James Allen asked:
The article of yours I remember the most talked out reserving the label "white supremacy" for the worst—your KKK members and Neo Nazis—not those with simple prejudices or who are working to maintain their own power. I never understood that argument. A white man working to maintain his own power at the expense of others IS working to maintain a white supremacist society, whether he has a hood over his face or not. I don't see the benefit of sugar coating that. What do you think is gained from doing so?
Read Conor's answer here, along with many other questions from readers. Meanwhile another reader, Marino, sends a note about the newsletter:
Love it, but what happened to the verbs at the end? Being a retired English teacher, I think having the news "verbed" tickled me the most.
We recently phased out Verbs for a few logistical and editorial reasons (if you've been missing them or have feedback on another part of the Daily, please let us know). But we newsletter writers are word-lovers too, so we thought we'd take this opportunity to verb the news one more time. Below, a special edition of Verbs for Marino:
---
Verbs
Moonlets amassed, glaciers explored, tree's fall heard, parents' tables turned.
---
The Atlantic Daily is written by Rosa Inocencio Smith. To contact us, email hello@theatlantic.com.
We want to hear what you think about this article. Submit a letter to the editor or write to letters@theatlantic.com.