The Atlantic Daily: Checks and Bank Balances
On the verge of announcing his Supreme Court pick, Trump fired the acting attorney general, corporations responded to his immigration order, Senate Democrats skipped confirmation votes, and more.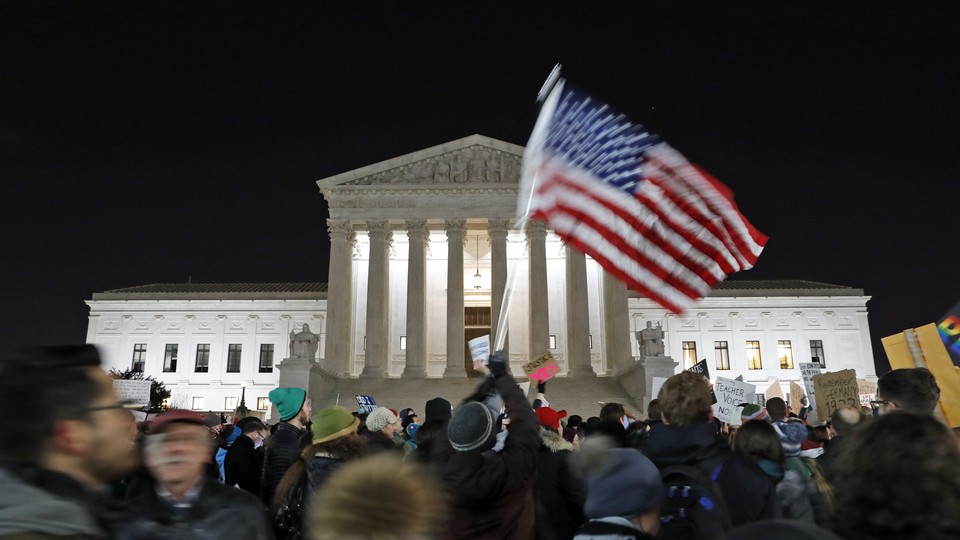 What We're Following
Checks of Power: Last night, within hours of refusing to defend Trump's executive order on immigration, Sally Yates was fired from her post as acting attorney general. Critics of that swift retaliation saw it as a violation of the DoJ's independent judgment. Two members of Trump's cabinet who might be in a better position to push back are retired generals James Mattis and John Kelly, whose military background gives them both credibility and a strong sense of law and order—though Kelly defended the ban just today. The ultimate check on presidential power is the Constitution, interpreted by the Supreme Court—one new member of which Trump is now charged to choose. The nomination is coming soon: As I'm writing, Trump is dialing up the suspense for his 8 p.m. announcement. We'll post the latest updates on our Politics and Policy homepage.
Meanwhile, Back at the Legislative Branch: Republicans are pushing back on the immigration order, which they say blindsided them as much as it did the officials charged with enforcing it. Still, House Speaker Paul Ryan defended the substance and goals of the ban, even as he offered mild criticism of its execution. For their part, Senate Democrats boycotted the votes on two of Trump's cabinet nominees—would-be Treasury Secretary Steve Mnuchin and Health and Human Services head Tom Price—over news reports about past business dealings.
Speaking of Boycotts: Earlier this week, Twitter users called on others to delete their Uber app after the ride-sharing service appeared to break a strike organized in protest of Trump's immigration ban by New York taxi drivers, many of whom are Muslim or foreign-born. The boycott was an economic protest organized around a threat to identity—though ironically, it may have ignored some ongoing problems with how the sharing economy affects workers' rights. Uber, for its part, tried to repair the damage by denouncing Trump's ban, and a wide range of other corporations also made statements of protest—an unusually broad response that may speak to how immigrants contribute to U.S. innovation and industry.
---
Snapshot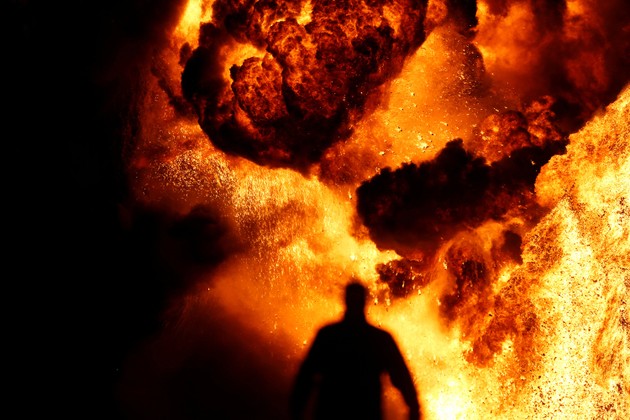 ---
Evening Read
Sophie Gilbert on the World War II-era political cartoons of Theodor Seuss Geisel:
As a collection, Geisel's war cartoons target isolationism, anti-Semitism, and racism. They skewer Hitler, Mussolini, and a variety of American nationalists, including Charles Lindbergh and the Catholic priest and radio host Father Charles Coughlin, a fervent anti-Semite and conspiracy theorist. But they also deploy a fierce anti-authoritarianism and humanism that runs through all of Dr. Seuss's books. Geisel's political cartoons go a long way in demonstrating how the spirit of Seuss—zany, honest, brash, and brave—was born.

They also have their own flaws, most notably their racist portrayal of both Japanese citizens and Japanese Americans. Geisel's bigoted treatment of both only a few months before the forced internment of Japanese Americans was something many believe he tried to atone for in his later books. But the body of work he created during the war helped establish the foundations of what the writer Philip Nel has described as "America's first anti-Fascist children's writer." And it helps explain why Dr. Seuss continues to resonate now, 15 years after Geisel's death, and as American nationalism gains momentum once again.
Keep reading here, as Sophie examines the complicated relevance of Seuss's cartoons to Trump's controversial policies.
---
What Do You Know?
1. ____________ account for 52 percent of all internet traffic.
Scroll down for the answer, or find it here.
2. Schools with high levels of poverty are ____________ times less likely to perform highly than low-poverty ones.
Scroll down for the answer, or find it here.
3. In a 2014 study that covered 15 years of elections, researchers found 31 instances of voter impersonation out of ____________ total votes.
Scroll down for the answer, or find it here.
---
Urban Developments
Our partner site CityLab explores the cities of the future and investigates the biggest ideas and issues facing city dwellers around the world. Adam Sneed shares three of today's top stories:
If you're searching for an immigration program that Donald Trump might support, look no further than the EB-5. Also known as the cash-for-visas program, it was designed to lure foreign investment to distressed communities. But over the years, it's become something very different: a tool for developers to subsidize luxury real estate across the U.S.

Highway construction tore apart cities and neighborhoods in the 20th century, and its impact reverberates today. Now, as planners look to undo some of the damage, there's no shortage of communities that could be "reconnected" if the roads were removed. These are the "Freeways Without Futures."

Pro tip: If you're planning a fancy new project in a gentrifying neighborhood, maybe don't call your building "The Gentry."
For more updates from the urban world, subscribe to CityLab's daily newsletter.
---
America by Air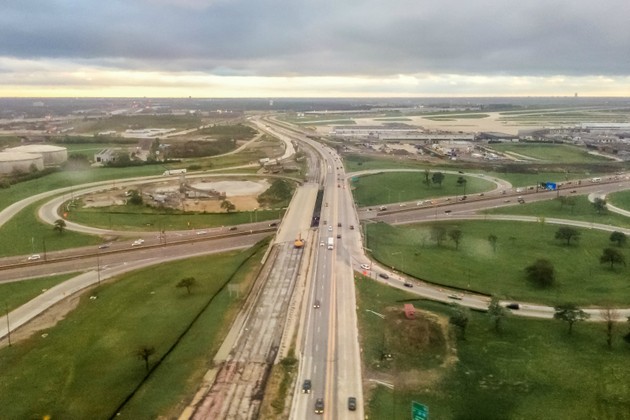 Reader JoAnn Lowther shares her photo of a crossroads near Chicago:
Looking south, Highway 12 is running off to the horizon with Kennedy Expressway intersecting right to left. An O'Hare runway is seen in the distant right, butting into the highway.
See many more aerial photos here, and send us your own via hello@theatlantic.com (guidelines here).
---
Reader Response
An Iranian-American reader worries about how Trump's travel ban may affect her family:
My father spent these last two weeks in Iran attending to his widowed mother, who is hard of hearing, hard of sight, and diabetic. She had missed her sisters and their families and so went back to Iran a few months ago, despite our wish for her to stay.

This weekend, with the confusion over the ban and not understanding to whom it applied, I found myself asking if my father would be allowed back in the country on Sunday because of his dual nationality. Thankfully, he was. But my grandmother is still in Iran. I am worried about our ability to bring her back to the U.S. before tensions get worse between the two countries, despite her dual citizenship and the dual citizenship of my relatives who would need to escort her back.
She adds, "They call Trump the 'American Ahmadinejad' in Iran"; here's more on that comparison, and here's a dispatch from among refugee families in Jordan. If your family has been directly affected by the ban, we'd like to hear from you: hello@theatlantic.com.
---
Verbs
Philosophers feud, films previewed, chocolates chewed, reality doctored.
---