The Atlantic Daily: Turning Points
ISIS claimed responsibility for the shooting at a Turkish nightclub, Congress gutted and revived the Office of Congressional Ethics, Trump's transition team lagged behind schedule, and more.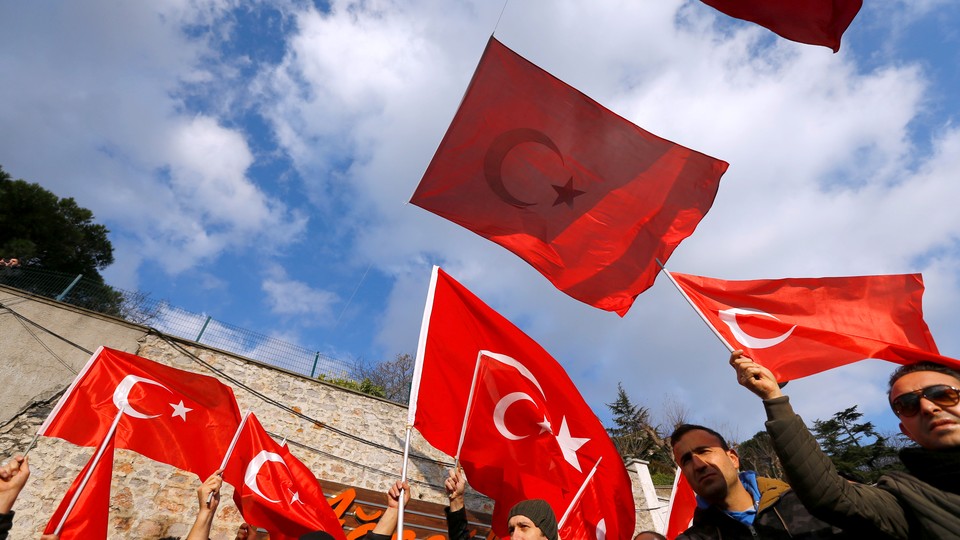 What We're Following
Tragedy in Turkey: Authorities are still searching for the attacker who killed 39 people and wounded at least 70 in a shooting at an Istanbul nightclub early on New Year's Day. Yesterday, ISIS claimed responsibility for the attack, describing the gunman as a "heroic soldier" acting on the orders of the Islamic State's highest leader. Though ISIS has been suspected of terror attacks in Turkey before, it hasn't claimed one outright until now, while the Turkish government has had an inconsistent stance toward the terrorist group. For these reasons, writes Graeme Wood, the Istanbul attack is pivotal: It adds Turkey to the list of countries against which ISIS is waging outright war.
Confusion in Congress: Last night, House Republicans voted suddenly and secretly to deeply undermine the Office of Congressional Ethics. Today, amid outrage—and hours after President-elect Donald Trump tweeted a lukewarm critique of the move—the Republicans called an emergency meeting to reverse their decision. The about-face marks an embarrassing moment for the legislators, but it also foreshadows an era of ambitious and aggressive policymaking from the GOP majority—as well as the resistance from Democrats to go with it.
Transition Trouble: With less than three weeks to go before Trump takes office, his transition team is lagging behind schedule to fill positions in the new administration, largely because many of the nominees haven't been fully vetted yet. On top of late starts to the weeks-long process, the team faces an extra hurdle in the fact that Trump has chosen a number of wealthy business executives, whose complex financial portfolios make their potential conflicts of interest particularly hard to straighten out. Meanwhile, Trump has his own conflicts of interest to worry about (you can follow our running list of them here). He has insisted that his business interests won't sway him—but as numerous studies on the financial biases of doctors have shown, that's a resolution much easier made than carried out.
---
Snapshot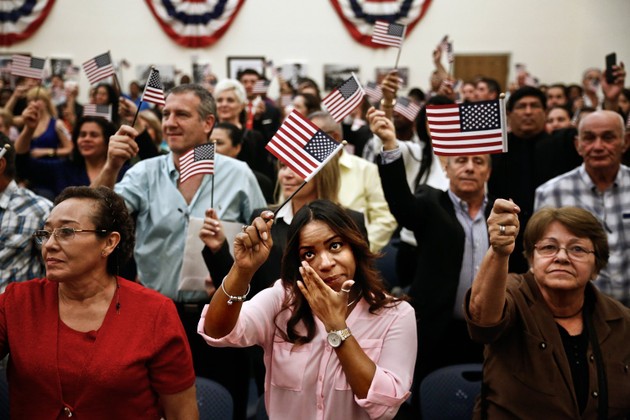 ---
Who We're Talking  To
Michael Lewis, author of a new book on the founders of behavioral economics, discusses how their work reaches far beyond academia—and how it helps to explain the 2016 election.
Jacob Saxton, creator of a Twitter account that chronicles China's Cultural Revolution in real time, shares what it's like to relive a historic period of chaos and change.
R. R. Reno, editor of the conservative religious magazine First Things, discusses America's national identity and why he's "guardedly optimistic" about Trump.
---
Evening Read
Megan Garber on the new reality TV:
Television has long had a fraught relationship with the "regular" person. Many of its shows, from Leave It to Beaver on down, have relied on the power of aspiration—the ideal family, the ideal group of friends, impossibly beautiful people inhabiting impossibly beautiful places—to amplify the appeal of the "normal" worlds they've served up to their viewers. ...

Many of the new shows of 2016, though, took that approach—the everyday, gilded with the shiny stuff of fantasy—and stripped it of its varnish. The concerns that were so often, in the past, relegated to the plot lines of individual episodes (a job-loss here, an illness there) were put center-stage as series overtly emphasized what used to be matters of taboo: money, infidelity, weight, special needs. In a year in which so many things beyond politics themselves were political, many TV shows continued a trend that had been brewing with the rise of social media and Peak TV. Perhaps realizing television's power to change the way people see the world, show creators rejected easy aspiration and blithe escapism—they instead got insistently, and compellingly, real.
Keep reading here, as Megan discusses what TV fiction reflects about today's reality. And if you want more recommendations for what to watch in 2017, here's a list of 27 movies to look forward to.
---
What Do You Know?
1. Research suggests that humans' concept of private property originated about 11,000 years ago, concurrently with the practice of ____________.
Scroll down for the answer, or find it here.
2. The first scientific calculations about rainbows were made in 1637 by ____________.
Scroll down for the answer, or find it here.
3. At public universities in ____________, students are charged $8,280 a year in fees—almost five times the cost of their annual tuition.
Scroll down for the answer, or find it here.
---
Reader Response
Mike, a Bernie Sanders supporter who ended up voting for Trump, lists what would make him change his mind about the president-elect:
If he tried to reduce Social Security benefits or privatize them.
Reduce Medicare or privatize it into a voucher system.
Started making cuts on health insurance and other programs that the elderly, disabled, or those in financial need or distress rely on. ... (I don't worry about Obamacare, the truly needy have state-run Medicaid programs.) ...
If he makes the price of goods go up with his anti-trade agenda or causes a war with China.
If he creates a situation where salaries decrease or interferes with much needed minimum-wage increases.
If he discriminates against people because of race or religion, although I find that far-fetched and know that is not gonna happen and is just the media trying to create fear over his presidency. Besides, the Constitution won't allow for it.
Read more here from Mike and other readers on what it would take to turn them against a Trump presidency.
---
Urban Developments
Our partner site CityLab explores the cities of the future and investigates the biggest ideas and issues facing city dwellers around the world. Adam Sneed shares three of today's top stories:
2016 hasn't been hailed as a great year by many people, but there was no shortage of great ideas nonetheless. We've rounded up the 10 best ideas in urban planning over the past 12 months, featuring a collapsible bike helmet, a public living room for the lonely, laundry machines in public schools, and more.

Income inequality and poverty used to be separate phenomena in America. Today, it's a different story: More than 40 percent of U.S. counties have high rates of both. Richard Florida looks into what's happening in America's Economic Distress Belt.

As Housing and Urban Development Secretary Julián Castro prepares to leave his post this month, CityLab asked him about his work in the Obama administration, and what the future holds for fair and affordable housing under Donald Trump.
For more updates from the urban world, subscribe to CityLab's daily newsletter.
---