The Atlantic Daily: Fact, Falsehood, Fantasy
Trump pulled out of TPP, women marched to protest the president, "alternative facts" marked a war with the media, and more.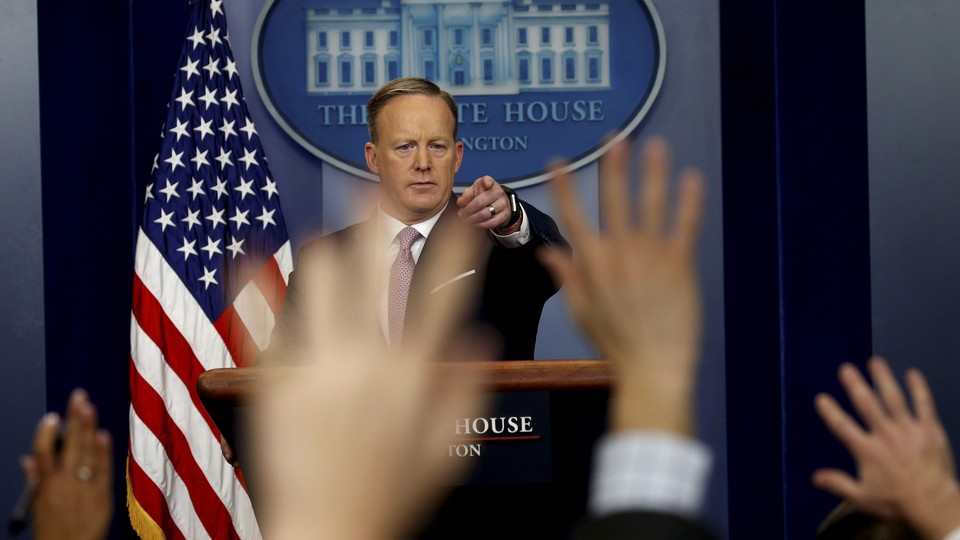 What We're Following
Trump Takes Action: The new U.S. president signed three executive orders today. The most significant one withdraws the U.S. from the Trans-Pacific Partnership, a trade deal that Trump frequently denounced on the campaign trail. The president undertook his first anti-abortion policy, reinstating a Reagan-era rule that prohibits U.S.-funded foreign organizations from providing services related to abortion. He also imposed a hiring freeze on all federal jobs save for military ones. Who will be hiring? In a meeting today with 12 American business leaders, Trump promised to cut down on corporate taxes and regulations—as long as the companies kept production, and jobs, on American soil.
Marching On: Over the weekend, millions of protesters in cities around the world held marches and rallies in solidarity with the Women's March against Trump in Washington, D.C. Our reporters talked to some of the participants, whose concerns ranged from the rights of women and minorities to issues like health care and economic inequality. In some ways, the march—peaceful and joyful in tone—marked a celebration of protest itself, an inauguration in its own right of the opposition to Trump's presidency. Yet it also recalled similar protest movements in other countries—for instance, in Russia, where rallies five years ago drew government retaliation and ultimately failed to achieve their aims. The question for Trump's opponents now is: Will it work this time?
'Alternative Facts': The protesters certainly did succeed in surpassing the crowds at Trump's inauguration. White House Press Secretary Sean Spicer and Trump aide Kellyanne Conway tried to deny that on Sunday, however, with the former quoting false statistics and the latter referring to "alternative facts." The day before, in a speech at CIA headquarters, Trump had accused the media of inventing his well-documented criticisms of the intelligence community. And things didn't greatly improve in Spicer's press conference this afternoon, where he continued to claim the media was trying to undercut the president. Here's what that could mean for journalists—and how reporters around the world handle fact-resistant regimes.
---
Snapshot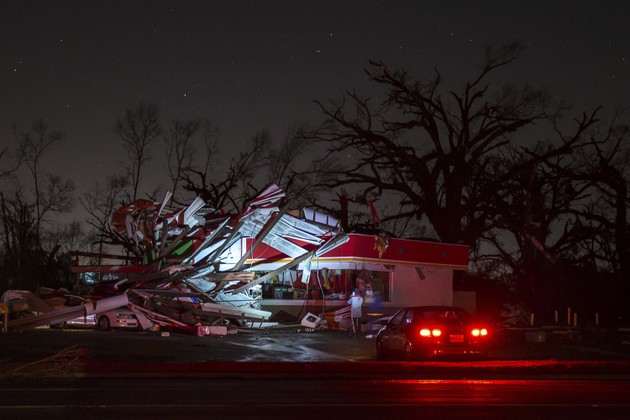 ---
Evening Read
Lenika Cruz on a documentary that focuses on the perpetrators of a 2014 stabbing:
The three girls, all 12 years old, were best friends. The victim had been stabbed 19 times with a 5-inch blade and had barely survived. After being taken into police custody, the other two girls told interrogators what had happened: They had lured their friend into the woods to kill her so that they could appease someone called Slenderman. …

Beware the Slenderman, directed by Irene Taylor Brodsky, is a true-crime film that's less interested in ascertaining guilt (since the girls confessed) than in the psychology and social factors that led to the stabbing in the first place. It deftly examines the rise of the Slenderman myth online, via online horror stories and art known as "creepypastas," message boards, fan sites, and social media. But it also looks at the tangled intersection of children's neurological development, the ubiquity of internet access, literary history, adolescent insecurities, and mental illness—as well as the criminal-justice system responsible for punishing the girls. In response to the question, "How could this have happened?" Beware the Slenderman stubbornly refuses to give a simple answer, or any of the expected ones (bad parenting, the internet is evil, children are gullible, children can be monsters). Despite this complexity, Brodsky succeeds at closing the psychological distance between the viewers and a crime that initially feels remote, weird, and unthinkable.
Keep reading here, as Lenika examines how Brodsky's documentary "helps make sense of a senseless crime."
---
What Do You Know?
1. In 2016, America's space program conducted 22 successful launches, Russia's conducted 16, and China's conducted ____________.
Scroll down for the answer, or find it here.
2. The singer Madonna is known for provocative public appearances, such as the 1994 episode of Letterman in which she used the word "fuck" ____________ times.
Scroll down for the answer, or find it here.
3. ____________ percent of microbes can't be grown on a petri dish.
Scroll down for the answer, or find it here.
---
Look Back
Twenty years ago today, Madeleine Albright was sworn in as America's first female secretary of state. In August 2012, she talked to our partner site The Wire about where she gets her news:
When I get up I read The Washington Post, The New York Times, The Wall Street Journal and Financial Times first thing. I really like to hold the actual papers in my hand. When I'm exercising or getting myself organized, I flip on Morning Joe and The Daily Rundown.

Then as I drive to work, I listen to right-wing radio on WMAL in Washington. It's kind of amazing that I haven't run over somebody because I get so mad wanting to call in and tell them they're outrageous. They're all unnerving. The language that they use and the way they demonize everybody they disagree with as a Communist liberal really drives me crazy. Also, I don't think it's particularly funny when they say "Osama ... oops ... I mean Obama." I was on the Hill saying something awhile back and by the time I was in the car they were on my case. It's the type of thing that makes me come into the office a little overwrought. Either way, I long ago decided I needed to tune in to get to know other views that are out there instead of listening to MSNBC all morning.
Read more here, and watch a 2015 interview with Albright here.
---
America by Air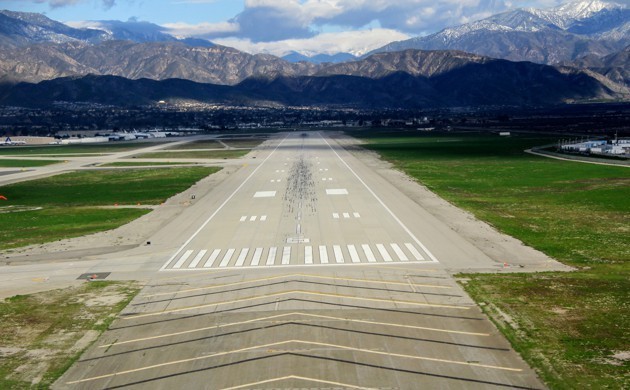 ---
Reader Response
What are the most frustrating misconceptions about your vocation? One reader writes:
According to the Tea Party types, teachers are just a lazy and incompetent bunch of (unionized) people that are doing their best to "ruin" the youth of our nation, while feeding off the public trough, via their taxes. Nothing could be further from the truth, at least from what I see of the tremendous work that is being done with students at the public school where I work, in an inner-city neighborhood.
Another reader pushes back:
The way I understood it, the complaint [among Tea Party types] wasn't that teachers were lazy and incompetent, but that lazy and incompetent teachers could never ever be got rid of. They'd simply go through the nod-wink process of sitting in "rubber rooms" all day, with full pay and benefits, for months or years while their cases were being "reviewed." … This is one reason why I feel I made the right decision to put my kids in a charter elementary school. We had a couple of sub-standard teachers along the way, but they didn't last long.
Read more comments from teachers here. And speaking of teaching and politics, here's a guide to 10 education buzzwords that gained traction under Obama—and may or may not last under Trump.
---
We Want to Hear From You!
Help shape our future by taking the 2017 Atlantic Audience Survey. The survey will be open through Wednesday, January 25, so now's your chance to tell us what you like and don't like about The Atlantic. Click here to get started.
---
Verbs
Phones possessed, font of inspiration tapped, twist spins off, protesters count.
---