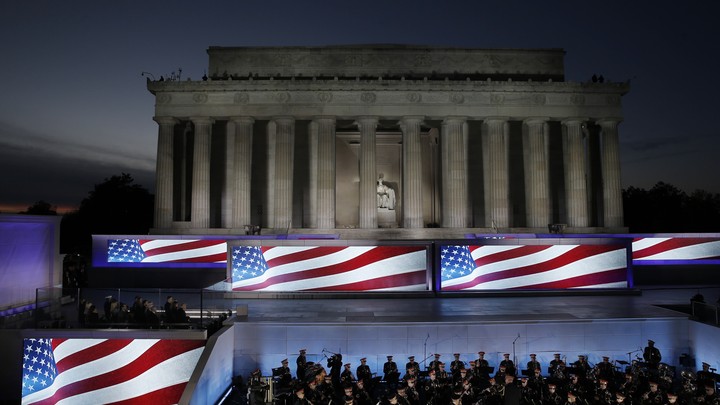 What We're Following
Inauguration Day: It's finally upon us. Around noon tomorrow, Donald Trump will be sworn in as the 45th president of the United States. It's a day that comes too soon for some, including the Trump transition team—with none of his key appointees yet confirmed by the Senate, Trump is keeping more than 50 members of the Obama administration at their posts temporarily. Meanwhile, some Democratic members of Congress have announced they'll boycott the inauguration. Their goal is to show resistance to what they see as Trump's attack on democratic institutions, but they could do their own damage to the system by disrupting America's peaceful transfer of power. The disruption may only be symbolic, but Inauguration Day is all about symbolism. Here's a guide to all the rituals and festivities.
Foreign Relations: One piece of the inaugural address that's become tradition among presidents is to praise America's commitment to freedom and pledge to spread it throughout the world. Trump is unlikely to say that, however. Throughout his campaign, he worried more about the world's potentially negative effects on America—and his election may mark a new direction for U.S. foreign policy, in which the country keeps to itself more. But that's not exactly an example set by Trump himself. During his transition period, he's been very belligerent toward critics—with the result that unlike most of his predecessors, his approval ratings have dropped since Election Day.
The Political Climate: Scott Pruitt, Trump's nominee for head of the EPA, had his confirmation hearing yesterday (latest updates on all the hearings here). Though Pruitt's hearing coincided with news that the planet had broken its record yet again for the warmest year ever measured, he repeatedly hedged on the science of climate change and humans' driving force in it. Speaking of the EPA, its regulations have tended to be unpopular among Republicans (Pruitt himself is an outspoken critic), often because they're said to kill jobs and stunt economic growth. But a closer look at the numbers reveals that's not necessarily the case.
---
Snapshot
---
Evening Read
As Toby Keith takes center stage at Trump's inaugural concert, Christopher Orr revisits the country star's 2008 film Beer for My Horses:
Given the extreme lack of relevant expertise on hand—that is to say, acting, screenwriting, and filmmaking—it is perhaps no surprise that the movie is a generally inept undertaking: by turns, a comedy that isn't funny, a drama devoid of tension, and an action movie in sore need of a shot of epinephrine.

It's a pity, given that Keith is a likable onscreen presence; he harbors political views more eclectic than those generally associated with him (he opposed the Iraq war, for instance, and has been supportive of Barack Obama on occasion); and his own songs typically display more wit than anything in this movie (e.g., High maintenance woman don't want no maintenance man; or, I ain't as good as I once was, but I'm as good once as I ever was).

But Beer for My Horses is nonetheless a moderately interesting cultural document, especially at this inaugural moment, because it is very clearly presented as an entertainment of, by, and for red-state America.
Keep reading here, as Chris examines the movie's cultural mythology. (Spoiler: "Alas, there are no horses in the film, let alone beer-drinking ones.")
---
What Do You Know?
1. The Kepler space telescope has discovered more than ____________ planets orbiting stars other than the Sun.
Scroll down for the answer, or find it here.
2. About ____________ percent of America's charter schools are located in rural areas.
Scroll down for the answer, or find it here.
3. Iván Rodríguez, a 2017 inductee to the Baseball Hall of Fame, has played a record number of games as catcher: ____________.
Scroll down for the answer, or find it here. And if you want more tricky questions, try this interactive quiz from our January/February issue.
---
Urban Developments
Our partner site CityLab explores the cities of the future and investigates the biggest ideas and issues facing city dwellers around the world. Adam Sneed shares three of today's top stories:
Friends has dominated pop culture's vision of urban life ever since it hit the airwaves in 1994—but the show was hardly original. The concept was ripped from a show that debuted a year earlier, with one key difference: a black cast. Now, with a reboot in the works, Living Single has a chance to disrupt the gentrification of city-based sitcoms.

As the Affordable Care Act sits firmly in the crosshairs, you've surely heard a lot about the 20 million Americans who stand to lose their health coverage. There's another key public health program at stake, too, though: the $1 billion Prevention and Public Health Fund. With its focus on lead-poisoning prevention, infectious disease research, and programs aimed at closing racial health gaps, its loss would be felt all across America's metro areas.

After a strong performance through the Great Recession, Texas is barreling toward a new financial crisis, this one fueled by pensions. In Houston alone, the fund for police, firefighters, and city workers falls $7.8 billion short of where it needs to be. That spurred the city to get serious about fixing it, and what it came up with could be a model that the rest of the state—and the nation—needs to follow.
For more updates from the urban world, subscribe to CityLab's daily newsletter.
---
America by Air
---
Reader Response
Following an Atlantic photo essay on naturalization ceremonies, we recently asked you to share your stories of becoming American. Ruben writes:
My family and I came to the U.S. illegally from Mexico City when I was three years old. My parents divorced a few years later and my father later married a U.S. citizen. My father, my two siblings, and I became legal residents when I was 12 years old. I grew up in Chicago. I became a naturalized citizen at the age of 21 during my last year of college. …

I grew up afraid and guilty over my immigration status. It was a permanent topic of conversation in my home, and it was made very clear to me as a child that I had to keep our family's secret. My parents couldn't take the chance that my younger brother or I might accidentally reveal the truth. So, I started lying to try to protect my family.
Keep reading here, which includes another story from a woman who fled Cuba alone as a young girl—part of Operation Peter Pan, the largest exodus of unaccompanied minors ever recorded in the Western Hemisphere. If you have your own story of becoming a naturalized U.S. citizen, send us a note.
---
We Want to Hear From You!
Help shape our future by taking the 2017 Atlantic Audience Survey. Click here to get started.
---
Verbs
Pathway unpaved, banks bumped up, fake news foreshadowed, Biden bidden bye.
---
The Atlantic Daily is written by Rosa Inocencio Smith. To contact us, email hello@theatlantic.com.
We want to hear what you think about this article. Submit a letter to the editor or write to letters@theatlantic.com.