The Atlantic Daily: Presidential Pressure
Gambia's defeated president won't step down, Obama bid farewell to the press, a global vaccine-research fund was launched, and more.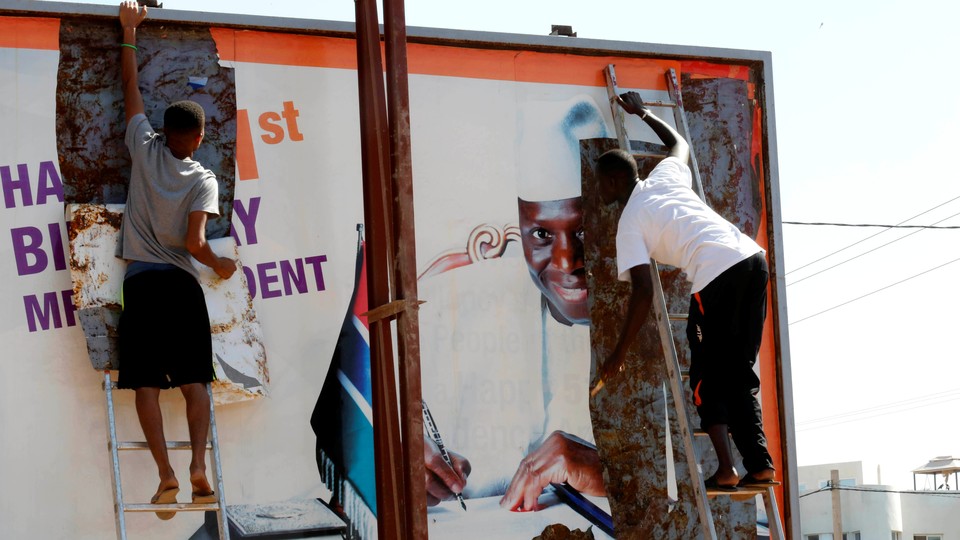 What We're Following
Claims to Power: Senegalese and Nigerian troops are poised to intervene in Gambia as longtime president Yahya Jammeh, who lost a December election, refuses to cede power. Jammeh initially conceded but now says the election was illegitimate. Over in the U.S., some Democrats are arguing the same of Donald Trump, but that might not be saying much: Political opponents have questioned the legitimacy of three successive U.S. presidents, and the biggest effect seems to have been on voters' trust. In the meantime, Trump has a defender in Vladimir Putin, who claims the president-elect's detractors are just trying to discredit him—but such comments may be a distraction from power grabs by Putin himself.
Presidential Passage: Controversies aside, America is continuing its peaceful transition of power, with Barack Obama delivering his last press conference this afternoon. The outgoing president reiterated his faith in American justice and resilience, even as he warned Trump to be careful in making major policy shifts. One of Obama's last significant acts as president was to commute the sentence of Army whistleblower Chelsea Manning, among hundreds of other prisoners. Though Manning's commutation has drawn sharp criticism, it's also part of a broad push for clemency that Obama's made an effort to build into his legacy. So what's to come from Trump? Here's a cheat sheet of his most notable campaign promises; we'll be tracking his progress and updating the list in the coming months.
Vaccine Nation: One early act of Trump's that has public-health advocates worried is his expected appointment of Robert F. Kennedy, a vaccine skeptic, to head a commission "on vaccine safety and scientific integrity." Though there's no scientific evidence to back up claims that vaccines are dangerous, there's already a network of doctors that help patients avoid or delay receiving them, and Kennedy could bring their views more into the mainstream—with possibly serious consequences for public health. Some optimistic vaccine news: CEPI, a global vaccine-development fund, launched today with $460 million devoted to creating vaccines to stop outbreaks of the world's deadliest diseases.
---
Snapshot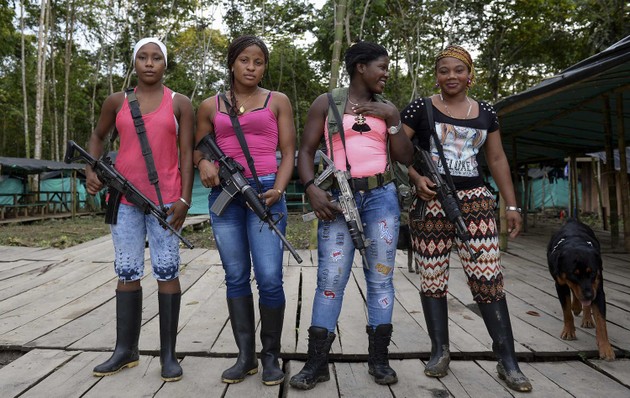 ---
Evening Read
Jon Irwin on a demonstration of Nintendo's latest video-game console:
A father and son stand facing one another, hands at their sides, five feet apart. Each holds a small Nintendo controller in his palm. Right now, that controller is a firearm. Later it will be a samurai sword, a ping-pong paddle, or a cow's udder. The son looks at the large television to his left. "Don't look at the TV," a Nintendo employee says. "Look at him," he says, gesturing to the son's father. "Look into his eyes."

The son, about 9 years old, looks up. His father towers over him, but the child's gaze is steady. Each waits for the game's single instruction. Dad's mouth purses. Junior's arm begins to shudder. The Nintendo employee's bright red shirt is a looming sunset in the gunslingers' periphery. Then: "Fire!"

The child flings his arm up and hits the trigger button on the controller's undercarriage. The father, slow on the draw, brings up his arm but knows he's too late. The TV shows two stand-in cowboys, real people dressed in Western regalia; the one on the right falls over, his knees buckling. The son was faster on this day. His dad clutches his chest in mock pain. The son laughs. His eyes are wide open. …

I didn't understand why this might be appealing until I tried it myself.
Keep reading here, as Irwin explores why Nintendo wants gamers to look at each other again.
---
What Do You Know?
1. For transcendence, the writer John Updike turned to the sport of ____________, which he described as "a non-chemical hallucinogen."
Scroll down for the answer, or find it here.
2. According to one recent study, the main factor that determines whether cottonmouth snakes are likely to attack is their level of ____________.
Scroll down for the answer, or find it here.
3. Before 2009, the state of Oklahoma experienced one to two earthquakes per year; now, largely as a result of fracking, the state gets one to two earthquakes per ____________.
Scroll down for the answer, or find it here.
---
Look Back
On this day in 1919, the Allied victors of World War I met at Versailles for the start of the Paris Peace Conference. One of the topics on the table was the creation of a League of Nations. In our January 1919 issue, a panel of writers chaired by H.G. Wells made the case for why humans' technological advances demanded such an organization:
All political and social institutions, all matters of human relationship, are dependent upon the means by which mind may react upon mind and life upon life, that is to say upon the intensity, rapidity, and reach of mental and physical communication. …  And we live to-day in a time of accelerated inventiveness and innovation, when a decade modifies the material of inter-communication far more extensively than did any century before, in range, swiftness, and intensity alike. … In education and in the agencies of journalism and propaganda, there has been an increase of power at present incalculable, owing to vast strides in the printing of pictures, and to the cinematograph, the gramophone, and similar means of intense world-wide information and suggestion. …

While all these things, on the one hand, point plainly now to such possibilities of human unification and world unanimity as no one could have dreamed of a hundred years ago, there has been, on the other hand, a change, an intensification, of the destructive processes of war. … What has happened is essentially this, that the natural limitations upon warfare which have existed hitherto appear to have broken down.
Read the whole article here. For a more current discussion of how technology changes warfare, here's our November cover story on how social media got weaponized. And as the U.S. prepares to inaugurate a president who's been skeptical of global organizations, here's a look back at the limits of Obama's "fact-based" foreign policy.
---
America by Air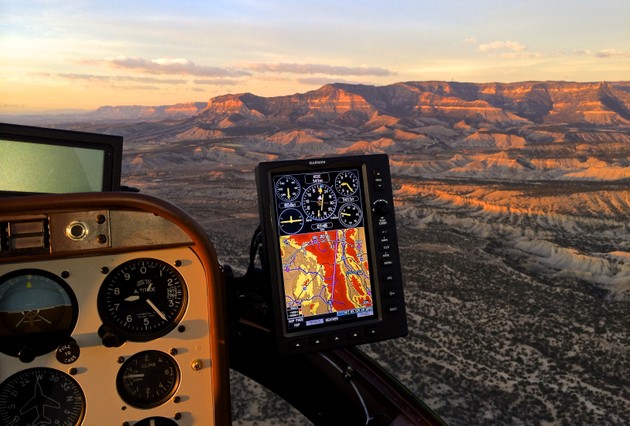 ---
Reader Response
What are the most annoying misconceptions about your line of work? From a reader who works in cancer research:
Sometimes I'm asked why we haven't come up with a "cure for cancer." This may sometimes come packed with assumptions that the biopharmaceutical industry is deliberately trying to avoid "curing" cancer because there's so much money in drugs.

The reality is, cancer is hundreds of different diseases, and it's still deeply complex and far from fully understood. So since there's no clear solution to stopping cancer, therapy is the next best answer, since patients are suffering now. I'm definitely not saying that companies in my industry are doing their absolute best (they're only as good and smart as the people who run them), but the collective of scientific knowledge says that nothing about this line of research is easy.
A recent project that sought to replicate the results of multiple cancer studies underscores that point. Read more from readers on cancer treatment, Big Pharma, and antibiotics in the TAD forum.
---
We Want to Hear From You!
Help shape our future by taking the 2017 Atlantic Audience Survey. Click here to get started.
---
Verbs
Equations equalize, artists mobilize, ethics scrutinized, words weighed.
---