The Atlantic Daily: Change and Confirmation
The Senate began hearings for Trump's Cabinet nominees, critics found gaps in New York's free-college plan, NFL ratings suffered for lack of star power, and more.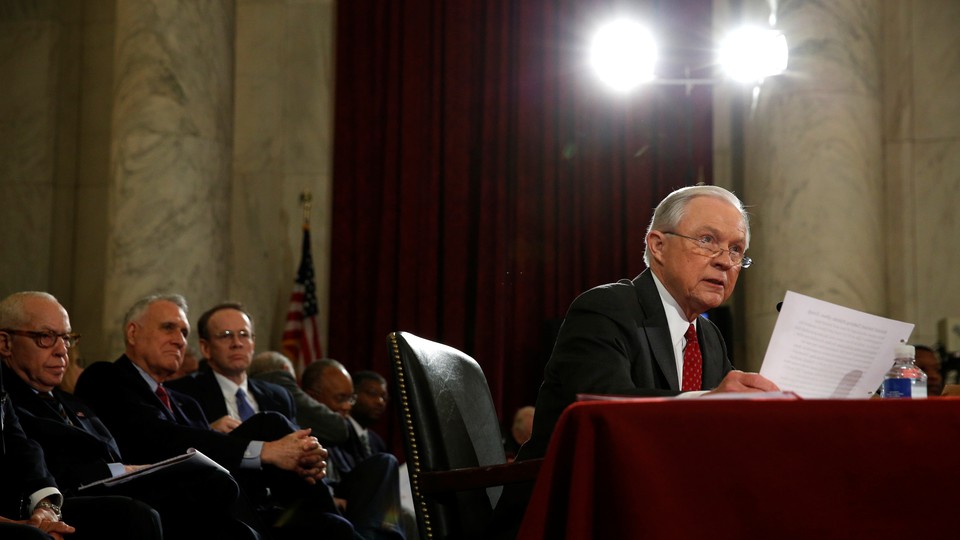 What We're Following
The Trump Transition: Confirmation hearings for the Trump Cabinet began today in the Senate, with Jeff Sessions, the nominee for U.S. attorney general, testifying first before the Judiciary Committee. Among other issues, Sessions defended his record on voting rights and pledged to recuse himself from any investigation of Hillary Clinton. Later in the day, John Kelly, the nominee for homeland security secretary, told senators at his own hearing that he had "high confidence" in U.S. intelligence findings on Russian interference with the election. (Trump himself has been doubtful, a stance that risks encouraging more hacks.) Meanwhile, hearings for would-be education, labor, and commerce secretaries Betsy DeVos, Andrew Puzder, and Wilbur Ross have been delayed after complaints that they'd be testifying without having signed off on ethics agreements. You can find our guide to all of Trump's nominees here, and read all our coverage from the first day of hearings here.
Lesson Plans: The nomination of DeVos sends a strong signal that publicly funded school-choice vouchers—for which she's lobbied in the past—will be a major education agenda item under Trump. But that's not all that's in store for U.S. schools; the new administration and Congress have the chance to make changes in at least four more key areas, among them school-lunch policies and college affordability. Speaking of college: The state of New York recently rolled out a plan for free tuition at its public colleges for students who live in the state and whose families make up to $125,000. But students will still have to pay additional expenses, and critics of the plan worry that it won't do much for the people who need it the most.
Channel Changes: The NFL has seen a surprising drop in TV ratings this season, with 8 percent fewer viewers in 2016 than it had the year before. That's partly due to broader change in Americans' media-consumption habits; it's also because football is currently low on superstars, and the entertainment landscape now demands them. On the late-night circuit, Conan O'Brien, one of comedy's most familiar faces, is being switched from a daily to a weekly schedule for his eponymous show—a move that in some ways signals the end of an era for stand-up and sketch comedy on TV.
---
Snapshot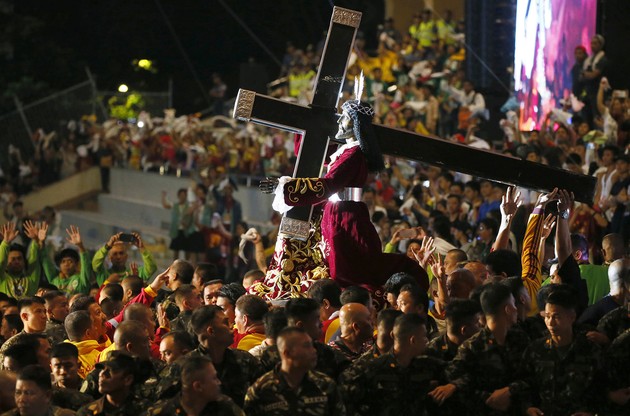 ---
Who We're Talking To
Manu Prakash, a biophysicist, explains how a children's toy inspired him to create a low-cost, hand-powered centrifuge that can be used as a diagnostic tool in developing countries.
Leighton Ku, lead author of a report on how repealing Obamacare would affect the states, discusses his team's finding that repeal could result in the loss of about 3 million jobs.
Victoria Lewis, a Georgia voter, and other conservative women alienated by Trump reflect on whether they'll stay in the Republican Party. "I feel like there are enough people in this party who have not lost their minds, and I think I need to stick around and try to make sure there's still a place for them," says Lewis. But Melanie Watson, a Texas voter, is less optimistic: "The GOP as I knew it is dead." Read more perspectives here.
---
Evening Read
Carly Silver on Mithridates VI, ruler of the ancient kingdom of Pontus, who set out to create a universal antidote for poisons:
Mithridates first learned about poisons at a young age. His father, Mithridates V, was poisoned, possibly at his mother's behest, as Adrienne Mayor, Mithridates VI's biographer, suggested in her book The Poison King. Afraid he'd be next, the young Mithridates began to study their properties. The Roman natural historian Pliny the Elder called him, "with his brilliant intellect and wide interests … an especially diligent student of medicine, [who] collected detailed knowledge from all his subjects."

Once he became king, Mithridates consulted physicians, scientists, and shamans in the hopes of creating a foolproof remedy to toxins. … The most famous of Mithridates's potions was later named mithridatium. Taken daily as an electuary (a pill made of a paste, using honey as a binding agent), mithridatium combined beneficial pharmaka, or drugs and medicines, with poisons. As Galen put it, "Mithridates mixed all these together and made one drug, hoping to have a defence [sic] against all ills." According to Pliny: "By his unaided efforts he thought out the plan of drinking poison daily, after first taking remedies, in order that sheer custom might render it harmless."
Keep reading here, as Silver recounts how the popularity of mithridatium—and the profusion of recipes for it—paved the way for modern drug regulation. (And for poetry lovers, A. E. Housman tells Mithridates's story in rhyme here.)
---
What Do You Know?
1. By 2065, according to one estimate, ____________ percent of Americans will have been born in other countries.
Scroll down for the answer, or find it here.
2. On average, full-time daycare for kids under 5 in the U.S. costs $____________ a year.
Scroll down for the answer, or find it here.
3. The reporter ____________, who died today at the age of 105, had only been on the job for three days when she broke the news of the beginning of World War II.
Scroll down for the answer, or find it here.
---
Urban Developments
Our partner site CityLab explores the cities of the future and investigates the biggest ideas and issues facing city-dwellers around the world. Adam Sneed shares three of today's top stories:
About 70 million Americans have criminal records. That history can make it extremely difficult to find a job, even decades after the offense. Recognizing such a large population that's being removed from the workforce, advocates across the country are making the economic case for clearing criminal records.

In the wake of the 2016 elections, some urbanists have argued that cities need to boost voter participation in order to protect their position in the political landscape. While that's an undeniably good goal, it ignores one of the biggest factors tamping down the influence of urban voters: gerrymandering.

Huge highways, parks, and buildings can be some of the greatest dividers in cities. They suck the life out of cities, discourage lively streets, and constrain neighborhoods that would otherwise grow. Take a look around your city and you're sure to see them. Learn how to spot them all with CityLab's complete guide to "border vacuums."
For more updates from the urban world, subscribe to CityLab's daily newsletter.
---
Reader Response
The TAD group is discussing Julie Beck's piece today on Trump tapping Robert F. Kennedy Jr., a vaccine skeptic, to chair a "committee on vaccine safety." Jason writes:
Asked to chair a committee on vaccine safety and scientific integrity, but he's not a doctor or scientist? (Looks like he's an attorney with a history degree.) My wife's going to detonate when she sees this.
Another reader points to a news item from December 23, "Seven cases of measles reported in L.A. County," and writes:
The hospital that my wife works at is essentially on Alert state for measles and she has to personally field calls from parents with children who might be affected, and a whole wing has been sequestered for this. Meanwhile she gets screamed at over the phone at least once a day by a parent who wants a letter excusing them from vaccines so their child can be let into school/kindergarten. One of them told her that she was personally taking away his child's right to education.
Read the rest of the discussion here.
---