The Atlantic Daily: Terror at a Christmas Market
ISIS claimed responsibility for the deadly truck crash in Berlin, the Obama and Trump administrations offered differing responses to violent attacks overseas, an explosion at a Florida nylon factory caused a Reddi-wip shortage, and more.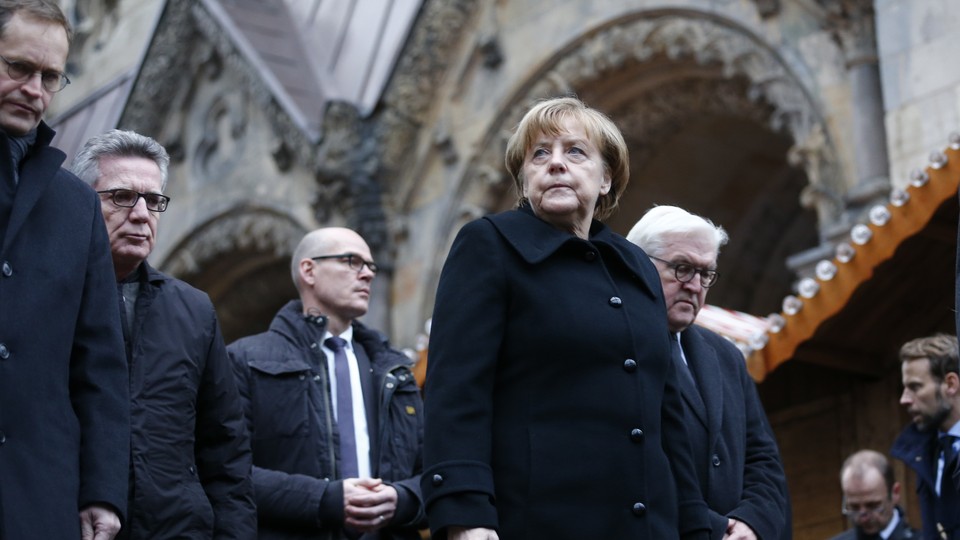 What We're Following
Terrorism in Berlin: A deadly truck crash at a Christmas market in Berlin Monday killed 12 people and injured 48 others. Police arrested a suspect in connection to the rampage, which German Chancellor Angela Merkel called "an act of terrorism," but later released the individual due to insufficient evidence. The Islamic State claimed responsibility for the attack, though it is unclear whether the group actually knows who was behind it.
Mixed Responses: The events in Ankara and Berlin revealed the differences between how the outgoing Obama administration and incoming Trump administration respond to violent attacks overseas. While President Obama defined them as a struggle between countries and a common, stateless foe, President-elect Donald Trump framed them as a fight between Christendom and Islam. Trump has previously suggested tracking Muslims entering the United States to prevent similar attacks. Such a database previously existed before it was phased out in 2011, but it could be reinstated.
'Tis the Season: Americans have long debated whether retailers should say "Merry Christmas" versus "Happy Holidays," but this holiday season may give us another reason to bicker: An explosion at a Florida nylon factory has left American grocery stores with a sudden Reddi-wip shortage. Though this incident will make it harder to find the popular whipped cream topping this year, it also serves as an important reminder to appreciate the vast network of people and machines that go into making the treat possible to find.
---
Snapshot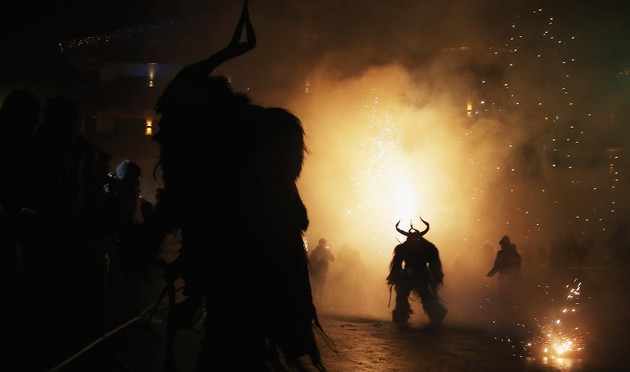 Say hello to Krampus, a beast-like mythical creature from ancient European folklore who emerges during the Yule season, looking for naughty children to punish—or drag back to his lair in a sack. For more—and perhaps less frightening—holiday photos, check out our Hubble Space Telescope Advent Calendar, featuring new images every day until December 25. (Johannes Simon / Getty)
---
Evening Read
During Obama's presidency, the world has seen outbreaks of swine flu, MERS, Ebola, and Zika. As Donald Trump prepares to become the next president, the question isn't whether he'll face a deadly outbreak while in office, but when. Ed Yong considers how the president might handle the next big pandemic:
Before, during, and since the election, Trump has had a strained relationship with facts, having repeatedly and reflexively lied about matters both large and small. He has reportedly failed to seek advice from the State Department before calling foreign leaders. He is avoiding most of his daily intelligence briefings, despite his lack of prior military or political experience—"I'm, like, a smart person," he recently said. … These actions portray an incoming administration with a casual disregard for evidence, an unwillingness to tap into the expertise around them, and a reckless self-confidence. They suggest that, in an outbreak, Trump is more likely to heed his own counsel than that of the Centers of Disease Control (CDC) and other relevant experts. And he is likely to project that counsel to over 17 million followers.
Keep reading here.
---
What Do You Know?
1. Reddi-wip's key ingredient is nitrous oxide, better known as ____________.
Scroll down for the answer, or find it here.
2. The factory that makes York Peppermint Patties moved from York, Pennsylvania to ____________ in 2009, taking 300 jobs with it.
Scroll down for the answer, or find it here.
3. Americans pay nearly ____________ in overdraft fees every year.
Scroll down for the answer, or find it here.
---
Reader Response: What You're Working With
Last month, as part of a series of interviews with more than 100 American workers, we asked you to tell us about your work: the pivotal moments in your career, the times you've succeeded or struggled to make it, what your job has taught you about how to treat people, and more. For the next two weeks, we'll be publishing some of your responses here. This reader's job is in higher education:
I work with students from around the world who come to the U.S. for study. Respecting different perspectives—and, even more than that, respecting different ways of being in the world—is what we do, those of us who work in international educational exchange. The student I meet with today might turn out to be the Prime Minister of her or his country in 20 years. What these students see while they're here, and how they're treated, will form the basis of their opinion of the U.S. for the long term, and that opinion matters.

Year by year, the U.S. has become increasingly more polarized politically. In this environment, those who govern us create change only when they can achieve a majority in all branches of government so that they can crush those who disagree with them. I, on the other hand, long for compromise. I don't expect to get my way every time, but I want my students and all young people to see that it's by talking to each other, figuring out all of the win-wins that are possible, that we create a world where everyone has the potential to thrive. This applies within our borders as well as internationally. Why does everything have to be win-lose?
Read more reflections from American workers here, and see photos of some other educators at work here.
---
Urban Developments
On our partner site, CityLab, we're exploring the cities of the future—and investigating the biggest ideas and issues facing city-dwellers around the world. . Adam Sneed shares three of today's top stories:
Urban visionary Jane Jacobs is famous for the ways she changed the conversation around city planning and urban renewal in the 1960s. But look to her last book—Dark Age Ahead, published in 2005—and her prescience becomes eerily clear. Predicting an age of urban crisis, mass amnesia, and populist backlash, that book now reads as a survivors' guide to the Age of Trump.

There's something idyllic about the thought of downtown at Christmas time. Streets covered in lights, shoppers everywhere, and department stores making it all possible. But that's an image rooted solidly in the first half of the 20th century. Starting in the 1950s, the holiday season moved out to the suburbs—but with that lingering nostalgia and a new urban revitalization, cities are making the push to bring Christmas back downtown.

In the fight against inequality, there's one key tool that too many cities overlook: bike infrastructure.
For more updates from the urban world, subscribe to CityLab's daily newsletter.
---