The Atlantic Daily: Retaliatory Measures
The U.S. issued sanctions against Russia for alleged cyberattacks, fans remembered Debbie Reynolds, a new ceasefire was announced in Syria, and more.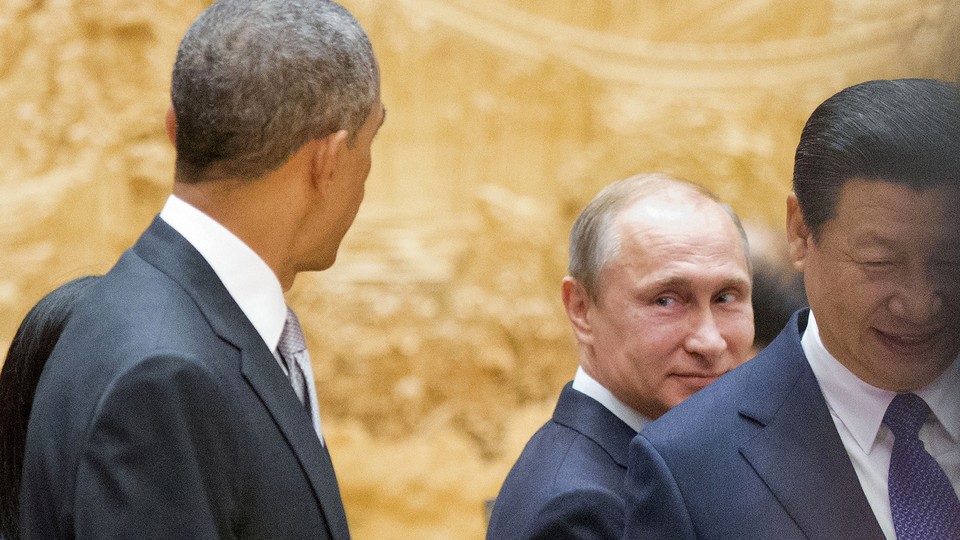 What We're Following
End-of-Year Sanctions: President Barack Obama announced sanctions against a number of Russian officials and entities in response to Moscow's alleged interference in the U.S. presidential election. The move, which included the expulsion of 35 Russian intelligence officials and the closure of two U.S.-based Russian properties, is the first public step the U.S. has taken against Russia for the cyberattack. It's unclear what impact the sanctions will have, and, as Krishnadev Calamur notes, President-elect Donald Trump could repeal them once he takes office next month.
Remembering Debbie Reynolds: Renowned actress and singer Debbie Reynolds died Wednesday night after suffering a stroke, one day after the death of her daughter, Carrie Fisher. She was 84. Reynolds rose to fame at the end of Hollywood's Golden Age, starring in musicals like Singin' in the Rain and The Unsinkable Molly Brown. Following her death, her son Todd said, "she wanted to be with Carrie."
Another Ceasefire: Russian President Vladimir Putin announced that a new ceasefire had been reached between Syrian President Bashar al-Assad and seven rebel factions who oppose him. Little is known about the details of the truce, which is slated to begin Friday under joint monitoring by Russia and Turkey. Past ceasefire attempts have failed, and Putin himself acknowledged that the conditions for this one are "fragile."
---
Snapshot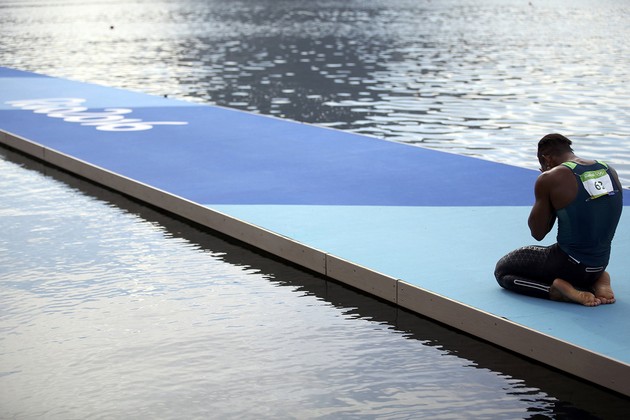 Silver medalist Isaquias Queiroz Dos Santos of Brazil kneels on a dock after racing in the 1000-meter Canoe Sprint event at the Rio Olympics on August 16, 2016. For more photos taken over the last year through the lens of photographer Damir Sagolj, click here. (Damir Sagolj / Reuters)
---
Evening Read
James Hamblin on going without sleep for 36 hours at a time as a medical resident:
It's this way of thinking—that you can power through, that sleep is the easiest corner to cut—that makes sleep disturbance among the most common sources of health problems in many countries. Insufficient sleep causes many chronic and acute medical conditions that have an enormous impact on quality of life, not to mention the economy. While no one knows why we sleep, it is a universal biological imperative; no animal with a brain can survive without it. Dolphins are said to sleep with only half their brain at a time, keeping partially alert for predators. Many of us spend much of our lives in a similar state.

Since my residency, I've become sort of obsessive about sleep—how much we really need, how to optimize it, whether there are ways to game the system. What can be said definitively about sleep and wakefulness? What I've found is a perpetual divide between what's known to scientists and what most people do.
Keep reading here for Hamblin's guide to sleep in a stressful age.
---
What Do You Know?
1. All of the genetic diversity in humans comprises less than ____________ percent of the human genome.
Scroll down for the answer, or find it here.
2. Sixty-five percent of all ____________ made in the U.S. are produced in Elkhart, Indiana.
Scroll down for the answer, or find it here.
3. Exposure to carbon disulfide, a chemical used to produce ____________, can lead to increased risk of fatal heart disease.
Scroll down for the answer, or find it here.
---
Reader Response
Last month, as part of a series of interviews with more than 100 American workers, we asked you to tell us about your work: the pivotal moments in your career, the times you've succeeded or struggled to make it, what your job has taught you about how to treat people, and more. This reader decided to change careers when, "after many years in corporate America, I just ... couldn't anymore":
Currently, I make a living serving/bartending and freelance writing. While the stress is different than my corporate job, it's still there: Will I make enough this week? Will I get sick and miss work because of the constant contact with glasses and utensils? I'm lucky to have a little bit of savings from my previous jobs—but that's also my retirement, so I can't exactly spend that freely.

One other angle to this I've recently discovered: I've seen the look on a customer's face that says, "What are you doing waiting tables at your age?" It's a pretty unmistakable look. That has an emotional toll of its own—while mine is a conscious choice to be in the service industry (at least for now), for some it's not. We've become a judgmental society, and it often shows in this industry.
Read more reflections from American workers here, including an academic-turned-farmer on making a major career change and an exotic dancer on the stereotypes about her industry.
---
Urban Developments
Our partner site, CityLab, explores the cities of the future and investigates the biggest ideas and issues facing city-dwellers around the world. Here's Adam Sneed with three of today's top stories:
If one thing defines America's cities, it's sprawl. For evidence, just look at the drastic differences in density in urban areas that straddle the U.S.-Mexico border.

Finally, New York is a bona fide technology startup hub. But forget the hype about "Silicon Alley"—the Big Apple found its place in the tech boom by relying on its biggest competitive advantage: finance.

Donald Trump has promised to revoke federal funding for sanctuary cities in his first 100 days—but many cities have vowed to stay their course. So how much money is on the line? It could be as much as 20 percent of a city budget, or less than 1 percent. Either way, that move could cause plenty of pain.
For more updates from the urban world, subscribe to CityLab's daily newsletter.
---