The Atlantic Daily: Leia's Legacy
Fans remembered Carrie Fisher, Russia investigated the cause of a plane crash, scientists determined how to address President-elect Donald Trump's climate change denial, and more.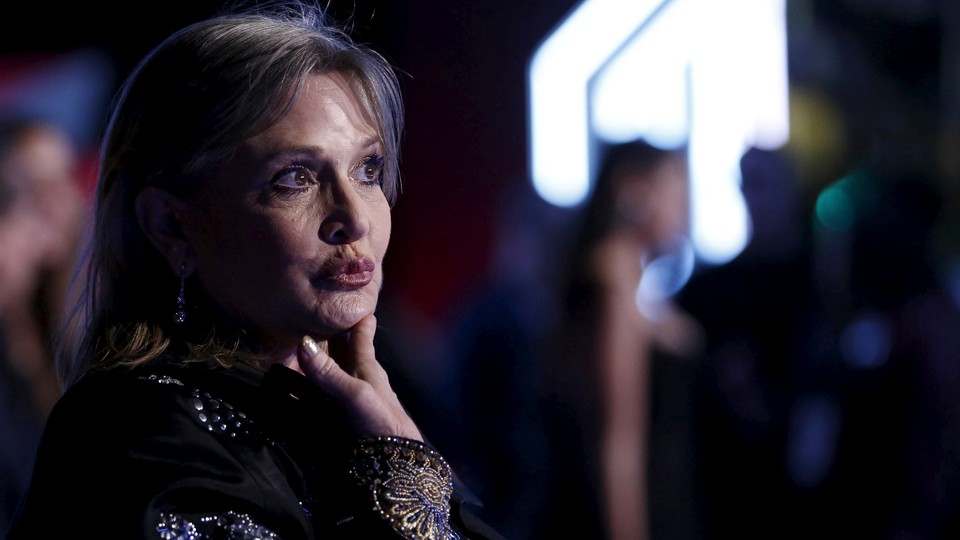 What We're Following
Remembering Carrie Fisher: Carrie Fisher, the iconic actress, writer, and comedian best known for her portrayal of Princess Leia in the Star Wars franchise, died several days after she had a heart attack on a flight from London to Los Angeles. She was 60. Fisher took on a number of notable roles throughout her career, including appearances in When Harry Met Sally… and The Blues Brothers, and reprised her famed role as Princess Leia in the Star Wars reboot The Force Awakens. Fisher will always be closely tied to the character she first took on at age 19, but, as David Sims writes, she will be remembered for so much more.
The Deadly Plane Crash: Russia recovered the flight recorder from the Tu-154 military transport plane that crashed Sunday into the Black Sea en route to Latakia, Syria. The 92-person flight included 64 members of Russia's famed choir, the Alexandrov military music ensemble, which was traveling to Syria for a performance. No survivors have been found. The flight recorder may provide more information about the cause of the crash, though Russian authorities have already ruled out terrorism.
Known Unknowns: How scientists will address President-elect Donald Trump's climate change denial remains one of the many unknowns going into the new administration. As Robinson Meyer notes, "climate scientists could become an incredibly powerful constituency. ... Nothing stops them for calling for local policies to mitigate catastrophic climate change." Other unknowns include whether Trump will address the accusations of Russian interference in the U.S. presidential campaign, or how the U.S. Special Forces will fare under the president-elect's plans to defeat ISIS.
---
Snapshot
The temperature reached 84 degrees Fahrenheit (29 degrees Celsius) in Sydney, Australia, on Christmas Day, prompting residents, tourists, and this sand snowman to hit Bondi Beach to cool off. For more shots of sunny Sydney on Christmas, click here. (Don Arnold / Getty)
---
Evening Read
Ruth Franklin on Transit, a new novel by Rachel Cusk:
Many of the novel's strands poke ironically at the idea of freedom and its opposites, obligation and fate. ... [The protagonist] Faye is wrestling with how to understand her own feelings of powerlessness in the dramas of her life. "I was beginning to see what other people called fate in the unfolding of events, as though living were merely an act of reading to find out what happens next," she tells a man she has recently met. But she realizes that she was wrong. While she once believed that it was "only through absolute passivity that you could learn to see what was really there," she now desires the power that other people have always had over her. "What I called fate was merely the reverberation of their will." This realization sets her on a new course.
---
What Do You Know?
1. The world's cheetah population will be cut in half in ____________ years, a new study finds.
Scroll down for the answer, or find it here.
2. Only ____________ of CEOs in the top 500 U.S. companies are female.
Scroll down for the answer, or find it here.
3. Since the beginning of 2016, U.S. nightly news programs devoted just 32 minutes to coverage of ____________.
Scroll down for the answer, or find it here.
---
Reader Response: What You're Working  With
Last month, as part of a series of interviews with more than 100 American workers, we asked you to tell us about your work: the pivotal moments in your career, the times you've succeeded or struggled to make it, what your job has taught you about how to treat people, and more. This week, we'll be publishing some of your responses here. This reader is an architect in Nevada, with one young daughter and another on the way:
To say that being a mom in architecture is tough doesn't even begin to cover the complex dynamic that is being in a male-dominated field with the incredible pressure all architects are under professionally to be at the top of their field/firm and the personal sacrifices it takes to get there. Being a mom in architecture feels like you are at an even bigger disadvantage in terms of attractive pay, because we cannot make the choice to be the employee going that extra mile (read: lots of late nights and weekends) to gain those new clients. I also feel that because moms in architecture are so few and far between, it is hard to gain the mentorship needed to know how to navigate this path.

I recently had a massive work deadline on the largest project of my career and found myself working 20-30 hours of overtime a week for several weeks in a row. I had to scramble to find additional childcare and my husband had take vacation time to help out as well. I was left wondering, can this really be what is expected? I know it's temporary and deadlines will come and go, but the industry standard that you will put your life on hold for several weeks and do nothing but work seemed insane—and so stressful for a pregnant mom!

But what choice do I have? Either I don't work on projects that are challenging and attractive to me career-wise or I settle for less than what I know I'm capable of? It seems like I'm damned if I do and damned if I don't.
Read more reflections from American workers here, including another architect on how she balances work and life, a civil engineer on making her way in a male-dominated industry, and a stay-at-home mom on the changing perceptions of women who leave their careers to raise kids.
---
Urban Developments
On our partner site CityLab explores the cities of the future and investigates the biggest ideas and issues facing city-dwellers around the world. Here's Adam Sneed with three of today's top stories:
As the year winds down, we're looking ahead at the key issues that cities around the U.S. will face in 2017. In Seattle, definitive action on immigration, taxes, and the minimum wage set the tone of 2016. Now its progressive bona fides will be put to the test as the city is forced to confront surging housing prices, homelessness, and police reform.

America's opioid crisis claimed 91 lives per day in 2016, hitting rural towns and small cities particularly hard. Alan Morgan, the director of the National Rural Health Association, spoke with CityLab about how the epidemic is an infrastructure issue, and how housing policy can help fix it.

Outgoing U.S. Transportation Secretary Anthony Foxx says transportation policy has contributed to Americans disconnecting from one another and living in "pockets of invisibility." His doctrine for addressing that is two words long: "Everybody matters."
For more updates from the urban world, subscribe to CityLab's daily newsletter.
---