The Atlantic Daily: Ending Berlin's Manhunt
The search for the suspect behind the Berlin Christmas market attack ended in a shoot-out, the U.S. did not veto a United Nations resolution criticizing Israeli settlements, President-elect Donald Trump called for expanding U.S. nuclear capabilities, and more.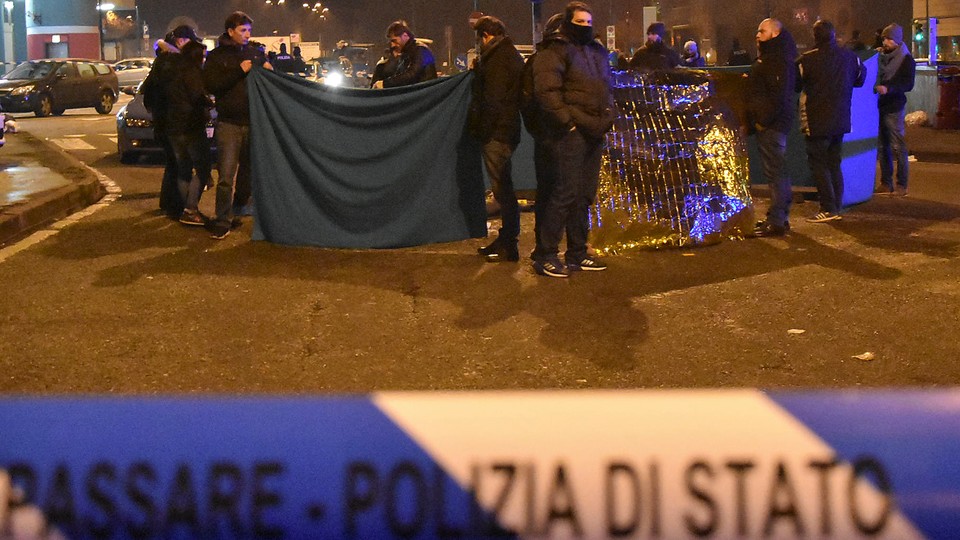 What We're Following
The Manhunt Ends: Anis Amri was killed in a shoot-out with Italian police in Milan, bringing an end to the five-day search for the 24-year-old Tunisian national who authorities suspect of being behind the truck rampage at a Berlin Christmas market that left 12 people dead and 48 injured. ISIS, which has claimed responsibility for the attack, said Amri pledged allegiance to the group in a video.
Crossing the Green Line: The United States did not veto a U.N. Security Council resolution demanding that Israel halt its settlement expansion in the Palestinian territories. The measure, which passed with 14 of 15 members voting in favor and the U.S. abstaining, says that Israeli settlements in the West Bank and East Jerusalem are a violation of international law. Israel rejected the resolution, and President-elect Donald Trump criticized the move, signaling another division between the outgoing administration and the incoming one.
Trump Tweets: President-elect Donald Trump has been known to take to Twitter to comment on any number of issues, such as the celebrities who may (or may not) be attending his inauguration. But rarely do such tweets raise concern of a nuclear arms race online. Though Trump has voiced support for expanding U.S. nuclear capabilities in the past, his recent tweets on the subject, as Vann R. Newkirk II writes, "go against the traditional public positions of recent American presidents on nuclear weapons that tend to display an eagerness to not use nukes, regardless of the policies actually being championed."
---
Snapshot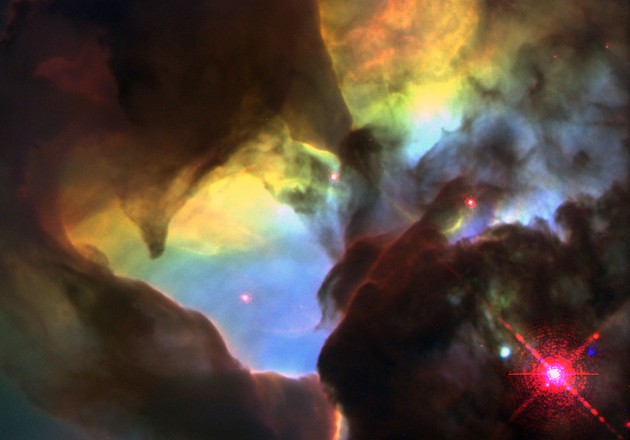 These giant interstellar twisters can be found in the heart of the Lagoon Nebula, which lies 5,000 light-years away in the direction of the constellation Sagittarius. For more photos like this, check out  our Hubble Space Telescope Advent Calendar, featuring new images every day until December 25.(A. Caulet and NASA)
---
Evening Read
Bourree Lam and Gillian B. White on the morality of banking in the holiday classic It's a Wonderful Life:
Seventy years after its release, Frank Capra's It's a Wonderful Life remains a holiday classic, with warm and fuzzy messages about the importance of love and family. But the movie's plot also touches on some still-relevant financial topics, including the nature of banking, the philosophical calculus behind issuing loans, and the way American families' financial fates are intertwined (and, we swear, we aren't just saying that because we both happen to report on business and economics at The Atlantic).

The film's protagonist, George Bailey, gives up his dreams of traveling the world to run Bailey Building and Loan, a small community bank with a mortgage business. But all is not well in Bedford Falls. The decisions of the well-intentioned Bailey as he faces an unfortunate deposit-envelope mix-up and tries to fend off an aggressive tycoon make for a clear-cut narrative set piece, but also, whether Capra intended to or not, make the movie financially instructive all these years later.
Keep reading here to follow Bourree and Gillian's conversation about the 1946 film.
---
What Do You Know?
1. Researchers may have found a less contentious way to deal with the NFL's concussion epidemic than ____________.
Scroll down for the answer, or find it here.
2. Identical to standard quotation marks, ____________ signal irony, uncertainty, and suggest words that don't quite mean what they claim to.
Scroll down for the answer, or find it here.
3. More than ____________ migrants drowned in the Mediterranean Sea this year making the dangerous journey to Europe.
Scroll down for the answer, or find it here.
---
Reader Response: What You're Working With
Last month, as part of a series of interviews with more than 100 American workers, we asked you to tell us about your work: the pivotal moments in your career, the times you've succeeded or struggled to make it, what your job has taught you about how to treat people, and more. In the coming week, we'll be publishing some of your responses here. This reader works at a ship chandler, selling nautical equipment:
For boat owners, talking about their boat is among their very favorite activities. Our customers really make it easy on us, because they call and they're excited to talk, right? We have products to sell, but sometimes we're more like ... nautical consigliere. We listen to people's boat woes and turn them into solutions.

I've heard everything on these calls. Customers who lost everything in one storm or another (Sandy was particularly hard for a lot of people I am on a first-name basis with). People who tell me they're about to go off the grid, into the Pacific, maybe, and are just stocking up beforehand. Recently, I spoke to a woman who was taking to sea by herself for the first time after her husband's death—he'd always bought from us and she was having me go through his order history and tell her what he'd purchased, when, and why. That one was fairly emotional for both of us.

It is my belief that everyone deserves the same basic amount of respect. Work has, in my adult life, only proven that further. Meet people with kindness, they respond in kind.
Read more reflections from American workers here, including stories from a lobster fisherman and a Coast Guard helicopter pilot.
---