The Atlantic Daily: Following Leaders
Gambia's leader conceded defeat, Austria prepared for a high-stakes vote, Trump announced his choice for defense secretary, and more.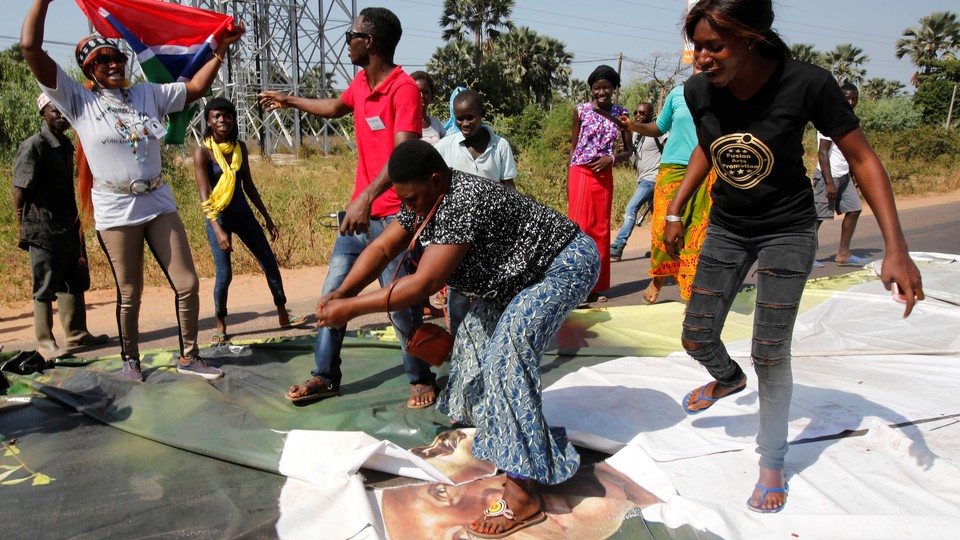 What We're Following
Shifting Heads of State: Gambian President Yahya Jammeh conceded his country's election today after an upset victory by Adama Barrow. Jammeh, who's ruled for 22 years, took power in a 1994 coup and has long been accused of crushing dissent—but not this time, apparently. Over in France, President François Hollande announced on Thursday that he won't seek reelection next year. Since 2012, when Hollande was elected on a message of change, his ratings have plummeted to 4 percent as a wave of terrorist attacks hit the country. Meanwhile, Austrians are preparing to vote this Sunday in a high-stakes rerun of their May presidential election. The far-right Freedom Party appealed that result, citing improper handling of postal ballots, after losing by a tiny margin. Right now, in the second round, the race is still too close to call.
As For the U.S. Election: Democrats are still trying to make sense of Hillary Clinton's defeat. She got fewer votes than Barack Obama did in 2012, and her critics say that's evidence of her campaign's failures—but a closer look at the numbers shows a more complicated picture. What's the point of dissecting Clinton's campaign again? Whatever's revealed about the success of her strategies could guide her party as it chooses new leadership: Keith Ellison, the progressive Minnesota rep who's running for DNC chair, stands at the center of the party's struggle to reconcile economic populism and identity politics.
And Back to the Cabinet: The president-elect has announced James Mattis as his choice for secretary of defense. Mattis is a retired Marine general and an outspoken critic of Obama's policy in the Middle East. As for policy at home, another one of Trump's picks—Betsy DeVos, nominated for education secretary—is expected to downsize the civil-rights branch of the Department of Ed. Here are three education experts' perspectives on what that might mean.
---
Snapshot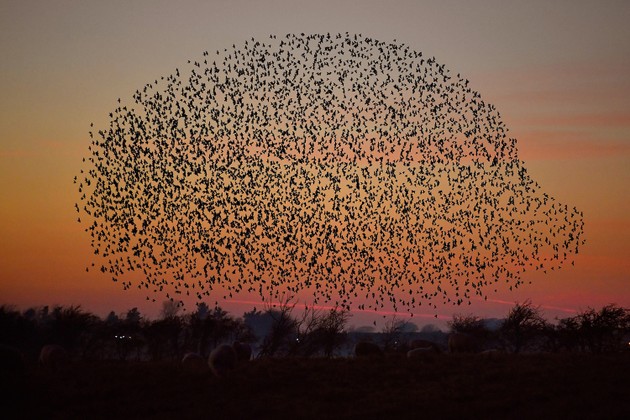 ---
Who We're Talking  To
Jay Hamilton, a communications professor, explains how the economics of journalism create information bubbles.
Mackenzie Davis, an actress, discusses how she portrays the complex friendships between women in the new film Always Shine.
Dava Sobel, a science writer, describes how in the 1880s, a group of female astronomers at Harvard paved the way for women in science—while also charting the galaxy.
---
Evening Read
Maria Reva's short story "Novostroïka," from our December issue, centers on a Ukrainian family of 14 living in an apartment with no heat:
"Come look, we get barely any gas," Aunt Lena said. She wore a yellowed apron over a floor-length fur coat. Its massive hood obscured her face. "Took me three hours to boil potatoes." She turned the knobs to maximum; the elements quivered with a faint blue. "Did you go to the city council? They should look into it."

"It seems they already have," Daniil said. "They're just better at turning things off than on."

Aunt Lena's daughter jumped out from under the kitchen table, singing, "May there always be sunshine / May there always be blue skies." She air-fired at the lightbulb hanging from the ceiling. Aunt Lena tickled the nape of the child's neck, and she retreated back under the table.

"What did they tell you at the council?," Aunt Lena asked.

"The building doesn't exist, and we don't live here."
Keep reading here. Unfortunately, a recent study shows, the simple act of reading fiction won't immediately improve your sense of empathy—but that doesn't mean literature can't still showcase an enormous range of human emotion and character. The life of Charles Dickens, who gave his first reading to the American public on this day in 1867, could attest to that.
---
What Do You Know?
1. The president-for-life of ____________ has been known to arrive at rallies wearing outfits patterned with his own face.
Scroll down for the answer, or find it here.
2. It's estimated that telephone fraud schemes cost the telecommunications industry about $____________ every year.
Scroll down for the answer, or find it here.
3. In addition to a gold-trimmed Cadillac and a gold lamé suit worth $10,000, Elvis Presley owned a 24-karat gold-plated ____________.
Scroll down for the answer, or find it here.
---
Reader Response
A reader shares her reaction to a recent study on sexual assaults committed by women:
I am incredibly grateful to see research and coverage of this undiscussed epidemic. I was trafficked as a child and about a third of my rapists were women.

I cringe when I hear most people talk about rape culture, because the mere existence of female perpetrators and male rape victims is so rarely considered. ... I feel so alienated by the feminist movement because so many feminists are very dismissive of my attempt to even discuss the existence of female perpetrators because it is so against the stereotypical image of what a rapist looks like. It is true that not all men are rapists, just as it is true that not all women are rapists. Just as not all humans are horribly predatory.

It is tragic to comprehend the lack of services and sympathy that are available to male rape victims, perpetuated by this stigma that men aren't raped and women don't rape. Female rape victims already face such obstacles in reporting—but almost all of the male rape victims I know faced complete incredulity from the police when they reported.
Read more here. If you can relate to what she describes, or want to share your thoughts about this series, we'd like to hear from you: hello@theatlantic.com.
---
What's Surprised Us
Tomorrow, December 3, The Atlantic is taking over the homepage of Digg.com. (Digg curates a set of interesting stories from around the web each day—it's often my first stop when I'm choosing a final piece to complement the Atlantic stories linked in our Verbs section.) Matt Thompson introduces the project:
It's easier than ever to imagine possible futures, but it's harder than ever to determine which are most likely to come true. After Brexit, after the shocks and aftershocks of the 2016 U.S. presidential election, after 11 successive months that were each the hottest on record, after the Cubs won, after Lemonade, it seems that almost anything could happen. ...

So let us all get acquainted with surprise. My colleagues at the Atlantic and I have selected for you a bounty of links from our own magazine and elsewhere, all revolving around that theme. Surprises can enlighten, shock, enthrall, repulse, thrill, provoke, amuse, and comfort: we've chosen stories and videos that do all those things and many more.
Read Matt's editorial note here, and check back here tomorrow to see all our surprising picks.
---
Verbs
Babies talk, bibliomania strikes, Dow hats worn, surfers take to turf.
---