The Atlantic Daily: Political Science
Trump picked Rick Perry for energy secretary, psychologists examined America's political divide, scientists planned to defend Earth from a comet strike, and more.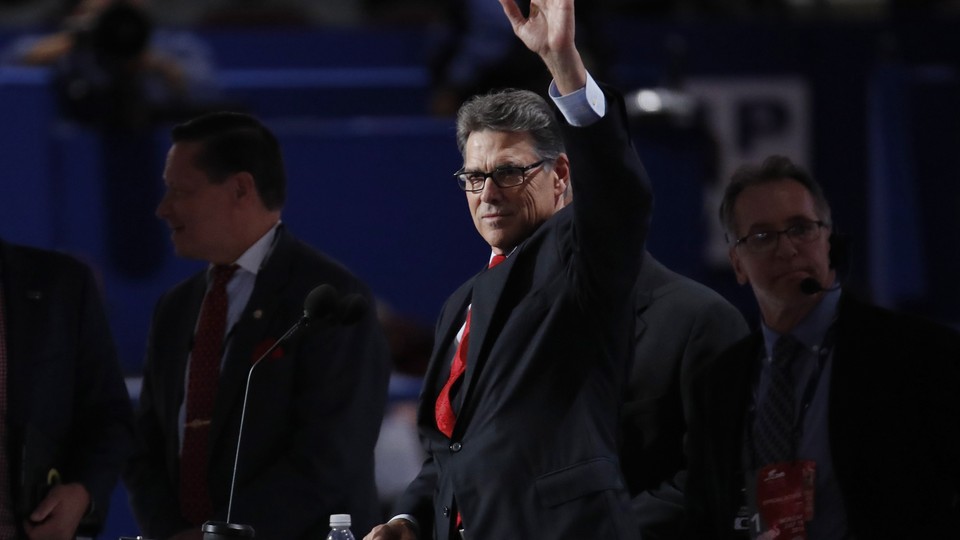 What We're Following
Transition News: President-elect Donald Trump has nominated Rick Perry to head up the Department of Energy, a choice that's raised eyebrows given that the former Texas governor previously said he'd eliminate the department—and, memorably, he forgot its name. He also lacks a science background, which critics say is crucial for the leader of the agency that, among other things, manages America's national laboratories and nuclear weapons arsenal. The question of experience is murkier for another recent Cabinet pick, Secretary of State nominee Rex Tillerson: His role as Exxon CEO has taught him a kind of corporate diplomacy, but at least one controversial deal he's made overseas could come back to haunt him. For his part, Trump himself is under fire for failing to distance himself from his businesses—though most of his voters don't seem to care.
Politics and Morals: Trump isn't the only one struggling to deal ethically in business. In talks with nearly 50 convicted white-collar criminals, one researcher found that most could hardly explain why they'd made their unethical decisions, any more than they'd thought of the negative consequences at the time. The findings suggest that in certain circumstances, it doesn't take much to lead an ordinary person into committing serious moral fraud—even though other studies show most people tend to think their own sense of morality is stronger than others'. That sense of moral superiority is difficult to shake, and it makes divisions especially sharp when politics come to overlap with morality. Meanwhile, in light of America's divisions, Disney's CEO has insisted that the good-and-evil tale of Rogue One, Star Wars' latest installment, has nothing to do with politics—but a political reading is nearly inevitable, and denying that is a political statement in itself.
Speaking of Star Wars: One way to search for extraterrestrial intelligence might be to look for alien defense shields. In a new report, two astronomers argue that advanced civilizations elsewhere in the universe could build shields against exploding stars out of objects in their solar systems—and that such shields could be detected by humans' powerful telescopes. Meanwhile, Earth is in need of its own defenses: Scientists say the planet is unprepared for a comet collision, which, if it happened, could wipe out humans and other species. Comets move fast enough that NASA wouldn't have time to build spacecraft after a hazardous one was detected—which is why some researchers have a plan to build comet-destroying spacecraft in advance.
---
Snapshot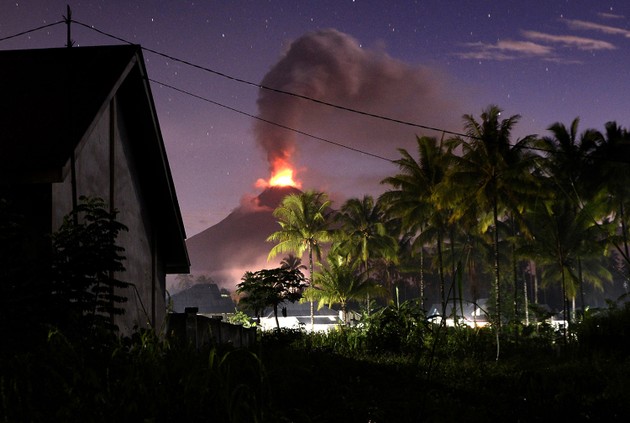 ---
Evening Read
Jeffrey E. Stern on the mysterious death of Alexander Perepilichny, in London in 2012:
A 44-year-old man of average build and above-average wealth had simply fallen down and died in the leafy suburb he'd recently begun calling home.

Among the material facts not known at the time was that Perepilichny was in good health, as proved by a physical he'd had for a life-insurance policy soon before his death. That he'd traveled that morning from Paris, where he had, inexplicably, reserved two hotel rooms in different parts of the city for the same nights. That he'd been meeting with a man he said was from the Russian government, but who was actually an affiliate of a Russian criminal syndicate. And that he'd gotten an ominous phone call informing him that police had found his name on a hit list in the home of an alleged Chechen contract killer.

Three years passed before a theory emerged that might explain what had happened to him. But highly interested parties—including a wealthy American-born investor and quite possibly officials in the highest reaches of the British and Russian governments—were watching the story the whole time.
Keep reading here, as Stern unravels the story. In other news of Russian intrigue, a similar case to Perepilichny's—the murder of former Russian spy Alexander Litvinenko—is one of several situations in which president-elect Donald Trump has been eager to give the Kremlin the benefit of the doubt.
---
What Do You Know?
1. Since 1940, worldwide production of ____________ has risen by 3,000 percent.
Scroll down for the answer, or find it here.
2. One digital mentorship program connects kids and teens with college-aged advisers through the video game ____________.
Scroll down for the answer, or find it here.
3. According to one competitive player in Milwaukee, ____________ is "actually the number-one participant sport in the nation."
Scroll down for the answer, or find it here.
---
Reader Response
Have you been conflicted about whether to become a parent? A 44-year-old reader writes:
I was married before, young, and had two miscarriages in my twenties. I figured that I would never have a baby and that was that. After I met a fabulous man in my mid-late thirties, I told him I couldn't have kids. He seemed fine with that and glibly said we could adopt. Fast-forward to after we got married and it became apparent that he wanted to have children.

I felt pressured to start fertility treatments, which was expensive and which we did for several years. I even tried egg donation, which I wasn't totally on board with but was committed to the idea of trying not to miss out on the life experience of having a baby and raising a family with my husband. None of it worked, and it was very draining emotionally, physically, and financially.

At this point, we're looking into adoption, but I still have the question mark in the back of my mind: Will this be the best thing that ever happened to me or a commitment that I make that will make me feel like my life is over in the blink of an eye?
Read more here. Are you someone who's felt pressured into having kids for a partner's sake? Or on the other hand, are you weighing the decision to become a single parent? We'd like to hear your story (anonymously, if you prefer): hello@theatlantic.com.
---