The Atlantic Daily: Assad's Aleppo
The Syrian government recaptured long-held rebel territory, President Obama made some end-of-term moves, the Berlin Christmas market reopened, and more.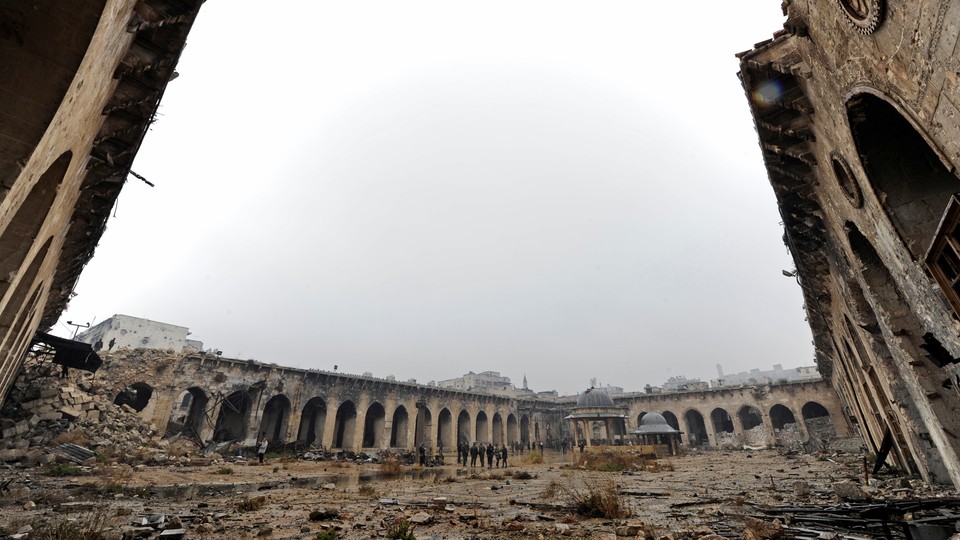 What We're Following
The Fall of Rebel-Held Aleppo: The Syrian government has taken full control of the city of Aleppo, marking a turning point in the country's civil war, which has claimed the lives of nearly half a million people in the last six years. After months of bombing and ground operations, President Bashar al-Assad's forces evacuated civilians and fighters from the final rebel-held parts of Aleppo, which the rebels first captured in 2012. Thousands of people were transported out of the city this month, leaving behind rubble that was once a bustling city.
A Tale of Two Administrations: President Obama is trying to make it harder for his successor to follow through on one of his campaign promises: the creation of a registry for Muslim immigrants in the United States. In the final weeks of Obama's term, the Department of Homeland Security will dismantle the vestiges of a controversial Bush-era program that was used to track visitors from Muslim-majority countries. This won't stop President-elect Donald Trump from building his own registry, but it will mean he'll have to start from scratch. Meanwhile, Trump is set to become the first modern president to start with less-than-majority public approval.
Berlin Is Back: The Christmas market in Berlin where a driver plowed a truck into shoppers, killing 12 people and injuring dozens, has reopened three days after the violent attack. German authorities are carrying out raids in search of the driver, a 24-year-old Tunisian man they believe to be armed. Police have installed concrete barriers around the open-air market, but, as Uri Friedman writes, "the nasty truth about violence so basic—requiring no training, weapons, or collaboration with a terrorist group, nothing more than access to a vehicle and the ability to drive it—is that it is extremely difficult to prevent."
---
Snapshot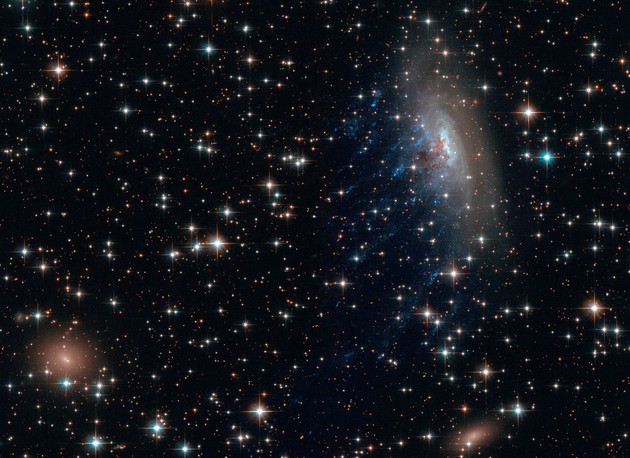 Meet galaxy ESO 137-001, a sparkly swirl of blue, located over 200 million light-years away. For more photos like this, check out  our Hubble Space Telescope Advent Calendar, featuring new images every day until December 25.(NASA, ESA, and the Hubble Heritage Team)
---
Evening Read
Looking for something to read on the journey home for the holidays? For some recommendations, check out the books The Atlantic's editors and writers loved reading this year—new, classic, or somewhere in between—here.
---
What Do You Know?
1. In 1986, Connecticut became the first state to mandate the use of ____________ on school tests.
Scroll down for the answer, or find it here.
2. Bubble wrap was invented in 1960 for use as ____________, not in packaging.
Scroll down for the answer, or find it here.
3. ____________ is the fastest growing U.S. state, thanks to its high birth rate and attractiveness to immigrants.
Scroll down for the answer, or find it here.
Bonus: How much do you know about made-for-TV holiday movies? Take our quiz here.
---
Reader Response: What You're Working With
Last month, as part of a series of interviews with more than 100 American workers, we asked you to tell us about your work: the pivotal moments in your career, the times you've succeeded or struggled to make it, what your job has taught you about how to treat people, and more. For this week and the next, we'll be publishing some of your responses here. This reader works in "a tiny, quirky hometown art gallery:
You'd be surprised at how many tears I see every day. I have a woman who comes in weekly to visit a painting of weathered old lady hands resting on a quilt. She tears up as she tells me every time how much it reminds her of her grandmother, and how much she misses her. Or on another day, I have a woman who has come in looking for butterfly prints as a memorial for her daughter, who loved them. We sit together as she tells stories and cries, and then we walk the whole store together to find her the best memorial that we can. But on the best days, I get to see the happy tears when I can tell an artist that someone loved the work that they did so much that they bought it, or the quiet joy of a person of any age, maybe one who hasn't been able to fit in anywhere else, who has found something that they identify with. Art may not save lives, but it saves hearts, and it's a message that I will carry with me from the moment I took that job until the day I die.
Read more reflections from American workers here, including one cashier's story about getting to know his customers.
---
Urban Developments
On our partner site, CityLab, we're exploring the cities of the future—and investigating the biggest ideas and issues facing city-dwellers around the world. Here's Adam Sneed with today's top stories:
In his 22 years on the job, former Chicago Mayor Richard M. Daley oversaw an age of rebirth for his city. His approach to politics and city-building brought major new parks, projects, and economic growth, and offered lessons for city leaders everywhere about becoming a tourist destination. Two scholars tell the story of how Daley created the "City of Spectacle."

New York City's Second Avenue subway line was first thought up more than a century ago, and at long last, it's set to open to the public next month. It runs a route that was once served by loud, grimy, much-despised elevated tracks, which mostly met their end in the 1950s. This is the story of how New York brought down its "el" trains, and how gentrification followed.

There's one Christmas classic that's sure to grace television sets across the country this holiday weekend. David Dudley explains why It's a Wonderful Life is a fable of American anxieties about urbanism and community, and what it says about small-town America in 2016.
For more updates from the urban world, subscribe to CityLab's daily newsletter.
---