The Atlantic Daily: An Assassination in Ankara
A Russian ambassador was killed in Ankara, electors cast their ballots for the next U.S. president, North Carolina began the process to repeal its controversial "bathroom bill," and more.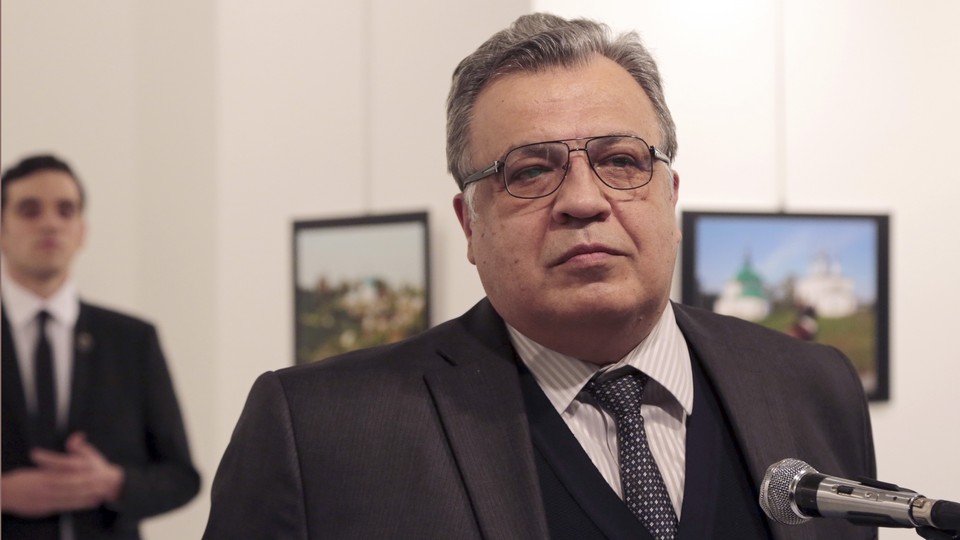 What We're Following
The Fatal Shooting of an Ambassador: Andrey Karlov, the Russian ambassador to Turkey, was shot and killed in front of a crowd at a photo exhibition in Ankara by a Turkish policeman, who was also killed. The shooting follows a week of protests in Turkey over Russia's involvement in Syria, where the last remaining residents of rebel-held neighborhoods in eastern Aleppo are being evacuated despite multiple interruptions. Karlov's death is unlikely to cause a conflict between Ankara and Moscow—or, as David Frum puts it, start World War III. "Assassinations provide opportunities and occasions for wars," Frum writes. "They do not cause them."
Electors Vote: All 538 Electoral College electors gathered in their respective state capitals to formally vote for the next U.S. president. Though some opponents of Donald Trump had urged electors not to cast their ballot for the president-elect, citing Hillary Clinton's 2.8 million lead in the popular vote, there was no such revolt. The vote won't be formally counted until a joint session of Congress in January, several weeks before Inauguration Day.
In More Voting News: Leaders in Charlotte, North Carolina, took the first steps in a process that may ultimately lead to the repeal of HB2, the controversial state law that requires people to use the restroom corresponding to the sex on their birth certificates. The state law, enacted in March, also overturned local nondiscrimination ordinances, and barred cities in North Carolina from enacting their own minimum wages.
---
Snapshot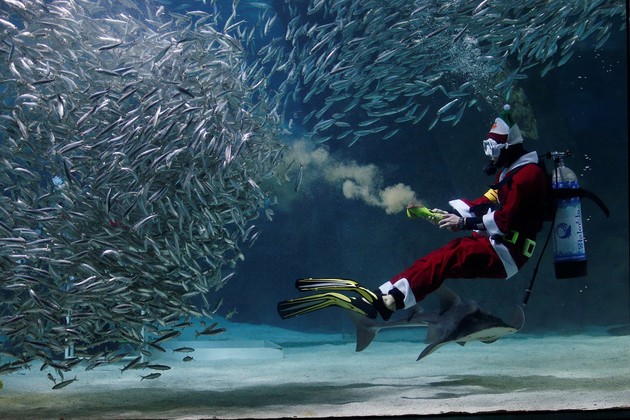 A diver dressed in a Santa Claus costume hangs out with sardines during a show at the Coex Aquarium in Seoul, South Korea, on December 17, 2016. See Santa Claus appearances around the world here—and for more holiday photos, check out our Hubble Space Telescope Advent Calendar, featuring new images every day until December 25. (Kim Hong-Ji / Reuters)
---
Evening Read
Hana Schank on how women's ambitions change in the years after college:
Shortly after I turned 40 I was offered a fantastic job that I didn't take. It had all the hallmarks of the kind of job I should take, and wanted to take, but it would have also meant a dramatic change in lifestyle. For the last 15 years I'd been a freelancer and then a small-business owner. I worked from home, which meant I could be around for my two young children. When someone had strep I could be there to administer the Tylenol in between conference calls. I picked my kids up from school most days and spent a lot of afternoons with them. I had what was, in theory, an ideal set up—I got to have a job and be a physically present mother.

But my career had stalled. I was taking on the same kinds of projects at 40 that I'd been doing 10 years earlier. Lots of the people I'd worked with early on in my career now had the word "global" in their title. They were VPs, making VP money and VP decisions, while I was cramming a full work day in before 3 p.m., and then spending my afternoons picking Cheerios off of the floor.
Schank's essay is one of seven in a series that follows the lives of women as they enter "the real world." You can read more here.
---
What Do You Know?
1. New research suggests that if male physicians were as adept as their female counterparts, ____________ fewer Americans would die each year.
Scroll down for the answer, or find it here.
2. Early apes' ability to metabolize ____________ increased 20-fold due to a single-point mutation in their genes.
Scroll down for the answer, or find it here.
3. A public-school district in Louisville, Kentucky, canceled ____________ days of classes in the last decade because of bad weather.
Scroll down for the answer, or find it here.
---
Reader Response: What You're Working  With
Last month, as part of a series of interviews with more than 100 American workers, we asked you to tell us about your work: The pivotal moments in your career, the times you've succeeded or struggled to make it, what your job has taught you about how to treat people, and more. For the next two weeks, we'll be publishing some of your responses here. This reader is a Baptist minister in Austin, Texas:
I'm a 30-something who often has the thought that if I didn't work for the church I currently attend I probably wouldn't choose to go here. I'm a progressive in pretty much every single way. My church is too, which is great. Our congregation recently voted to publicly affirm our belief that persons of different sexual orientations are welcomed into all aspects of our church's life, meaning member on up to being our Pastor—a change and decision that in the Baptist world is massive and lonely.

But at face value, my church looks like everything many are afraid of. Massive building full of empty, unused classrooms. A sanctuary that hearkens back to the old days. Liturgy and musical expression that (to the younger person) reeks of nostalgia and longing for the way things used to be.

I think so many within even the most progressive-thinking churches have lost touch with a generation of people who dabble just as comfortably in the realm of emotion and gut instinct as they do in the intellect. For me, my work within this church has been to carve out and create small spaces for people like myself who want to be part of a community of faith that is as progressive as ours, but can't fully get on board with our "seen better days" ways of doing church.
Read more reflections from American workers here, including one pastor's story of how she's found new, inclusive ways of "doing church."
---