The Atlantic Daily: Ongoing Battles
16,000 civilians fled Aleppo, ISIS fighters retreated from Mosul, Trump announced his Cabinet picks for transportation and health, and more.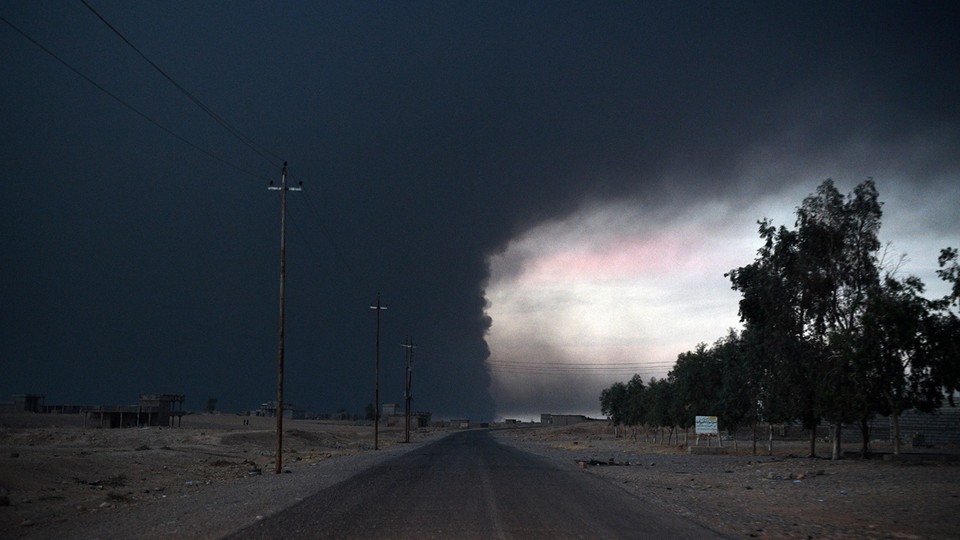 What We're Following
Under Siege: In eastern Aleppo, about 16,000 people have been forced to flee their homes in the past two weeks after Syrian and Russian forces resumed airstrikes on the rebel-held city. Over in Iraq, as Iraqi and Kurdish forces advance on Mosul, ISIS fighters are burning oil fields as they retreat. The sabotage has covered the region with toxic smoke that's harmful to civilians and their livestock. See photos here.
Speaking of ISIS: The election of Donald Trump will likely mark a turning point in the way the U.S. approaches the fight against terrorism. While the past two administrations have taken care to differentiate extremist groups from the vast majority of Muslims worldwide, Trump and some of his newly appointed advisers see counterterrorism efforts as an ideological war against "radical Islam" and advocate harsher methods of surveillance and vetting of immigrants. Whether policies change or not, critics worry that this framing of the conflict could alienate Muslim nations that the U.S. needs as allies. That may be one example of how Trump fails to see the connection between war and politics—one place where David Petraeus, perhaps the most controversial name on Trump's shortlist for secretary of state, could have something to teach him.
Trump's Cabinet Grows: Two more of his secretary picks were announced today: Elaine Chao for transportation, and Tom Price for health and human services. Price is an outspoken opponent of the Affordable Care Act, especially its mandate for birth-control coverage, which he sees as a violation of employers' religious liberties. For women's health advocates, that's worrying: Millions of women had trouble affording birth control before Obamacare, and if the law is repealed, they may have to stop taking it.
---
Snapshot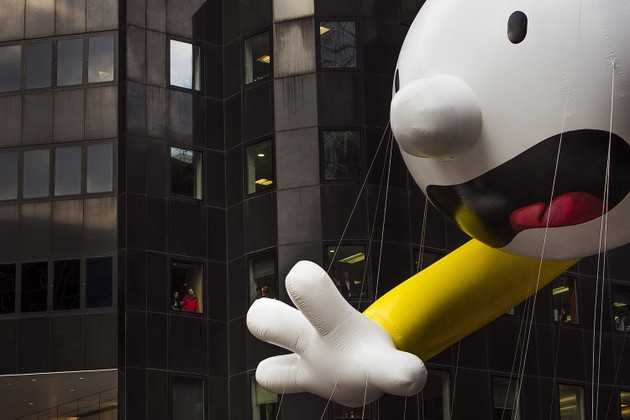 ---
Evening Read
Erika Hayasaki on the loss of childhood memories:
A 2014 study in Science found that throughout infancy, childhood, and into adulthood, new neurons are born within a particular part of the hippocampus involved in memory and forgetting. The researchers asserted that as the brain continues to create these neurons—through a process called neurogenesis—it must clear out older memories to make room.

The period of infancy to early childhood is one of the most crucial stretches of one's life for forming the self. Brain connections are pruning and taking root. Lasting values are laid down. Foundations of identity are instilled. Language and personality develop at rapid speed. There is something bittersweet about the fact that we cannot access that essential time from when we were small. When I think of my own daughter, it is becoming harder for me to accept all that she will forget.
Keep reading here, as Hayasaki examines how those memories shape us even after we've forgotten them. And go here for a father's essay on how a Playmobil doll gives his autistic son a social and emotional lifeline.
---
What Do You Know?
1. The year 2009 marked the first time in history when the percentage of women in the U.S. who were married dropped below ____________ percent.
Scroll down for the answer, or find it here.
2. The return rate for items bought around the holidays is ____________ percent higher than the average rate during the rest of the year.
Scroll down for the answer, or find it here.
3. People in Cuba and the U.S. have almost exactly the same life expectancy, although Cuba spends much less on health care: $813 per person per year, compared to $____________ in the U.S.
Scroll down for the answer, or find it here.
---
Reader Response
After reading Conor Friedersdorf's report on sexual assaults committed by women, a man writes in with a story "I've never told" and "still don't know how to categorise":
In the middle of the night, I awoke to find her next to me in my bed (I hadn't locked the door to my bedroom) wrapped around me. Her hand was moving downwards and—well, we don't need more detail.

I pulled away and asked her what was going on, giving her even some benefit of the doubt that maybe she sleepwalked or for some reason didn't find the sofabed comfortable. She said she wanted to have sex, and I clarified that I don't sleep with my guests, that it makes things weird. The whole reason I do this is to provide a safe space for people, that I wasn't going to be one of those guys trolling for vulnerable travelling women. Even if she wanted it, it wasn't my style.

This is where it got stranger.
Read more here. As Conor writes, the gender stereotypes surrounding rape and sexual assault can make it difficult for men who have been abused by women to come forward, or sometimes even to recognize an experience as an assault. If you can relate, we'd like to hear your story: Please send us a note via hello@theatlantic.com.
---
Look Back
Louisa May Alcott, author of the classic children's novel Little Women, was born on this day in 1832. You can find early versions of her most iconic characters—sisters Meg, Jo, Beth, and Amy March—in a story from our October 1860 issue, which includes this description of the heroine, Nan, and her two sisters:
Though the eldest of the three, she had long been overtopped by the more aspiring maids. But though she meekly yielded the reins of government, whenever they chose to drive, they were soon restored to her again; for Di fell into literature, and Laura into love. Thus engrossed, these two forgot many duties which even blue-stockings and innamoratas are expected to perform, and slowly all the homely humdrum cares that housewives know became Nan's daily life, and she accepted it without a thought of discontent. Noiseless and cheerful as the sunshine, she went to and fro, doing the tasks that mothers do, but without a mother's sweet reward, holding fast the numberless slight threads that bind a household tenderly together, and making each day a beautiful success.
Read that story, "A Modern Cinderella," here, and check out more of Alcott's work in The Atlantic here.
---
Verbs
Sriracha celebrated, Scientology slammed, kidney donors matched, Hillary won.
---