The Atlantic Daily: Confronting Change
As protesters marched against Donald Trump, the new president-elect visited the White House.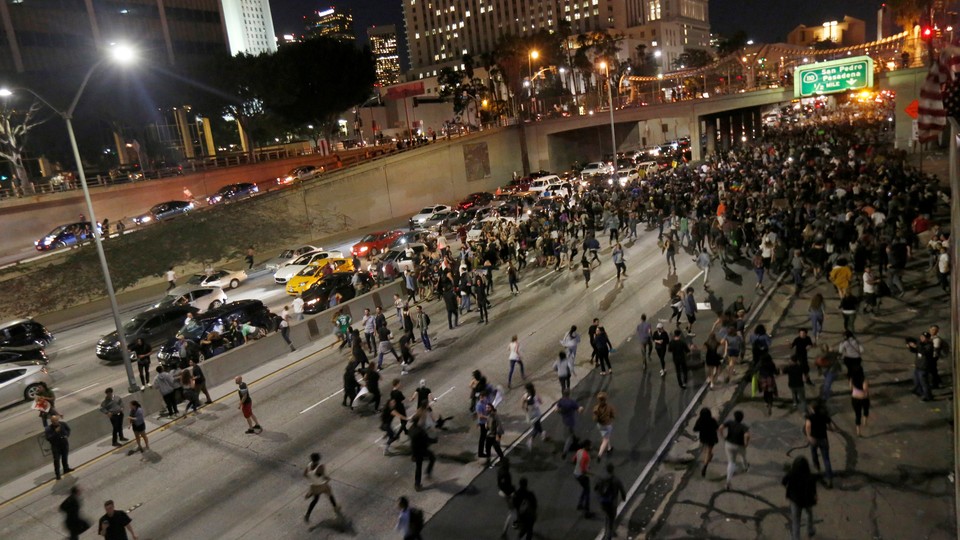 What We're Following
Election Fallout: Last night, in major cities across the U.S., thousands of people turned out in protest against the election of Donald Trump. The protests ranged from peaceful candlelight vigils to more destructive demonstrations, particularly in California, where freeways were shut down and cars and effigies burned in Oakland and L.A. The protesters' point: that Trump, with his history of racist and sexist rhetoric, does not represent the American people. That's true in some ways: Though there is no question that Trump's election is legitimate, he won—as many other presidents have won—by very narrow margins, and he is currently losing the popular vote after securing the Electoral College. Though that fact might be painful to millions of Americans, they can take this comfort: Split and troubled as it's been, their nation has not changed.
Meanwhile, Life Goes On: And so does the presidential transition. Trump visited the White House today to meet with President Obama, who promised a peaceful transfer of power to the man he'd done his best to keep from office. What will happen when Trump takes over? One task will be to nominate a new Supreme Court justice; here's a guide to what that process could look like, and what it could mean. He'll also face a number of foreign-policy challenges, including Iran's nuclear future, the evolving war with ISIS, and the newly shaky EU.
In Other News: Food rations are running out in the besieged city of Aleppo, where hundreds of thousands of civilians could starve if Syrian and Russian forces don't allow humanitarian agencies to deliver relief. In India, a government effort to curb corruption has scrapped the banknotes that citizens rely upon most heavily. And in China, construction workers have made a lucky discovery: While clearing the site of a building with dynamite, they revealed a new species of dinosaur.
---
Snapshot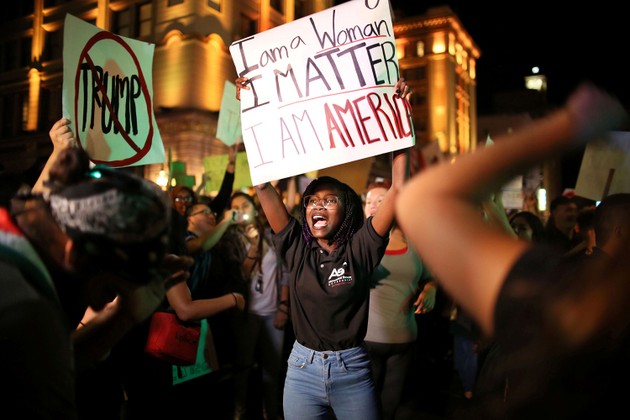 ---
Who We're Talking To
Henry Kissinger, the former U.S. secretary of state, reflects on Obama's foreign policy and shares his reaction to Trump.
Don Share, the editor of Poetry magazine, discusses how poetry is helping disappointed voters cope.
Atlantic readers share how they're talking to their kids about Trump's victory. If you're a parent or a teacher, we'd like to hear from you too: hello@theatlantic.com.
---
Evening Read
Laura Bogart on how TV shows handle sexual assault:
Real-life survivors might struggle to find their experiences reflected accurately in the "shock-and-arouse" approach of shows such as Game of Thrones, which rely on titillation or use rape as a cheap plot device. Law & Order: SVU often depersonalizes sexual assault by treating it either as ripped-from-the-tabloids fodder or as a chance to illuminate political issues like the rape-kit backlog. Shows like Jessica Jones and The Americans have worked toward a more authentic, survivor-oriented depiction of life after rape—but they refract the experience through the fantastical lenses of superhero and spy genres. This approach may make for compelling television, but has an element of wish fulfillment that feels alien to many survivors, who must move through a more mundane world in their recovery.

So it's ironic that perhaps the best drama to explore the trauma of sexual assault is a show that, unlike SVU or Game of Thrones, very few people watch: SundanceTV's Rectify.
Keep reading here, as Bogart examines Rectify's nuanced portrayal of a wrongfully convicted man returning to his hometown after a stint on death row during which he was raped by fellow prisoners.
---
What Do You Know?
1. The three species of mammals that are known to carry leprosy are humans, red squirrels, and ____________.
Scroll down for the answer, or find it here.
2. After Tuesday's vote, ____________ U.S. states now permit the recreational or medicinal use of marijuana.
Scroll down for the answer, or find it here.
3. To cope with post-election stress, a psychologist suggests the acronym ACT: A for "accept reality," C for "create a vision," and T for "____________."
Scroll down for the answer, or find it here.
---
What We're Working With: Life's Twists and Turns
As part of our ongoing series of interviews with American workers, we've talked to a pet groomer in D.C., who overcame her fear of dogs to start her own business; a soldier who came back from Afghanistan to become a hydroponic farmer in Virginia; a consultant who quit his job to start a window-cleaning business in California; a former engineering student who found his calling as a butcher in New Orleans, and three black female lawyers who, tired of the lack of diversity in law, founded their own firm in Chicago.
We'd like to hear your stories from your own working life. If you've made a big leap between industries, what motivated the switch? If you've had major changes in your personal life that affected your job, how did you cope? Please send us a brief note via hello@theatlantic.com, and we'll post some of the responses as part of an upcoming project.
---
Reader Response
A reader who struggled with his eventual decision to vote for Trump had this reaction to our newsletter sent on election night:
Your summary of the election was a disappointment to read.  Your condescending attitude toward Trump and his supporters is EXACTLY why so many of us "deplorables" voted for Trump.  You honestly do not see your own biases, do you?  I am a college-educated (MA) voter and, although Trump was not my first choice in the primaries, I can see why his message resonated with so many Americans. You need to get out of your office and start talking with Americans outside your small world of liberal friends and co-workers. Then perhaps you will see why people are so angry with the media. You are a perfect representation of those biases.
Many thanks to this reader for reaching out, and for his gracious reply in this followup message:
I can't tell you how surprised and impressed I was with your response to my email. You may include my response in your newsletter if you would like. I personally struggled with my decision to vote for Trump, but after having spent 10 days recently in Japan where the only access to news I had was [a cable news network and a national newspaper], I couldn't help but be chagrined at the one-sidedness of the news I heard and read. I am sure I am not the only one who felt that the media were so stacked against Trump and his supporters that we felt compelled to vote for him if nothing else than as a way of expressing our utter contempt for the press. I hope The Atlantic will try harder to show both sides in a fair and unbiased manner. Again, thank you for your kind response.
I'd like to share with you all what I wrote to him: that I do take these concerns very seriously, and I see how my personal reactions during the very tense race on election night may have been reflected in my summary of The Atlantic's coverage. As I wrote in last night's newsletter, the goal I believe in right now is to move forward from what has been, and still is, a period of deep division in this country. We'll be doing our best to make sense of those fissures in our coverage in the weeks ahead.
As the reader above suggests, we're less divided insofar as we can discuss these issues and ideas. To all our readers, then: I'm grateful to you for joining us in this discussion. And I hope that by your reading and writing, you'll continue to take part.
---