The Atlantic Daily: President Trump
In a nail-biting race, Americans made what once was thought to be an impossible choice.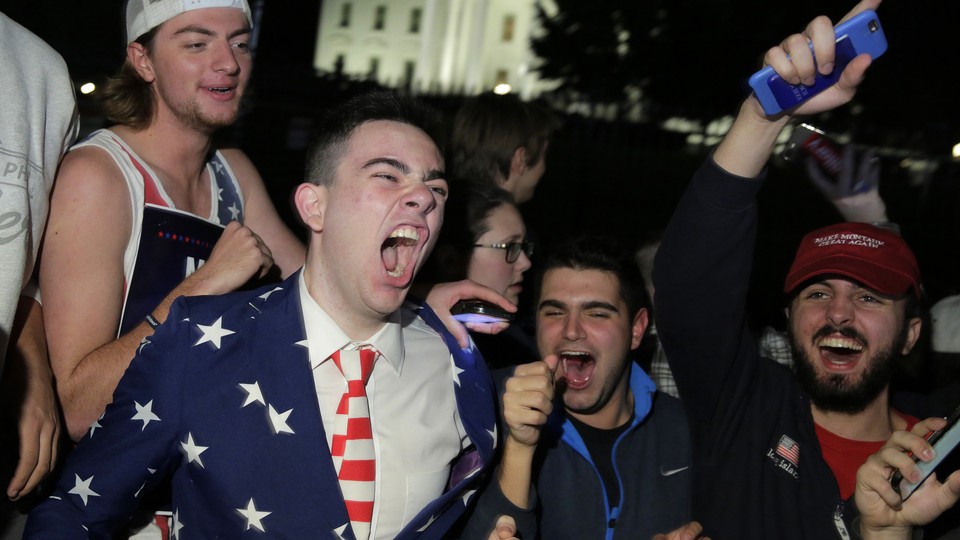 What We're Following
Trump Pulls It Off: It seemed impossible for a long time, but it's really happened: Donald J. Trump—despite his lack of political experience, despite his lies and impulsive temperament, despite the serious allegations against him—is the president-elect of the United States. His key wins came in Florida, where Cuban Americans appeared to push him over the edge in a tight race, and in North Carolina, where the NAACP has filed multiple lawsuits in recent years over voting rights. He defied expectations in the Rust Belt, with projections of his victory in the once-reliably-blue states of Michigan and Wisconsin finally forcing Hillary Clinton to concede just after 2:30 a.m. ET. For Clinton, it was painfully close: She took Virginia in a nail-biting race, came out strong in the West and New England, and initially sent her supporters home at 2 a.m., with campaign chair John Podesta declaring that every vote must be counted. But within an hour, the race was called: With 268 electoral votes and more coming, Trump was the winner.
What This Means: At this point, who can be sure? Last month, The Atlantic warned that Trump's short fuse, authoritarian streak, and stoking of racist sentiment would be dangerous for the nation. He is brash, inexperienced, and unpredictable—his most dangerous trait, as he takes command in a world where, for example, North Korea poses an increasingly serious nuclear threat. His election likely means rough times for U.S. alliances, not to mention the world economy (U.S. stocks have already taken a nosedive). Yet this is what the voters have chosen, and the nation must honor their choice. Narrow though tonight's election was, it speaks to the power and severity of their concerns—their perceived lack of political voice; their fears for their economic future; the lines of division so starkly illuminated by this campaign. Americans' next step must be to work toward healing those divides—while also endeavoring to keep our most important, fragile systems of government from falling apart in Trump's hands.
And What Else is News? In the midst of the election tumult, the father of one of of the five Dallas police officers killed by a sniper during a protest against police shootings this summer has filed a lawsuit against the leaders of Black Lives Matter, claiming that the loosely organized protest movement incited a "race war against police." Yesterday, the city of Aurora, Colorado, paid $2.6 million to settle a lawsuit with the family of an unarmed black man who was fatally shot by police in March 2015. Near Mosul, as Iraqi forces continued to advance, soldiers discovered a mass grave of nearly 100 bodies, likely civilians. And in Germany, five suspected ISIS members were reportedly arrested. More updates from around the world by our news team are here—and meanwhile, the world has been watching the U.S.
---
Snapshot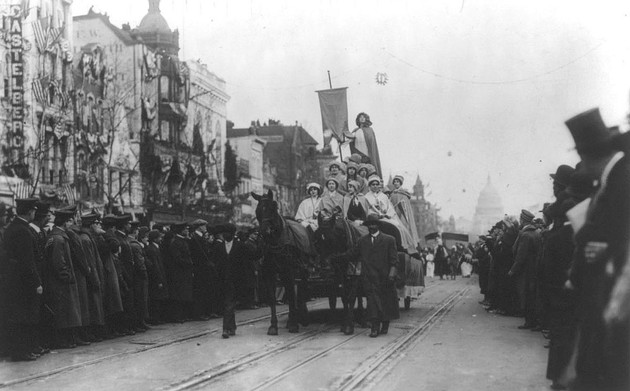 ---
Quoted: Election Edition
"We get one vote and then we have to live with it." —Roy, a voter in Pennsylvania
"He's gotta [win]. I'm so excited. I could cry so easily." —Carol Mazurick, a voter in North Carolina, who supports Trump
"We're stronger together. I think it would be really swell if people connect to the other side." —Kibiriti Majuto, a refugee student, who is president of his senior high-school class
---
Evening Read
In our most recent issue, Conor Friedersdorf reflected on America's divisions:
A common theme is fight or flight. Campaign events come to blows. An anti-Hillary faction has taken to chanting "Lock her up!" during Trump rallies. Some anti-Trump voters swear that, this time, they really will move abroad if he is elected. ...

Perhaps a lucky few Americans really can flee into what they regard as utopias. But for most, the impulse to withdraw, or to force the withdrawal of others, is rooted in a reluctance to face this reality: No matter who wins the election, or the next skirmish in the culture wars, most Americans must live together, and will live together, within these borders, with people whose actions or views are anathema to them.

How, then, can we get along?
Keep reading here, as Conor turns to social and political psychologists for an answer to that pressing question.
---
What Do You Know?
1. The first American vote from space was cast in ____________ by astronaut David Wolf.
Scroll down for the answer, or find it here.
2. Only 22 percent of students at America's top universities know that the phrase "government of the people, by the people, and for the people" comes from the ____________.
Scroll down for the answer, or find it here.
3. By income and education, the second-most successful immigrant group in the U.S. are those who fled the 1979 revolution in ____________ .
Scroll down for the answer, or find it here.
---
Reader Response
Among the many readers reflecting on the end of the Trump campaign, one shares a lesson from journalism school:
I learned that the three purposes of journalism are to inform, to persuade and to entertain—in that order. ... Today, I think we have arrived at a point where, at best, these go in reverse order, or at worst we are almost entirely in the entertainment realm. It began, perhaps, with choosing an actor as our president. It ends up with a reality television star as candidate: a person only capable of entertainment, with a dash of persuasion, but zero information. The disturbing part is how readily the public was brought along. I realize myriad factors are at play, but how sad that we have an election that was "informed" almost completely by entertainment.
Read more here. When it comes to the entertainment realm, though, just where does the line fall between artistic and political speech? Today, we cover how entertainers from comedian Samantha Bee to pop stars Jay Z and Beyoncé have made the case for Clinton, and how fiction writers have imagined a future under "President Trump."
---
America by Air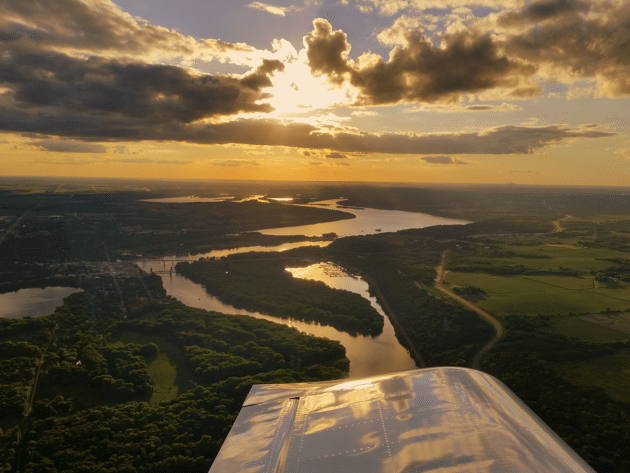 ---
What You're Working With: Times of Change
As part of our ongoing series of interviews with American workers, we've talked to a travel agent in California who's adapting to the age of online booking; an Army sergeant who's watched the military evolve over her 15 years of service; a mechanic in Missouri, who's seen his primary tools change gradually from wrenches to laptops; and a sculptor in Ohio, who's made the switch from sculpting in bronze to 3-D printing, but still worries about how the tech industry treats older workers.
We'd like to hear your stories from your own working life. Have the daily demands of your job changed dramatically since you started? How have you adapted to advancing technology, changing social norms, declines in your industry, and other big shifts? Please send us a brief note via hello@theatlantic.com, and we'll post some of the responses as part of an upcoming project.
---
Verbs
Sloth swims, "nasty" cocktails mixed, Toblerones tampered with, candy repurposed, carousel goes round.
---