The Atlantic Daily: Last Stand
The ISIS leader delivered a call to arms, the U.S. added 161,000 jobs, Bernie campaigned for Hillary, and more.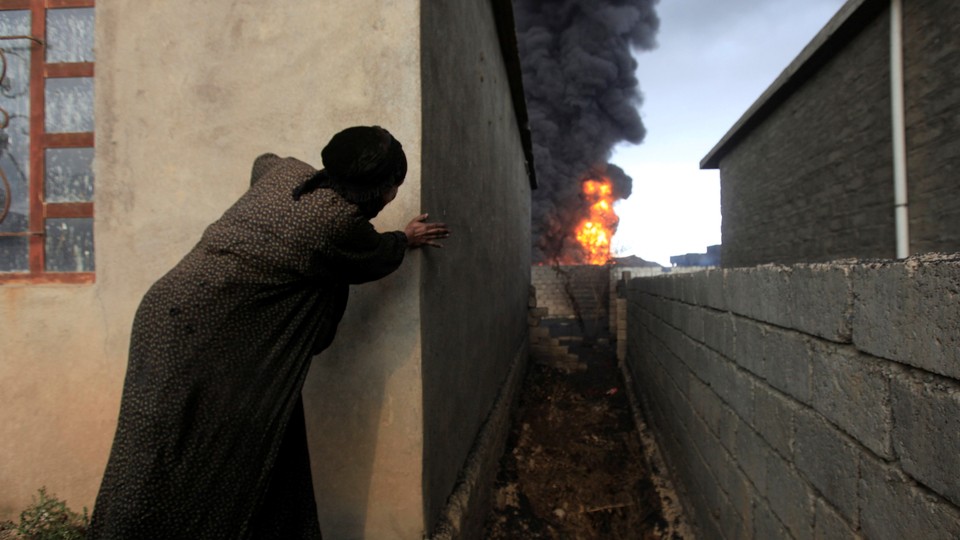 What We're Following
Battle for Mosul: As Iraqi forces continued their advance toward the city, Abu Bakr al-Baghdadi, the leader of the Islamic State, broke a 10-month silence to deliver a statement to his supporters. It was in many ways a familiar call to arms—and yet, with ISIS forced into retreat under cover of toxic clouds of smoke from oil fires, Baghdadi's words reflected the high stakes of the battle. Graeme Wood unpacks the historical allusions in the speech to show how Baghdadi is urging his supporters to fight to the death.
American Jobs: The Labor Department announced today that the U.S. economy added 161,000 jobs in October. It's a modest but respectable gain that continues a pattern of slow-and-steady economic improvement—and in fact, it sets a record at 73 consecutive months of jobs growth, adding up to 11 million jobs created during Obama's presidency. With numbers like that, why is Obama's economic record so underrated—and why are so many Americans still dissatisfied and struggling? There are many factors, but to hear some economists tell it, our focus on growth might be setting the wrong priorities.
The Homestretch: With just a few days to go before Election Day, voters in Arizona—once a solidly red state—could have a major influence on the outcome if young and minority voters turn out to turn the state blue. Over in North Carolina, Bernie Sanders, Hillary Clinton, and pop star Pharrell Williams got together to make one last appeal to young voters. And here at The Atlantic, James Fallows, who's been blogging about Donald Trump throughout the campaign, closed his case against Trump and provided a reading list. What's next? It's in the voters' hands.
---
Snapshot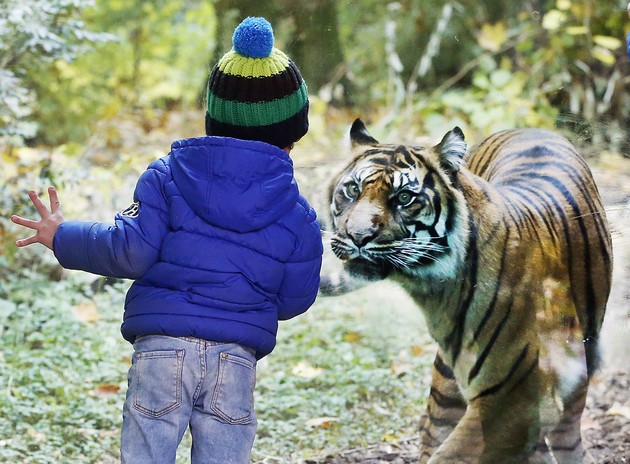 ---
Who We're Talking To
Trevor Noah, the host of The Daily Show, shares what it's like to write jokes about an already-absurd (and alarming) election.
Judith Owens, a neurologist, explains why traditional school and work hours are unfair to night owls.
Mark Seidenberg, a psychologist, discusses why America is underachieving when it comes to reading—and how to close the gap.
---
Evening Read
Benj Edwards on the lost civilization of dial-up bulletin board systems:
BBSes once numbered in the tens of thousands in North America. These mostly text-based, hobbyist-run services played a huge part in the online landscape of the 1980s and 90s. Anyone with a modem and a home computer could dial-in, often for free, and interact with other callers in their area code. Then the internet came along in the mid-1990s. Like a comet to the dinosaurs, it upended the natural order of things and wiped BBSes out. ...

Did any direct-access, telephone-dial-up BBSes survive the internet's proverbial asteroid? Sure enough, there are about 20 known dial-up BBSes in North America. And of those, only a handful have been running non-stop since the mid-1990s. These are the true dinosaurs walking among us. Who dares to run such antique systems, and why? ... I had to find out.
---
What Do You Know?
1. Hawaii's Mauna Kea volcano is home to ____________ operational telescopes, some of which are among the largest such devices on Earth.
Scroll down for the answer, or find it here.
2. At American universities, only ____________ percent of tenure-track mathematics positions are held by women.
Scroll down for the answer, or find it here.
3. With just over ____________ viewers, Wednesday night's World Series title was the most-watched baseball game in 25 years.
Scroll down for the answer, or find it here.
---
Reader Response
Have you ever been part of an emotionally abusive relationship? This reader has:
I think I was so oblivious to my role as an abuser, or so unwilling to accept that I was anything other than the "nice guy" who looked "good on paper" to my ex and to everyone else in my life, that I was frequently able to recast my guilt as a form of victimhood, or to split the blame by labeling the entire relationship toxic. However, when I look back on the relationship, I can see now that it was toxic because I made it toxic. I was overly critical about almost everything, and I failed to maintain a proper sense of perspective on both the relationship and on life in general, so that a "dent in the floor," or a banana peel in my car, became things that enraged me. ...

In my case, everything came to a head on the night we broke up.
Read the rest here, including other stories from abusers and survivors.
We're also in the process of reexamining the Atlantic comments section, and your feedback is extremely helpful to us. Do you hate the comments section? Love it? Are you a regular commenter, or someone who tried it once and never went back? If you have just a few minutes to spare, please answer this short survey—we'd really appreciate it. Thanks for your help!
---
Who You're Shopping For
Caty Green introduces our holiday gift guide:
We all have people on our lists who prompt low-grade anxiety attacks within us when we go to buy them gifts. Maybe it's because of the newness of a relationship: What present sends the right message to a guy you've been seeing for just two months? Or, what do you get your grandma who seems less and less interested in collecting more stuff?
We're here to help. Use this Google form to tell us about your hard-to-shop-for loved ones, sometime before 5 p.m. ET on Monday, November 7. We'll pick several of the responses, brainstorm the perfect gift ideas, and post the suggestions come December.
---
Verbs
Global "Trumps" ranked, Hamilton remixed, dinosaurs hunted, fans forgive.
---