The Atlantic Daily: Much Ado About Voting
As Cuba mourned Fidel Castro, Donald Trump claimed falsely to have won America's popular vote, while Jill Stein called for a recount.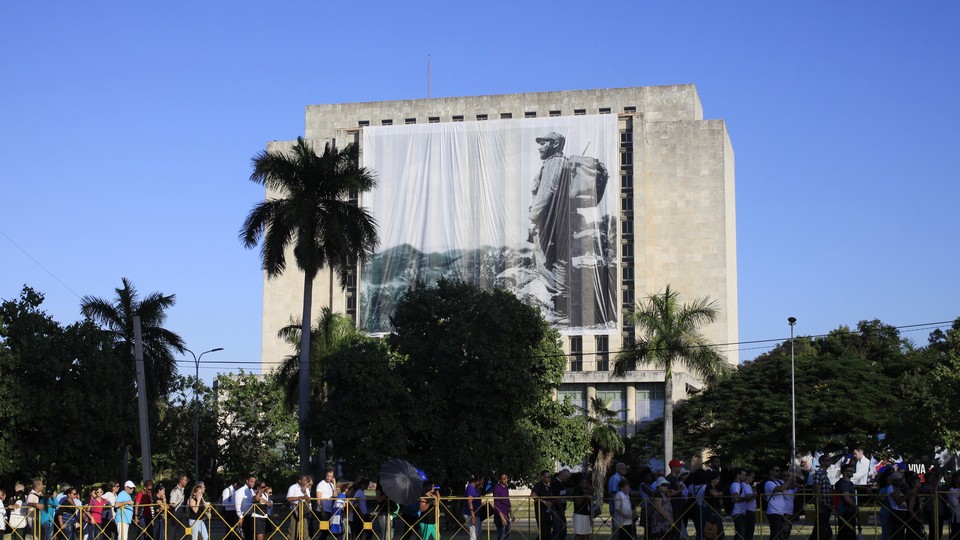 What We're Following
A Revolutionary Remembered: Fidel Castro, the Cuban dictator who led his country from 1959 until 2006, died this weekend at the age of 90. After decades of rule marked both by advances in health care and education and by serious human-rights violations, his death drew a mixed response from Cubans and from world leaders. In Miami, some Cuban Americans took to the streets to celebrate, while a measured response from President Obama left judgment of Castro to history's memory. One remembrance comes from our editor-in-chief, Jeffrey Goldberg, who spent "a phantasmagorically strange week" interviewing Castro in 2010. In those conversations, Goldberg encountered an aging leader whose resentment of the U.S. was undiminished but who seemed well aware that the system he'd created would not last forever.
False Claims: Back in the U.S., the president-elect on Sunday night tweeted that he'd "won the popular vote if you deduct millions who voted illegally." This is not true: Not only does Trump have zero evidence for that claim, numerous studies have shown that voter fraud simply doesn't occur on that scale. But Trump seems to care very little about whether what he says is true or not, which poses a troubling challenge for the press. Meanwhile, Hillary Clinton's popular-vote lead has grown to more than 2 million—a figure that could have Trump understandably worried over his fragile voter support—and Green Party candidate Jill Stein is pursuing a recount of votes in three key states. But Stein's effort is unlikely to have a major lasting effect. What will: Trump's continuing claims about voter fraud, which could lend momentum to voting restrictions that tend to disenfranchise minorities.
Over Thanksgiving Weekend: We covered Nancy Pelosi's post-Trump future, Henry Kissinger's legacy in Vietnam, how education decided the election, an updated crib sheet of Trump's conflicts of interest, the Gilmore Girls' Millennial mythos, the magic of the Dallas Cowboys, the NFL's Mexico City experiment, the evolution of "like," a new podcast on women in music, what's next for the Dakota Access Pipeline protests, the return of Congressional earmarks, the revival of "honest graft," what Trump will face in the Middle East, the South Sudan leader excited for Trump, how Democrats could reclaim the Rust Belt, what Clinton's defeat means for women in politics, the purpose of the electoral college, D.C.'s racial wealth gap, the health crisis of substance abuse, a vaccine for stress, why some diets backfire, and global news to be thankful for.
We're also glad to be back from our own Thanksgiving travels. If you're someone who expected some election-related family discord over the holiday, we'd like to hear how things turned out: Drop us a note at hello@theatlantic.com to share what stood out to you about the conversation and whether your family members were able to come to an understanding.
---
Snapshot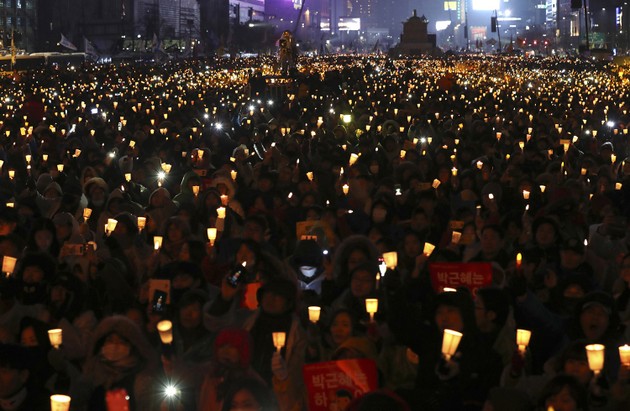 ---
Who We're Talking To
Peter Kornbluh, a historian of U.S.-Cuba relations, describes how Fidel Castro outlasted 10 U.S. presidents.
Jerry Cave, a media consultant, explains the marketing strategies that drove Trump's success—and why he predicted Trump would win.
Robert Zemeckis, director of the film Allied, discusses the future of Hollywood and what makes love stories work.
Caleb Harper, an MIT researcher, shares his model for the urban future of farming in a changing climate. Watch here.
---
Evening Read
John Rosengren tells the story of Scott Stevens, who committed suicide in 2012 after losing his job and his savings to a gambling addiction:
Even after he was fired, Stevens kept gambling as often as five or six times a week. He gambled on his wedding anniversary and on his daughters' birthdays. ... While they lived off $50,000 that [his wife] Stacy had in a separate savings account, he drained their 401(k) of $150,000, emptied $50,000 out of his wife's and daughters' ETrade accounts, maxed out his credit card, and lost all of a $110,000 personal loan he'd taken out from PNC Bank.

Stacy did not truly understand the extent of her husband's addiction until the afternoon three police officers showed up at her front door with the news of his death.

Afterward, Stacy studied gambling addiction and the ways slot machines entice customers to part with their money. In 2014, she filed a lawsuit against both Mountaineer Casino and International Game Technology, the manufacturer of the slot machines her husband played. At issue was the fundamental question of who killed Scott Stevens. Did he die because he was unable to rein in his own addictive need to gamble? Or was he the victim—as the suit alleged—of a system carefully calibrated to prey upon his weakness, one that robbed him of his money, his hope, and ultimately his life?
Keep reading here, as Rosengren explores how casinos enable—and even exploit—gambling addicts.
---
What Do You Know?
1. In 2014, consumers in France drove a total of ____________ miles to shop.
Scroll down for the answer, or find it here.
2. In Finnish schools, it's typical for each hour of class time to have a ____________-minute break built in.
Scroll down for the answer, or find it here.
3. During a recent study, Rainbow Bridge, a natural rock arch located in southern Utah, picked up vibrations from an earthquake in the state of ____________.
Scroll down for the answer, or find it here.
---
Reader Response
Why do so few black and Latino scientists become professors? One black scientist shares his experience:
I grew up in a working-class, inner-city family in Boston and was bussed 1.5 hours both ways to go to school. I was highly modulated to do well because I saw the lives of my schoolmates that were SUBSTANTIALLY better than mine (median income in my neighborhood of $40K vs median income of $150K in the town I went to school in). I realized education was going to be my way out, so I threw myself behind that 100 percent. ...

When I graduated and started working at Harvard, I was making $28K a year. Most construction workers made more than I did. I had to live at home for three years because I couldn't afford rent anywhere. I became extremely resentful because I felt like I wasted all that effort in school for no payoff.

But I quickly realized that immunology was super hot. My lab was an immunology lab, and I learned that with three years more of lab work, I could jump out of the academic treadmill and go to where the real money is: Big Pharma.
Read more here. If you're a scientist of color, what's guided your choice to leave or stay in academia? We'd like to hear from you: hello@theatlantic.com.
---
Look Back
On this day in 1895, six drivers raced from Chicago to Evanston, Illinois, in the first automobile race held in the U.S., starting off a long American tradition. In a cover story for our June 1973 issue, William McIlwain paid homage to another iconic race, documenting "seven days and nights at the Daytona 500":
What's happening here? The liquor-drinking, God-fearing, coon-hunting, short-haired, fried-chicken-eating redneck stock car fan and his honey, pointy-breasted, fixed-up special for the race ... they are going to lie down in this infield like lambs with these atheist, long-haired, bushy-bearded kids with their free-love girls wearing blue jeans and no brassieres. The old-time stock car fan is being subjected to the pressures of change. They come not only from the world in general but from his own heroes. ...

Dr. Richard Proctor is a psychiatrist who works right in the heart of stock car country [in] Winston-Salem, North Carolina. He says ... "In an automated society, there's little that a man can do to vent his hostilities. What can he do—kick the machine? Stock car fans feel that they have little control over what's happening to them. They want to identify with [racing star] Richard Petty, who has complete control. Look at Richard out there in his Dodge, controlling it, passing cars at 180 miles an hour. ... The fan puts himself in Richard Petty's place and it makes him feel like a man."
For more on car racing, check out a short history of NASCAR engines here, and watch the video here for an inside look at another automotive sport: demolition derby.
---
Verbs
Clicks tracked, Rory's story spiked, Nintendo cartridge coveted, frozen-fish rink melts down.
---