The Atlantic Daily: Times of Change
Donald Trump appeared to waver on climate change and torture, but negotiations with Russia and North Korea looked possible for the president-elect.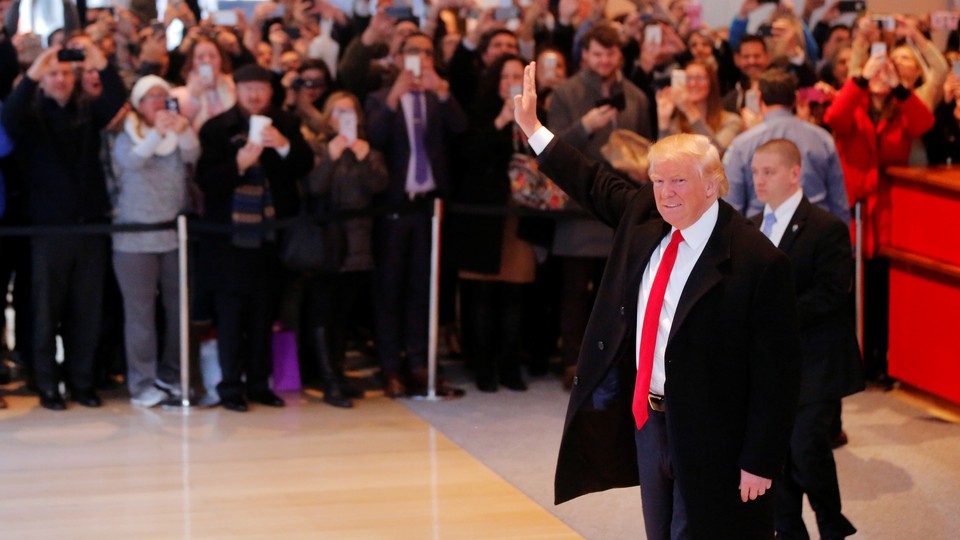 What We're Following
Decisions, Decisions: President-elect Donald Trump met with The New York Times today, after initially tweeting that he'd canceled the meeting when the Times changed the terms. The terms had not been changed, however, and the meeting was back on once the misunderstanding was cleared up. What did change was Trump's mind: In the meeting he walked back the claims he'd made on the campaign trail that torturing terrorism suspects is necessary, and followed up on an earlier announcement from his campaign manager Kellyanne Conway that he did not plan to pursue another investigation of Hillary Clinton. Meanwhile, his views on climate change—which he's denied in the past—remained up in the air.
Speaking of Campaign Claims: One of Trump's key promises from the race was that he'd repeal the Affordable Care Act, and with both houses of Congress under Republican control, that may be well within his power. But one of the groups it's most likely to hurt is the white working class—ironically, the demographic where Trump found some of his strongest support. It's already been well documented that one way Trump succeeded among these voters was by tapping into their worries about the economy. However, a new analysis adds an interesting detail: Trump voters are more likely to live in areas where technology is increasingly replacing the jobs that are mostly held by men—while the fastest-growing American professions are dominated by women.
Let's Make a Deal? As president, Trump will face two other major decisions when it comes to his dealings with Russia and North Korea. Though he's been heavily criticized for his apparent friendliness toward Vladimir Putin, it may indeed be possible for the U.S. to cooperate with Russia in a way that's mutually beneficial—as long as Trump doesn't lose sight of his goals. A much more daring move, meanwhile, would be to negotiate directly with North Korea over its nuclear armaments, rather than follow previous administrations' strategies of leaving such negotiations to China. And if he pursues that strategy, Trump could accomplish something huge.
---
Snapshot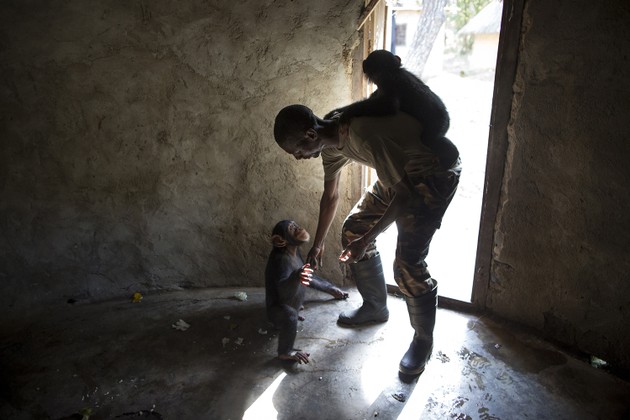 ---
Evening Read
Megan Garber presents a handy bipartisan guide to fighting with your relatives:
Try to be, on the big day, ready for anything. It's smart to prepare for Thanksgiving as if it were an [ extended debate / MMA match / exam that determines 80 percent of your final grade, even though you totally showed up to class week after week and it really seems like steady, reliable participation should count for more in the end ]. In many ways, after all, it is. So make sure that, long before the green bean casserole goes into the oven, you've made yourself an expert on [ the U.S. Constitution / the U.S. Electoral College / the best way to keep the government's hands off of Medicare ].

Or, if you're feeling especially [ confident / insecure ], you can also simply memorize some assorted soundbites and statistics to drop at random during the Thanksgiving meal. For example, do your relatives know that the Pope just endorsed Ivanka Trump's new line of boldly understated careerwear, whose pieces are currently available at [ Macy's / Lord & Taylor / several fine retailers ]? Or that your chances of falling victim to [ Prius drivers / Roombas gone suddenly sentient / superstorms brought about by the irreversible effects of global climate change] have risen by 63 percent in the past two years alone? These things aren't true, technically, but you saw them on [ Facebook / Twitter / Snapchat / Breitbart ], which means that, in another way, THEY ARE TOTALLY  TRUE.
Keep reading here, as Megan offers tips for things you can all agree on (e.g. "that [ CNN / Fox News / The New York Times / The Atlantic ] is the worst"). And for more Thanksgiving humor, check out Jim Hamblin's annual answers to every possible Thanksgiving health question.
---
What Do You Know?
1. Nellie Bly, the journalist famous for circumnavigating the globe in 1889, is also known for inventing the modern ____________.
Scroll down for the answer, or find it here.
2. Between 1980 and 2014, the number of science PhDs from underrepresented groups in the U.S. grew by ____________ times—while the number of assistant professors from those groups increased by only 2.6 times.
Scroll down for the answer, or find it here.
3. During the Great Depression, an American atheist group lobbied to counter Thanksgiving with a holiday called ____________.
Scroll down for the answer, or find it here.
---
Reader Response
What's the best gift you ever received? I posed that question to Atlantic readers in the Disqus group known as TAD, and this was the most up-voted response:
I was deployed to Iraq. I can't remember now if it was my first or second year long plus trip over there, but I came across a website for some people, Socks for Soldiers, who were making hand-knit socks and caps for the troops. I thought this was a nice notion myself, being an amateur knitter. I emailed and asked if they might send me a sock kit.

I expected a few balls of yarn, a set of sock needles and a pattern. But I received a box full of sock yarn of a dozen different varieties, nearly 10 sets of needles, and multiple patterns. I still have a couple of yarn skeins as well as all the needles they sent. It was a lovely surprise and I got some joy out of creating something in a rather destructive environment, plus some odd looks and positive comments from people surprised to see knitting progressing in a dusty military camp.
Read more here. Do you have a story of a gift you've cherished—one that surprised you, something that was exactly what you hoped for, or a gift that's come to mean much more than you could have known when you first received it? We'd like to hear from you: hello@theatlantic.com.
---
Verbs
Emoji street named, universe viewed, inspiration received, democracy worked.
---