The Atlantic Daily: Unwanted Allies
White nationalists were caught on tape saluting Trump's win, his election threw U.S. alliances into question, the electoral college faced a choice, and more.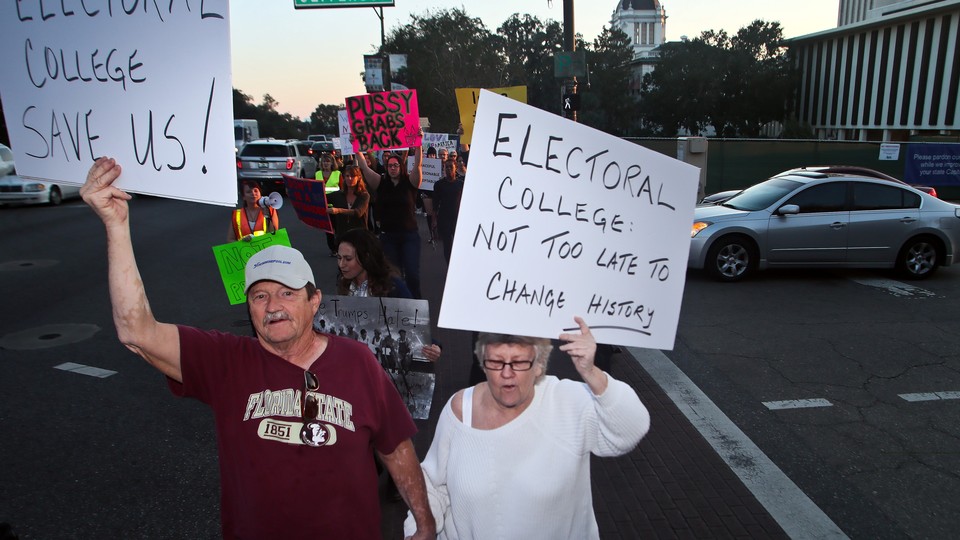 What We're Following
'Hail Trump': That's how a group of white nationalists saluted the November 8 victory of the president-elect this weekend at the annual conference of the National Policy Institute, as seen in an exclusive video filmed by The Atlantic. The disturbing scene came during an after-dinner speech by alt-right leader Richard Spencer, who among other anti-Semitic and racist statements described America as "a white country designed for ourselves and our posterity." His audience cheered, and many raised their arms in Nazi salutes. Trump has not endorsed these statements, of course, nor has he asked white nationalist groups for their support. But the sentiment is alarming.
Democracy Now: There's no question that Trump legitimately received enough electoral votes to secure the presidency. And yet, as mail-in and absentee ballots continue to be counted, Hillary Clinton's lead in the popular vote is over 1.5 million and growing—a wider margin, as one reader notes, than that by which seven presidents have won office. That's part of the reasoning behind calls for the electoral college to vote against Trump; another compelling reason is that stopping the rise of a reckless demagogue is just the purpose for which the electoral college was designed. It would be a grave step to break the norms of how American presidents are chosen, but to many of Trump's critics, this is a grave situation—and at least two electors are trying to make it happen.
Around the World: Trump's election has also called into question the future of America's alliances, after he criticized the nation's obligations to its allies on the campaign trail. South Korea, Japan, and other allies in Asia and the Pacific are concerned about whether the U.S. will back them against the rise of China as a regional power and North Korea's growing nuclear capacities. Meanwhile, NATO has a couple of possible paths ahead—and whether the alliance will hold may depend on Trump choosing between NATO and Russia.
What we covered this weekend: Trump's potential conflicts of interest, the question that underpins the death penalty, rewriting the Bible's "curse" on women, the real media bubble, the emotional labor of waitressing, the lessons of 1984 in 2016, and the future of the Trump-Putin bromance.
---
Snapshot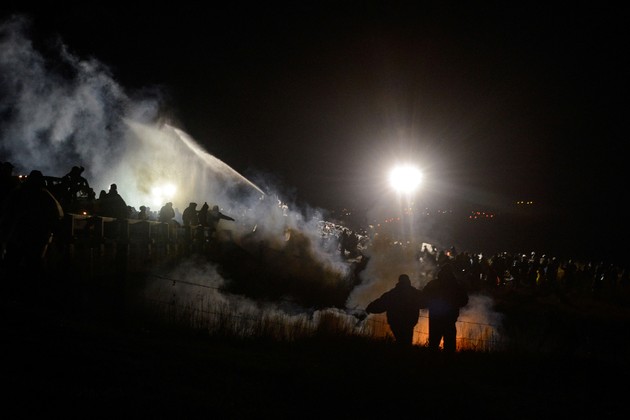 ---
Who We're Talking  To
William Darity Jr., an economist, discusses whether Trump's policies will help close the wealth gap between black and white Americans.
Alexander Todorov, a psychologist, explains how exposure to different people can help overcome biases—more easily than scientists once thought.
John Hanke, CEO of the company that developed Pokémon Go, discusses how augmented reality will change the way we experience tech. Watch here.
Torry McAlvain Jr., a project engineer at the Idaho construction company his family has run for three generations. "We're just a hard-working blue-collar workforce," says McAlvain. "I think that everybody in Idaho, in a way, has that blue-collar mentality. That's rolled right into who I am as a person."
How has your community shaped your career? Does your job serve the specific needs of the place where you live? Or, do you carry the values you learned growing up into your working life elsewhere? We'd like to hear your stories: hello@theatlantic.com.
---
Evening Read
Emma Green on Blase Cupich, the Chicago cardinal who's been called "America's Pope Francis":
In many ways, Chicago is the American test case for Francis's vision of the Church—one that is vibrant, energized, and focused on caring for those who have been thrown away by society. Many pastors, like Cupich, have welcomed this renewed call to "smell like the sheep" they tend in their churches. But the pope has his enemies, too; especially in America, not everyone agrees that Francis is taking the Church in the right direction. Cupich has made a dizzying ascent, earning a job that's part Roman consigliere, part CEO, and part social worker. If he succeeds, his work will be a testament to Francis-style Catholicism. If he fails, though, the consequences won't just be political. Cupich wants to lift people out of poverty, create better education systems, and bring an end to the gun deaths. But the city and the Church he serves are both struggling to hold violence at bay.
Keep reading here, as Emma outlines how Cupich is trying to save Chicago.
---
What Do You Know?
1. In 1971, a 27-year-old man completed the longest known fast in history after surviving on water and vitamin supplements for ____________ days.
Scroll down for the answer, or find it here.
2. The most successful domestic film release in U.S. history belongs to ____________.
Scroll down for the answer, or find it here.
3. America's workforce of administrative professionals is ____________ percent female.
Scroll down for the answer, or find it here.
---
Reader Response
What could Trump's presidency mean for Africa? Shayera, a reader in Nigeria, writes:
Personally, I think Trump's presidency might be a boon for Africa. Say he decides to cut aid to the continent: That could be the beginning of the end of Nigeria's perpetual debt cycle, and then perhaps true representation via taxation will finally take root. Nigerian leaders would be forced to listen to electorates instead of foreign donors.

Also, if he refuses to honour trade agreements, trade restrictions across the continent may loosen, and with free movement of goods and people comes the opportunity for African countries to grow their economies.
Read more here. If you live in Nigeria or elsewhere in sub-Saharan Africa and have a different take than Shayera's, please send us a note: hello@theatlantic.com.
---
Verbs
Shark DNA sampled, liberal bubble burst, turkey hotline called.
---