The Atlantic Daily: Making Connections
China posed a challenge for the president-elect, Trump planned major spending on infrastructure, liberal Americans faced a choice, and more.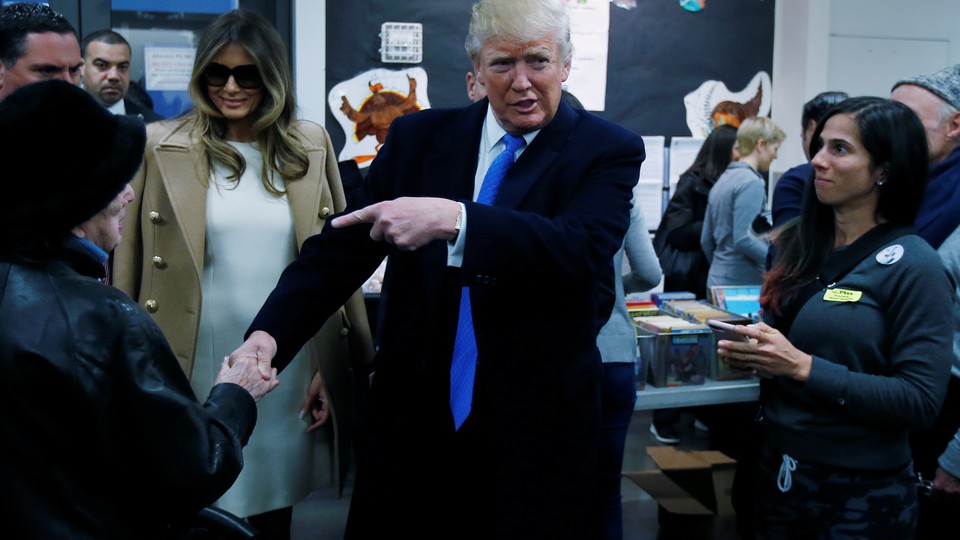 What We're Following
International Relations: As Donald Trump prepares to take on the presidency of the U.S., his biggest international challenge may be recalibrating the nation's relationship with China. As James Fallows writes in the cover story for our newest issue, China has been growing more repressive and more aggressive, and the new president will have to respond to those trends while also navigating the increasing entanglement of the American and Chinese economies. Read Fallows's recommendation for a path forward here (and check out the full issue here). Also at stake: America's newly fragile friendship with Europe. That shakiness isn't all Trump's fault, but so far, he's only made it worse.
Back in the U.S.: Trump continues to contemplate his cabinet. For American workers, perhaps his most important appointment will be his secretary of labor. While his rumored top choices have a wide variety of experience, what they all seem to have in common is a tendency to prioritize protecting employers over workers. That's in line with other elements of Trump's policy, which—despite his populist promises—looks like it's going to favor the wealthy. Still, one proposal that even many of Trump's opponents can get behind is his ambitious infrastructure plan—a priority he shared with Hillary Clinton, but one that congressional Republicans are more skeptical of.
Speaking of Building Bridges: As protests against Trump continue in many major cities, progressive voters disappointed by his election are facing a choice about how to move forward. They can either condemn his supporters, or they can try to understand them—which may be a necessary first step if progressives want to try to win more votes. To maybe build a little understanding, we've been convening a discussion between the Trump supporters and Clinton supporters among our readers; read it here, and join via hello@theatlantic.com.
---
Snapshot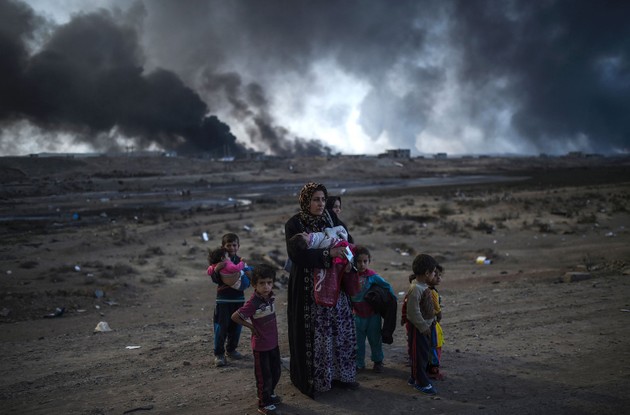 ---
Who We're Talking To
Moira Walsh, a newly elected Rhode Island state representative, explains how her 10 years as a waitress prepared her for politics.
American teachers describe how their students reacted to Trump's election.
Letisha Boyd, who spent 16 years in prison, shares how she stayed close with her younger brother during that time. If you're the sibling of someone in prison, we'd like to hear from you: How did your brother or sister's incarceration shape your relationship? Please send us a note: hello@theatlantic.com.
---
Evening Read
James Parker on Thomas De Quincey, "one of the finest and nastiest prose writers in England":
Nastiest? Oh, most definitely. This is the great gift and insight of Frances Wilson's new Guilty Thing: A Life of Thomas De Quincey—that De Quincey, while not as grandly antagonistic as his contemporary and fellow journalist William Hazlitt ("Have I not reason to hate and to despise myself? Indeed I do; and chiefly for not having hated and despised the world enough"), embodied in his elfin way a more modern, because it was more marginal and alienated, strain of meanness. He was kind of a stalker. He was kind of a troll. In 1816 his friend Charles Lloyd, recently escaped from a mental asylum and believing himself to be "the Author of all Evil," told De Quincey sadly, "I know also who you are: you are nobody, a nonentity, you have no being." But De Quincey was also kind of a genius, so let's start there.
Keep reading here—and here for how to combat modern trolls.
---
What Do You Know?
1. By one scientist's estimate, only 1 in 100,000 garden snails has a shell that coils to the ____________.
Scroll down for the answer, or find it here.
2. Though the safety pin was patented in ____________, its design can be traced back to Roman fibulae, the pins used to hold togas in place.
Scroll down for the answer, or find it here.
3. ____________ may be the only country in the world that doesn't recognize an author's right to be identified as the creator of his or her own work.
Scroll down for the answer, or find it here.
---
Reader Response
Ron sends a moving letter reflecting on the divisions between Trump voters and Clinton voters:
I truly believe we are a great nation that desperately strives to be good. I truly believe that our differences are not something to fear and our disagreements are not something to flee from. And I want to do all in my power to fight for "us" and "them." As much as I have been disgusted by our president-elect's rhetoric and behavior, as much as I condemn the conduct and indict the character of a great many of his voters, I would have to deny a large number of my life's memories to pretend his constituents did not have legitimate grievances. ...

I will love. I will love in that difficult fashion, in that way that recognizes the complexities that make loving each other so rewarding are the same thing that makes it so damn hard.
Read more of Ron's note. Those last lines remind me of a line from Auden that my colleague Julie quoted recently in her roundup of poems for coping with the election: "You shall love your crooked neighbor / With your crooked heart."
---
What You're Working With: The Value of Work
As part of our ongoing series of interviews with American workers, we've talked to a venture partner in Silicon Valley who keeps parenting as her top priority; the director of the federal agency that advocates for minority small-business owners; an investment banker in Little Rock who respects a strong work ethic above all; and a former soldier in Virginia who found his peacetime mission in growing produce.
We'd like to hear your stories from your own working life. Have you changed jobs because you didn't believe in what you were doing, or discovered purpose and meaning in a career path where you where you didn't expect to find it? How do you define the value of your work? Please send us a brief note via hello@theatlantic.com, and we'll post some of the responses as part of an upcoming project.
---