The Atlantic Daily: Come Together
President-elect Trump chose his chief staffers, women voters puzzled pundits, John Oliver called his viewers to action, and more.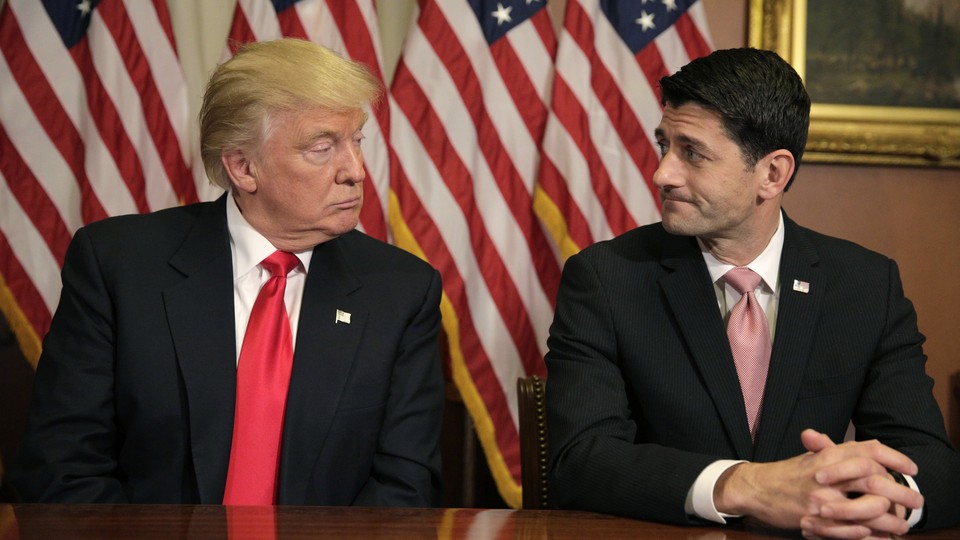 What We're Following
Trump's Government: The president-elect announced this weekend that his White House chief of staff will be Reince Priebus, chair of the RNC, while Steve Bannon, former head of Breitbart News, will be Trump's chief strategist and senior counselor. As representatives of the GOP establishment and the alt-right, respectively, Priebus and Bannon make an unlikely pair—but one that's symbolic, perhaps, of the Republican Party under Trump. In the House, that tenuously united party is led by Paul Ryan, who spent the months before the election carefully distancing himself from Trump. But now they're on the same side—and together, they have an opportunity to get a lot done.
Also Part of Trump's GOP: a majority of white women voters. Trump received 53 percent of their vote, a number that's surprised many commentators given Trump's history of sexism and alleged sexual assault. And it's even led some to accuse women, as a group, of failing to elect the first female president. Yet the picture is much more complicated than that: White women consistently tend to vote Republican, and party loyalty tends to sway voters much more strongly than gender. In any case, there's a silver lining for those who supported Clinton: Her defeat could make her an even more powerful icon.
On TV: Pop culture is reformulating after a campaign that saw many celebrities speaking out—unsuccessfully—in favor of Clinton. Saturday Night Live this weekend opened with a sober performance by Kate McKinnon, who played "Hallelujah" on the piano and urged viewers not to give up. Late-night host John Oliver went one step further with a passionate call to action, telling his audience to "stand up for … people who are now under threat" by Trump's policies or by the climate of fear and anger that has contributed to his rise. Calls like that one seem to have worked, at least in one respect: Since the election, nonprofit groups that focus on issues like women's health, civil liberties, and immigration rights have seen a surge in donations.
Other stories we're following: An earthquake in New Zealand, possible war crimes in Afghanistan, remembering Gwen Ifill, why the world's coconuts are in danger, and the case against cats.
---
Snapshot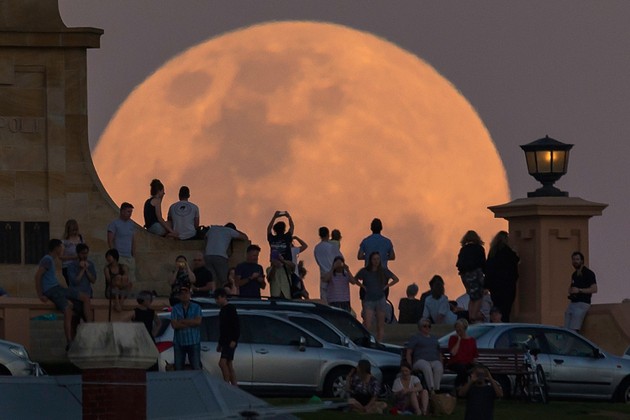 ---
Who We're Talking To
Jessica Post, a Democratic party official, discusses what happened to down-ballot Democrats and what's next for her party after the 2016 election.
Anthony Anderson, a staff sergeant in the South Carolina National Guard, shares why he's made it his mission to track down people who lie about their military service.
Leslie Vosshall and other scientists explain how they've developed algorithms to predict what a molecule smells like. "There's something really seductive that draws people into olfactory studies," says Vosshall. "Smell is sexy."
---
Evening Read
Juleyka Lantigua-Williams tells the story of Shelton McElroy, who was separated from his brothers as a child in foster care before he wound up in prison:
By his 19th birthday, Shelton was in prison again for a minor crime—but he broke out. "I climbed this 16-foot-high razor-wire fence and escaped," Shelton says. "I was caught less than three or four hours later." For that, a judge added three years to his sentence, for a new total of seven years. The maximum-security prison he was then sent to had two 16-foot-high razor-wire fences back to back and gun towers around the perimeter. ...

Inside, the building was organized into two halves, each housing about 1,000 inmates. The two sets rarely mix, but they can see one another through thick glass partitions. On occasion, some of them might run into each other in the library or medical area. One day in the cafeteria, as he was pushing his tray down the food line, someone caught his eye. "Across from me, it's the first time in almost five years that I've seen my biological brother David," he says. "You can't really put that in words, what that's like, to look across and see your brother through glass."
---
Reader Response
A high school teacher in Clatsop County, Oregon, describes the mood at his school after last week's election:
Twenty percent of our school demographic is Latino. I have students who are afraid of being deported. The kids are as stunned as the staff, even the pro-Trump kids. … One of my students, just old enough to vote, was berated in another of his classes (by the teacher) for his vote for Trump. He was called sexist and racist. He voted for Trump because he doesn't see how a woman could lead the military.

My students want to know who I voted for, and I have always been closed about that. But this is a strange election. … I want to emphasize the rule of law, not riots and militarism. But I also worry about complacency, and I am—as a biology teacher—deeply worried about the ability of our planet to sustain life as we like it.
Read more here. If you're a teacher, how are you discussing the election with your students? We'd like to hear from you, especially if you hold conservative views or if you voted for Donald Trump. Please send us a note: hello@theatlantic.com.
---
What You're Working With: How Your Job Fits You
As part of our ongoing series of interviews with American workers, we've talked to a rancher in Nebraska who applies her psychology degree to improving animal welfare; a retired SAT proctor in Pennsylvania, whose personal ethics guided him through 53 years of making sure students didn't cheat; a bartender in Las Vegas who began her award-winning career on a whim as a bored college student; and a hair braider in Iowa, who helped change the law in her state so that more people could legally practice the trade she started learning as a young girl.
We'd like to hear your stories from your own working life. Are you someone who doesn't fit the stereotypes surrounding your job? Have you ever found yourself in a career that you're not cut out for? How does your unique personality and skill set align with the work that you do? Please send us a brief note via hello@theatlantic.com, and we'll post some of the responses as part of an upcoming project.
---
Look Back
On this day in 1960, 6-year-old Ruby Bridges became the first black child to attend an all-white elementary school in Louisiana. In our March 1963 issue, Dr. Robert Coles, a child psychiatrist, described her experience:
A girl of six with blonde curls approached Ruby, and, loyal to her mother's words, she told Ruby that she was not supposed to play with her. A few minutes later their teacher watched them busily jumping rope together. …

It is not that [children] are unaware of race, as is sometimes asserted. Children notice skin colors, and at five a child can talk in many ways about racial identity, depending on what his parents have urged. … I have seen Negro children draw pictures expressing their sense of rejection, of their shame and worthlessness, and their wish to rid themselves of these problems by having white skin. White children often locate their Negro classmates in separate inches of the drawing paper, sometimes encircling them with heavy black lines.

Yet, even after we learn that innocence is no longer the issue, children can be seen contradicting the very fears they sketch out in their drawings. … Determined parents, afraid themselves, can either transmit this fear to their sons and daughters or by example show them how to conquer it.
Read a PDF of the article here.
---
Verbs
Ghost-trackers busted, polygraphs tested, denim deprecated, Biden be-memed.
---