The Atlantic Daily: Getting Prepared
Media organizations looked ahead to a Trump presidency, Mike Pence took the helm of Trump's transition team, violent protests broke out in Portland, Oregon, and more.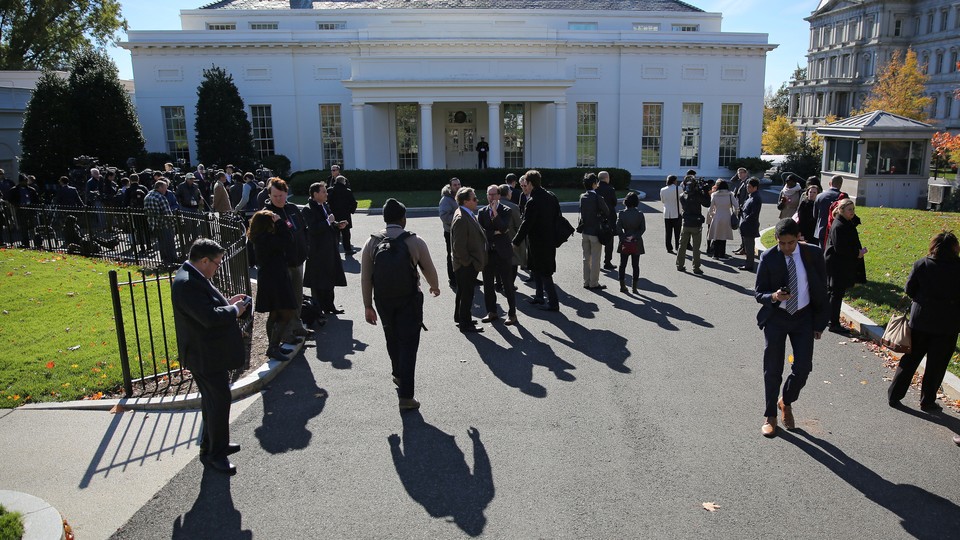 What We're Following
Got It Covered? Journalists throughout the American media landscape have been reflecting this week on their own role in the 2016 election. Once Donald Trump actually gets to the White House, the press may find itself even more unprepared, as the president-elect's tendency to deny his own past statements and actions will gain even more credence and consequence with the full power of the government behind him. The potential spread of misinformation won't be helped by the dominance of social-media platforms like Facebook, which wield tremendous publishing power but whose algorithms don't necessarily account for accuracy. Facebook can and should develop a better fact-checking system. At the moment, though, it looks like there's plenty of room for improvement on that front: Today, the social-media network accidentally displayed memorial banners for multiple users—including CEO Mark Zuckerberg—who remain very much alive.
The Trump Transition: One commentator whose prospects do look promising is Trevor Noah. Though the Daily Show host's measured humor has received a lukewarm response from viewers thus far, he struck a chord last night with a wry, thought-provoking critique of the presidential transition—a transition that, after a year of increasingly ugly campaigning, is a jarring and awkward process. Its most recent development: Vice-president-elect Mike Pence will be heading the transition team, taking over the duties Chris Christie had been handling. Our politics team has the latest; and for more updates on the Oval Office, subscribe to our daily Politics & Policy newsletter. Outside the Beltway, protests over Trump's election turned violent last night in Portland, Oregon, with police declaring a riot after demonstrators damaged cars and broke windows.
In Other News: In northern Afghanistan, a Taliban attack on the German consulate killed at least four people and injured over 100, in retaliation to a NATO airstrike last week that killed more than 30 near a village in Kunduz. But there is some good news in the world: Negotiators in Colombia and in Cyprus are working toward peace deals, and the African Union is working toward a continent-wide one on free trade. More details on those bright spots here.
---
Snapshot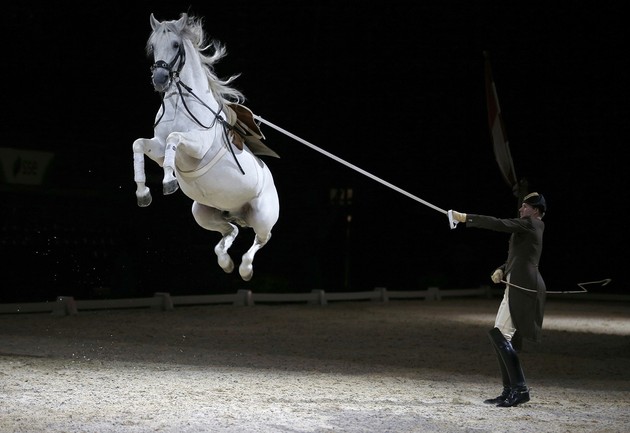 ---
Who We're Talking To
Chris Arnade, a journalist and former Wall Street trader, explains what the media may have missed when writing about Trump supporters. (More discussion from readers who voted or considered voting for Trump here.)
Teresita Fernández, an artist, talks about drawing inspiration from the natural world. (More on women artists in our forthcoming issue.)
Magdaleno Santos and other immigrant workers in North Carolina react to Trump's election. "He can build a wall, but we'll just build a tunnel," says Santos. "If we leave, the entire country will fall apart … Who do you think is building everything here?"
---
Evening Read
Vann R. Newkirk II reflects on what Trump's election says about America:
This election is a hard reminder that racism is a force that has always shaped this country. This is the same country that killed Emmett Till, and the same place that gave us Jim Crow. My reporting over the past few months has shown me that Jim Crow and the legacy of slavery are not just echoed in present-day events, but directly animate them. ...

My wife and I are expecting a child sometime in April, and I'm left thinking about how whatever just happened will affect his life. By Trump's own promises, our son might be subject to the world-eating black box of stop-and frisk for no reason. The carceral state that threatened my well-being might also consume him. He might see his own rights of expression that I use to defend him rolled back. Perhaps the most frightening idea for me is not the fanciful visions of mass violence that many have conjured, but the anxiety that I might fail to provide something better to my children than what I had the misfortune to experience. Am I providing opportunity, or just passing on a curse? I wrestle with the idea that I have failed to defend my son even before he takes his first breath.
Keep reading here, as Vann finds hope in America's "multiplicity of wes, of collective nouns and spaces of all sorts." If you're wrestling with similar feelings and fears in the wake of the election, we'd like to hear from you: hello@theatlantic.com.
---
What Do You Know?
1. ____________ percent of Americans—or one and a half times the typical audience of the Super Bowl—use Facebook every day.
Scroll down for the answer, or find it here.
2.  In the 1900s, electric ____________ were marketed as a cure for rheumatism, liver problems, shortness of breath, "female trouble," and more.
Scroll down for the answer, or find it here.
3. If Obamacare was repealed, about ____________ Americans would lose their health insurance.
Scroll down for the answer, or find it here.
---
Reader Response
Even though she voted for Hillary Clinton, this reader feels a sense of personal responsibility for her loss:
It's my fault because I voted for Clinton when she ran against Sanders in the 2016 primary, and I didn't tell anyone because again she was the unpopular choice. ... It's my fault because during the long months of the primary and the general election I didn't tell anyone how strongly I felt. …

It's my fault because my father and I had a massive fight about Clinton over Easter, and in an effort to preserve our relationship I stopped talking to him about politics. If we didn't talk about it, then I didn't have to deal with the possibility that he was sexist and racist in a way I'd never considered.

It's my fault because I capitulated to the expectation that I not express my emotions publicly. I'm upset right now, and it isn't lost on me … that saying I'm angry will make me vulnerable to the accusation I'm too emotional. I've spent a lifetime calming down.
Read more here. If this reader's reaction resonates with you, please send us a note: hello@theatlantic.com.
---