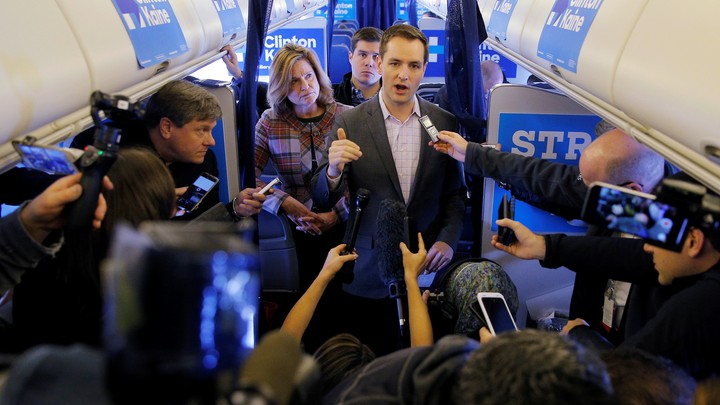 And Over at Facebook: A new investigation from ProPublica shows the social-media giant's targeted ad feature allows companies to block users from seeing their ads based on "ethnic affinity." That's a problem when it comes to things like job postings or housing ads—it could enable the advertisers to advance discriminatory policies. On the flip side of race and advertising, some educators worry that college admissions policies—even with a well-intentioned focus on diversity—can force students to commodify their backgrounds and identities.
---
Snapshot
---
Who We're Talking To
Lonnie Bunch, the founding director of the Smithsonian National Museum of African American History, discusses his hopes for how the museum can help America heal its racial divides.
Aja Brown, the youngest-ever mayor of Compton, California, and the city's first female mayor in 40 years, shares how she plans to change Compton for the better.
Matt Langford, a sculptor who now works in a 3D printing lab, reflects on readapting his career and how American industries treat older workers.
Sam Rosen, a lobster fisherman in Maine, explains how his industry is evolving. "All the younger guys are talking about the world ending," he says of this year's fishing season, "and the older guys are like, 'Yeah, well, this is more what it used to look like.'" Read the full interview here.
---
Evening Read
Jack Watling on the Shia power brokers of the new Iraq:
Today, Iraqi Shiites dominate the country's political, social, and economic spheres—an indirect result of the U.S. invasion in 2003, which unseated the Sunni dictatorship of Saddam Hussein. Under Saddam, Shia clerics were suppressed, driven into exile, or imprisoned; in 1991, Saddam's soldiers stormed and looted the Imam Hussein Shrine. As Shiites' fortunes have risen, so, too, has the prominence of the three [major Shia] shrines [in southern Iraq].

Now, Shia clerics control the richest institutions in Iraq. Beyond supporting the region's IDPs and running a vast network of charitable organizations, including schools, hospitals, and orphanages, the shrines have poured money into building infrastructure and investing in businesses. Shrine officials told me their printing presses produce the Iraqi Ministry of Education's textbooks. A construction company, owned by the shrines, not only works on charitable projects, but paves roads and competes for contracts to build airports. In a concrete sense, the shrines have begun to assume the functions of the state.
Keep reading here, as Watling explores what that means for the country's future.
---
What Do You Know?
1. The phrase "trick or treating" is thought to have been coined in the year ____________.
Scroll down for the answer, or find it here.
2. The city of ____________ hopes its public-transit system will make owning a car obsolete by the year 2025.
Scroll down for the answer, or find it here.
3. Like many other Hollywood heroines, the female stars of Inferno fight, jump, and run through the streets of three European cities all while wearing ____________.
Scroll down for the answer, or find it here.
Answers: 1927, Helsinki, high heels
---
Reader Response
"Infertility is brutal on a marriage," writes one reader:
We actually did do IVF-ICSI with a lot of backup from a fertility psychologist and the doctors pushing my husband along. They said they've never seen anyone so stubborn and resistant. At one point the psychologist said my mental state had deteriorated so much that it was cruel to not do treatment. ... We [now] have a beautiful, healthy child [and] are trying again, but I still feel so much resentment towards my husband.
But another reader shares a very different experience:
Infertility has strengthened my marriage. I know this to be true of a great number of couples. … It is the one thing I am thankful for and proud of: My marriage is better and more solid than most couples I know with kids.
Read many more stories from our ongoing discussion on infertility. If you can relate, please send us a note: hello@theatlantic.com.
---
Verbs
Penguin homes protected, cookbook cures consulted, San Francisco sniffed.
---
The Atlantic Daily is written by Rosa Inocencio Smith. To contact us, email hello@theatlantic.com.
We want to hear what you think about this article. Submit a letter to the editor or write to letters@theatlantic.com.