The Atlantic Daily: Things Fall Apart
The U.S. suspended talks with Russia over Syria, Colombians narrowly voted to reject a hard-won peace deal, Britain set a date to leave the EU, and more.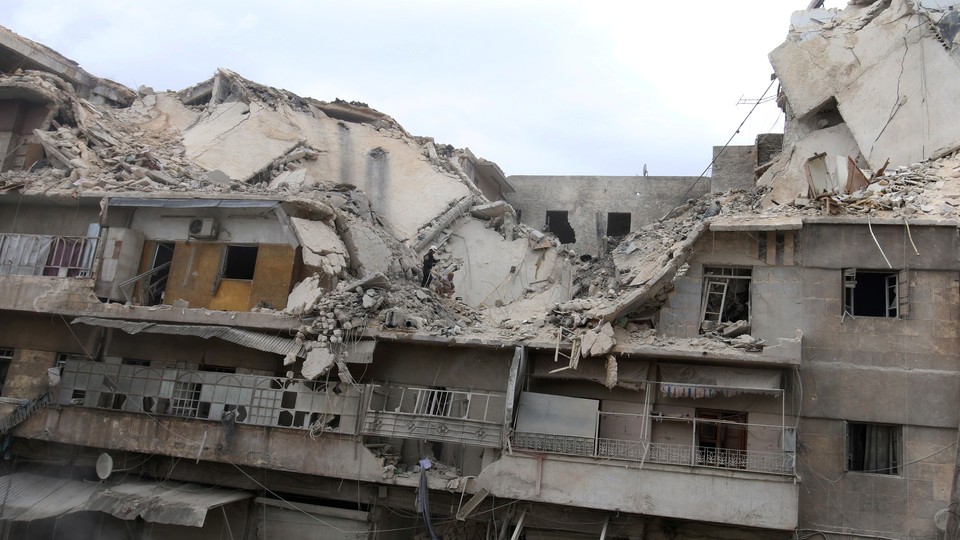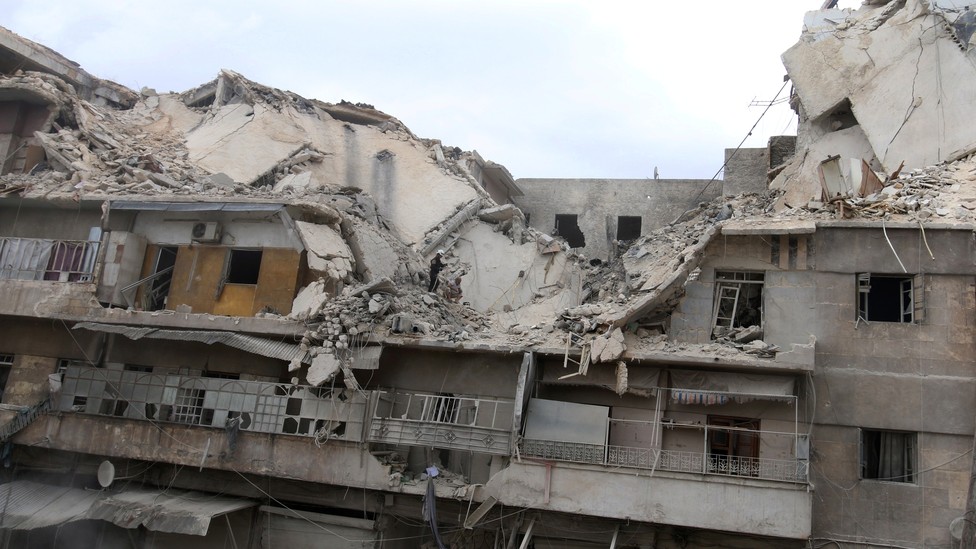 What We're Following
Eyes on Syria: After bilateral talks with Russia failed to restore a collapsed ceasefire in Syria or reduce the violence long enough for aid to reach civilians, the U.S. has, for now, given up trying to negotiate. The suspension of talks comes amid a period of devastating violence in Aleppo—a situation that could finally push the West to intervene. But in Damascus, some powerful people have found a way to profit from the wartime economy, giving them little incentive to help the conflict stop. Meanwhile, a federal court has rejected an attempt to block the resettlement of Syrian refugees in Indiana, calling Governor Mike Pence's plan a discriminatory policy based on "nightmare speculation."
Democracy, Inaction: On Sunday, Colombians narrowly rejected a peace deal that would have ended 52 years of war with the rebel group FARC, in a referendum that was decided by about 54,000 votes: 50.2 percent to 49.8. The deal had been expected to pass by a wide margin, and its future is now uncertain as rebels and government officials attempt to renegotiate terms for which there was no Plan B. Over in Hungary, 98 percent of voters supported rejecting the EU's plan to resettle migrants in the country—but with only 43 percent turnout, the referendum was invalid. Meanwhile, in Britain, Prime Minister Theresa May announced that the two-year process of leaving the European Union will begin at the end of March.
Personal Tech: Just how helpful is an app that lets you tell friends and family you're thinking of them with a single touch? It's definitely convenient—but the absolutely minimal effort involved might make friendships feel all too transactional. Then again, tech is already ingrained in every aspect of our personal lives—to the point where there's a real risk of companies abusing users' trust, and not much regulation against it.
---
Snapshot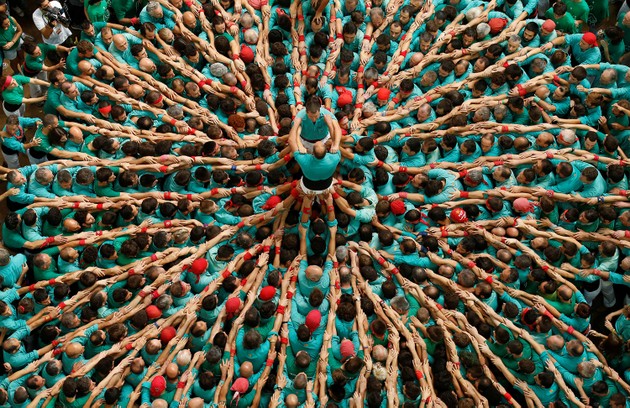 ---
Who We're Talking To
Bill Weld, the Libertarian candidate for vice president.
Gregg Katz, a taxi driver in Olathe, Kansas.*
Jenny Novak, a wildlife biologist in Florida, who's taught more than a thousand people how to capture invasive pythons in the Everglades.
---
Evening Read
Russell Riley on how Hillary Clinton learned to govern:
Most White House veterans agree: The only certain training for the Oval Office is on-the-job.

Hillary Clinton was "there" for eight years as first lady—meaning that if elected, she would take the oath of office with an unprecedented familiarity with the arcane and sometimes thorny levers of presidential power. This prior experience—described in confidential oral-history interviews recorded by the University of Virginia's Miller Center—is as revealing as anything she might say in this year's presidential debates about how she would function if elected herself. Indeed, much of what was on display by Hillary Clinton in the first debate—her detailed grasp of policy, her manifest preparation, and her willingness to go aggressively after her Republican opponent—are features of a well-established operating style that is detailed extensively in these oral histories.
Keep reading here, as Riley delves into the histories to show the decision-making process of the former First Lady, who "was recognized as a key source of discipline in a White House that often tended toward chaos."
---
What Do You Know?
1. Two-thirds of Fortune 500 companies are incorporated in the state of ____________.
Scroll down for the answer, or find it here.
2. ____________ percent of Millennials say they correct other people when they pronounce things wrong.
Scroll down for the answer, or find it here.
3. In 2013, consumers spent $715 million on ____________—but a new scientific review suggests they might have wasted their money.
Scroll down for the answer, or find it here.
---
Reader Response
What motivates Donald Trump's supporters? Eric has a theory:
Something came to mind a few nights ago while I was watching the presidential debate: Is Trump a product of local TV news? I was struck and saw, for the first time, how disconnected the world that Donald Trump was describing seemed from reality in America—not just on the coasts, but everywhere. It got me thinking about his comments in the past regarding minority communities, crime, and social breakdown as a whole. Those don't reflect the America you'd read in the mainstream media, hear on public radio, or see on network news broadcasts, but they do sound vaguely like one non-partisan news source that I'm familiar with: the local TV news.
Read more here. On a more positive note—speaking of local locales—reader Adam suggests a new theme for our Track of the Day series: "songs that celebrate a specific place." Listen to one about Twin Falls, Idaho, here, and send your own favorite song about a favorite place to hello@theatlantic.com with a short description of why you love it so much.
---
Verbs
Time traveled, McMansions haunted, cells recycled, water sommelier sips.
---
*This newsletter originally stated that Olathe is located in Missouri. We regret the error.