The Atlantic Daily: Rise Up
Trump lashed out at women accusing him of assault, DoJ announced police-shooting database, Muslim asylum-seekers converted to Christianity, and more.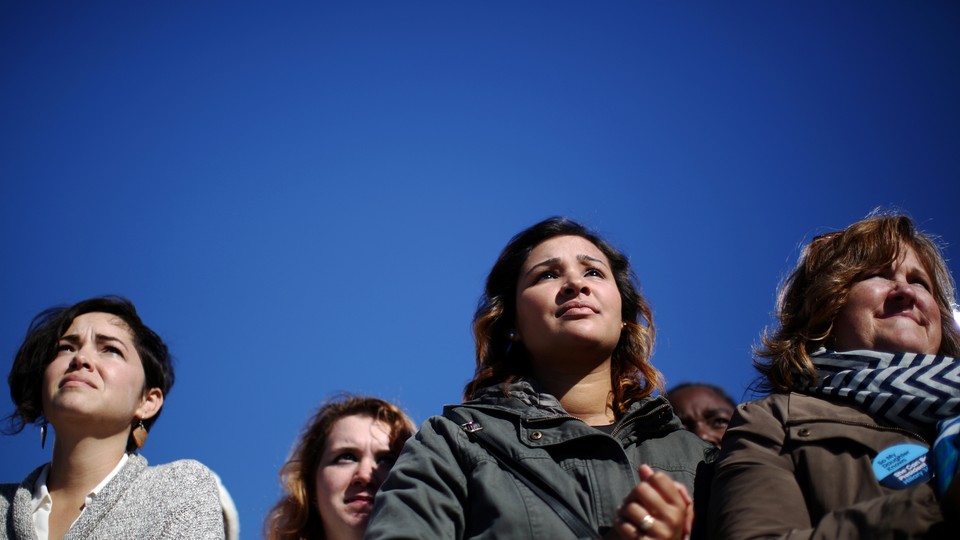 What We're Following
Women Rally: Disturbing stories about Donald Trump continue to emerge from women he allegedly assaulted. The GOP nominee has lashed out at his accusers, claiming that they're lying—then, more grotesquely, he attacked their looks. Michelle Obama responded to Trump's comments in a powerful speech yesterday, urging women to "go high" not just by resisting his ugly rhetoric but by standing up against it. Also going high: A list of some of the most outstanding women leaders in the world includes the chief prosecutor of the International Criminal Court and the managing director of the International Monetary Fund. As 11-year-old America Delgado, a student at an all-girls school in California, puts it: "Boys aren't the only ones who can accomplish things. Girls can make history as well as boys."
Trump's Free Fall: Through it all, Ivanka is still supporting her father; in an interview from the campaign trail, she said she turns to faith and family to ground her in difficult moments—and this might be the most difficult one ever. Trump's campaign has descended into all-out war against not only his opponent but also his own party—and all the while, he's playing on his supporters' sense of isolation and resentment, stirring them to ever more anger as he promises he's the only one who can save them. If Trump doesn't win, what will happen to them?
DoJ Database: In the wake of a long series of fatal shootings and subsequent protests, the U.S. Department of Justice has announced a new project to collect data on police-involved shootings nationwide. Right now, there are serious gaps in federal data; reports from local and state police departments to national authorities are voluntary; and investigations by the DoJ itself tend to focus only on single cities. By centralizing information from all over the U.S., the new database is likely to be an important first step toward nationwide reforms.
---
Snapshot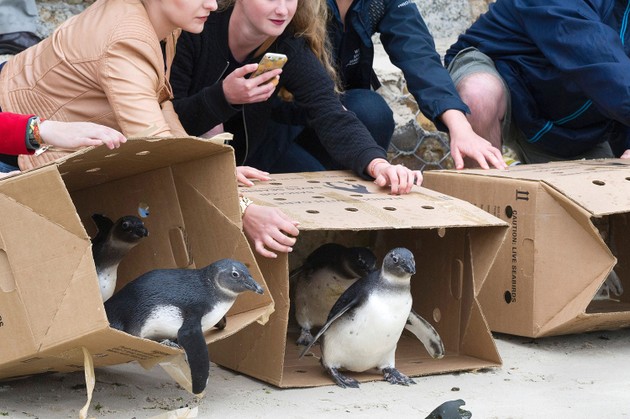 ---
Evening Read
Laura Kasinof on the Iranian refugees converting from Islam to Christianity:
Throughout Germany, the pews of [Protestant] churches … are filled increasingly by asylum-seekers. Though two umbrella church organizations told me that they couldn't provide exact statistics or comment on the nationality of the asylum-seekers attending church, Christoph Heil, a spokesman for the Protestant Church of Berlin-Brandenburg-Silesian Upper Lusatia—which includes 1,300 parishes—confirmed the pattern. "Normally we don't count the number of asylum-seekers who are baptized because we don't differentiate between who is an asylum-seeker and who isn't, but [asylum-seekers asking to be baptized] appears to be a new trend," he said.
Keep reading here, as Kasinof visits a church to talk to asylum-seekers and recent converts. Meanwhile, white Christians in the U.S. are seeing an opposite trend as their demographic shrinks. Watch a video about the changes here.
---
What Do You Know?
1. In 1926, a group of Manhattan businessmen offered to build a new illuminated ____________ for the Statue of Liberty.
Scroll down for the answer, or find it here.
2. A 10-ton lump of congealed fat and ____________ was removed from a London sewer in 2015.
Scroll down for the answer, or find it here.
3. Though scientists previously thought there were between 100 billion and 200 billion galaxies in the universe, new research estimates there are as many as ____________.
Scroll down for the answer, or find it here.
---
Reader Response
Tim revives a discussion among readers who have quit watching football by recommending a different contact sport:
Count me among the many who have drifted away from the NFL, for all the reasons your readers have named. … I also join reader Ed in switching my interest to rugby, in the limited way I can with a basic cable contract. The constant action and amazing athleticism is one reason. An equal one is the "culture of respect" that's one of the game's foundations and most carefully guarded traditions. Players rarely deliberately hurt one another; when they do, they are banned for months on end. Their infrequent scuffles are in the wrestling/bristling mode, not punching with venom.

And, crucially, the referee is The Law—and more in the Solomonic than the Draconian mode. Disputes and fouls are resolved swiftly, fairly, and decisively.
---
Look Back
Winnie-the-Pooh, by A. A. Milne, was first published 90 years ago today. It was Milne's second children's book—he'd published a book of poems, When We Were Very Young, two years earlier—and readers' response to the now-beloved characters quickly outstripped Milne's fame as an author for adults. When The Atlantic serialized Milne's autobiography in our April-June 1939 issues, he reflected on Pooh in the final installment:
The animals in the stories came, for the most part, from the nursery. My collaborator [Milne's wife, Daphne] had already given them individual voices, their owner [Milne's son, Christopher Robin] by constant affection had given them the twist in their features which denoted character, and [illustrator E. H.] Shepard drew them, as one might say, from the living model. They were what they are for anyone to see; I described rather than invented them. Only Rabbit and Owl were my own unaided work. These books also became popular. One day when Daphne went up to the nursery Pooh was missing from the dinner table, which he always graced. She asked where he was. "Behind the ottoman," replied his owner coldly. "Face downwards. He said he didn't like When We Were Very Young." Pooh's jealousy was natural. Popular as he was, the verses had had the larger sale.
More on Pooh and what grown-ups can learn from him here.
---
Verbs
Cells inventoried, UFO hunters photographed, Denzel Washington fact-checked, extinction reversed?
---