The Atlantic Daily: Paths to Security
France began to shut down a major migrant camp, the U.S. economy slowly added jobs, Watergate reshaped the Democratic Party, and more.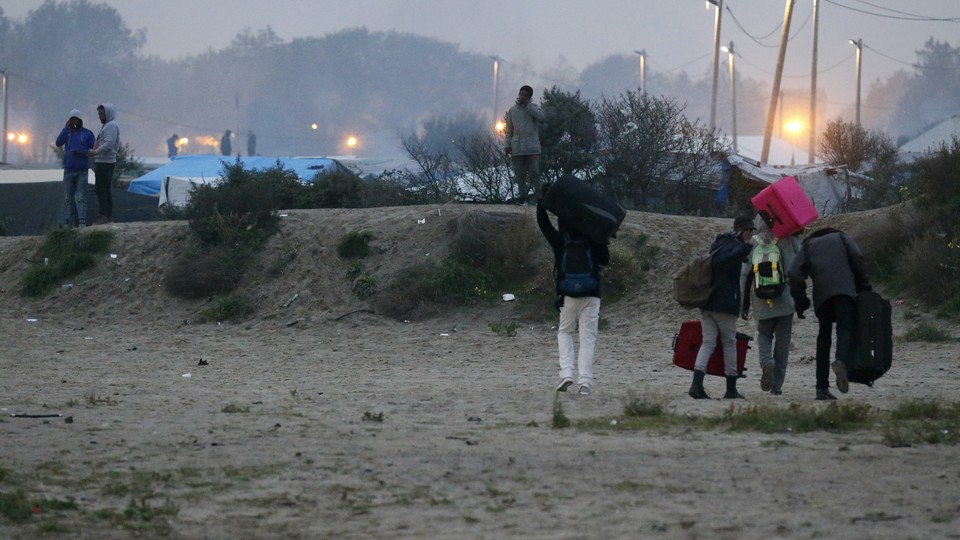 What We're Following
The Refugee Crisis: In France, authorities have begun to clear some 7,000 migrants from the Calais camp known as "the Jungle," which will be dismantled starting tomorrow. Those evicted will be sent to processing centers where they will either be granted asylum or deported. In Afghanistan, people wishing to escape the ongoing violence in the country are facing fewer and fewer options thanks to an agreement that allows EU states to deport Afghan refugees. Meanwhile, over in the U.S., another challenge is finding jobs for the refugees who have already been granted asylum, thus helping to integrate them into the American economy—and their new communities.
Roadblocks to Success: One likely path to employment might be a good education. But for some students, that's harder to come by: A new study of black students from impoverished neighborhoods in Baltimore shows how even the most ambitious students may find themselves without job prospects or a degree when for-profit colleges entice them into programs that they can't afford and that don't pay off. For those who do complete degrees, there's also a racial disparity in debt burdens: Within four years of college graduation, the debt gap between black and white graduates triples, and black graduates end up with nearly twice the debt owed by their white peers. It's hard to tell why black students end up owing so much more, but for-profit schools may once again be a likely culprit.
American Jobs: Overall, by some measures, the U.S. economy seems to be improving—it's on a record 73-month streak of gradually adding jobs. Yet the recovery from the Great Recession has been notably slow, and many families are still struggling. There's still a long way to go, but there's also plenty of reason for optimism: Here's how three small cities found a way to revitalize their local economies.
What we covered this weekend: The future of Obamacare, the lost art of frugality, the Scandinavian far right, the undecided Republican's guide to voting, Clinton's "pay-to-play" controversy, the sexual-abuse lawsuits against the Mormon Church, and Trump's Gettysburg address.
---
Snapshot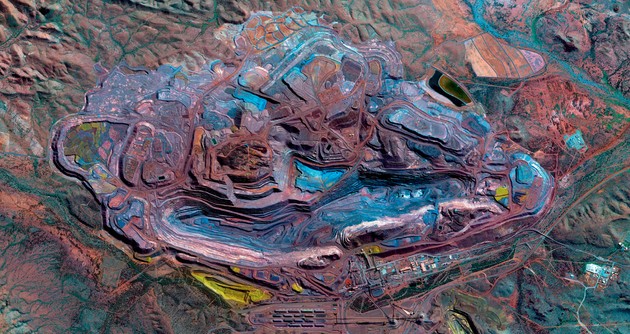 ---
Evening Read
Matt Stoller on how the Democratic Party changed after Watergate:
Over the next 40 years, this Democratic generation fundamentally altered American politics. They restructured "campaign finance, party nominations, government transparency, and congressional organization." They took on domestic violence, homophobia, discrimination against the disabled, and sexual harassment. They jettisoned many racially and culturally authoritarian traditions. They produced Bill Clinton's presidency directly, and in many ways, they shaped President Barack Obama's.                     

The result today is a paradox. At the same time that the nation has achieved perhaps the most tolerant culture in U.S. history, the destruction of the anti-monopoly and anti-bank tradition in the Democratic Party has also cleared the way for the greatest concentration of economic power in a century. This is not what the Watergate Babies intended when they dethroned [Wright] Patman as chairman of the Banking Committee. But it helped lead them down that path. The story of Patman's ousting is part of the larger story of how the Democratic Party helped to create today's shockingly disillusioned and sullen public, a large chunk of whom is now marching for Donald Trump.
---
What Do You Know?
1. In the U.S., men do about .8 hours of housework each week, compared to women's 4.5. But in ____________, men spend 1.2 hours per week on housework, while women, according to a recent study, "spend almost no time on housework at all."
Scroll down for the answer, or find it here.
2. Inspired by a trip to the aquarium, a bioengineer at Harvard is building an artificial heart that moves like a ____________.
Scroll down for the answer, or find it here.
3. Since 2015, bookings at ____________ hotels have decreased by 59 percent.
Scroll down for the answer, or find it here.
---
Reader Response
A new study shows that football collisions hurt kids' brains even if they don't show outward concussion symptoms. But even non-contact sports can be dangerous, writes Innes:
There is no doubt that American football and rugby as contact sports have more head knocks, concussions, and long-term health effects. But even soccer has been linked to premature deaths due to players repeatedly heading the ball. Today the University of Stirling released a study that showed even a short practice round of heading the ball led to immediate short-term memory degradation. The U.S. has already taken the lead by banning heading in the children's game. [Editor's note: The ban last year successfully stopped a class-action lawsuit involving concussions.] Hopefully the U.K. will follow. However, if this effect can be measured in a relatively soft, non-contact sport like soccer, imagine how much worse it is in American football.
---
Verbs
Walking Dead autopsied, croissants uneaten, scare machine terrifies, diva reigns Supreme.
---