The Atlantic Daily: Failing to Connect
Hackers shut down much of the internet, Trump drew boos at the Al Smith Dinner, a tech exec provided a plan to stop phone addiction, and more.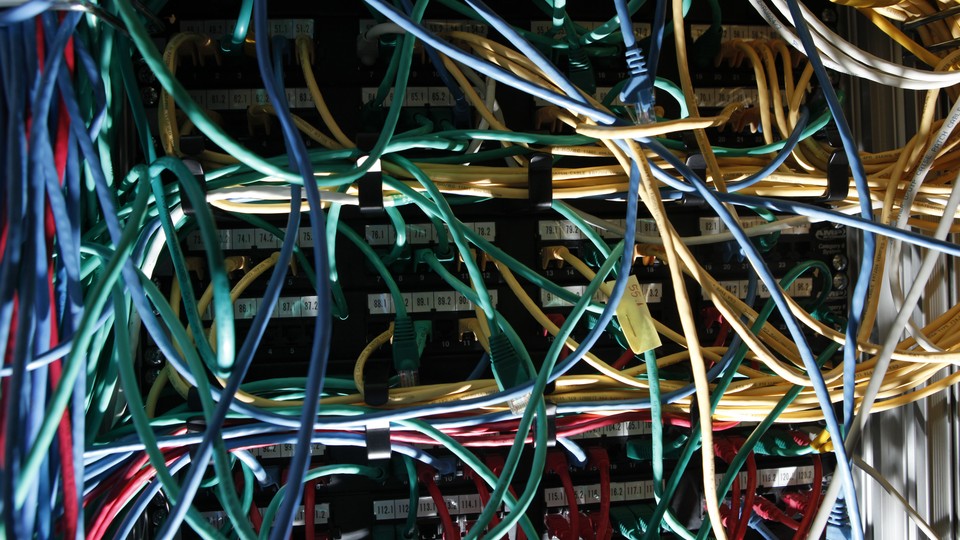 What We're Following
What Broke the Internet? Web users in much of the eastern U.S. this morning found their connections slowing to a crawl as a DDoS attack caused outages and other technical problems on more than a dozen major sites, including Twitter, Tumblr, Reddit, Netflix, PayPal, Verizon, Comcast, and The New York Times. A second attack followed later in the day and appeared to shut sites down in France, Japan, the U.K. A DDoS attack floods a website with junk traffic so it can't process visits from ordinary people. This time, the attackers targeted a DNS (domain-name service) provider, a company that manages the infrastructure connecting websites' addresses to their servers. That's why so many different sites went down at once—in a successful large-scale attack unlike any other seen before.
A Tangled Web: It's not clear who was behind the attacks, whether it was individual hackers or even a foreign government. But whoever it was stands to do serious damage: Internet outages cost companies tens of thousands of dollars for every hour their sites are shut down. In a year that's already seen apparent attempts to tamper with the U.S. presidential election through cyberattacks, voter registration and early voting could also be affected. Meanwhile, the new season of Netflix's series Black Mirror provides an often-disturbing look at how technology permeates and shapes the human world. It's food for thought for today—if you can get online to watch it.
Also Broken: That would be the tradition of the Al Smith Dinner, the white-tie fundraising event for Catholic charities in which presidential candidates close the campaign season by making nice in comedic monologues. Perhaps predictably, that was asking too much for Donald Trump, whose brief stab at self-deprecating humor veered off into the kind of harsh rhetoric against his opponent that's a familiar feature at Trump rallies. His audience booed. It was yet another example of the nastiness of this year's campaign, but it also showed two key traits of the candidates: on Trump's side, the inability to modulate his angry persona, and on Hillary Clinton's, the poise that comes with a lot of hard work.
---
Snapshot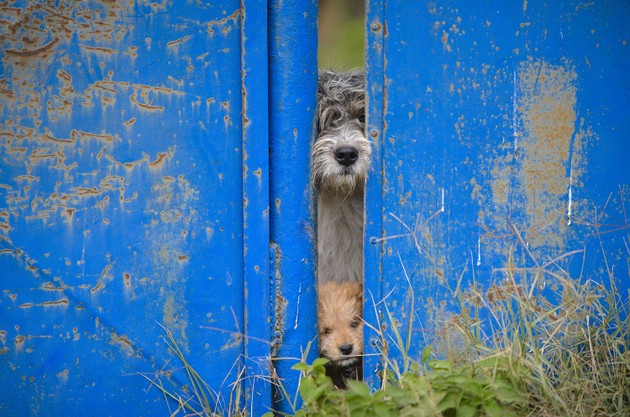 ---
Who We're Talking To
Ding Yongliang, a financial analyst in Beijing, who explains why he wants Donald Trump to win.
Annie Truex, an actress in L.A., who explains why it's exhausting to be a woman in entertainment—and what keeps her going.
Tristan Harris, a tech executive in San Francisco, who explains how software companies can help cure people's addictions to their phones.
---
Evening Read
James Parker on the world of Pokémon Go:
They call this "augmented reality," and we're going to be seeing a lot more of it. The harmlessly bobbing Pokémon, trailing their clouds of gamer nostalgia, are harbingers no doubt of far heavier perceptual tamperings and disruptions. (Zombies. Porn. Snickering mind-gaps to haunt your handheld.) "We came with an idea about seeing the world with new eyes," says John Hanke, the CEO of Niantic, the creator of Pokémon Go. "The basic notion was there's a lot of cool history and lore and unknown secrets in your own neighborhood that you don't know about." PokéPeople have told me of their enriched attachment to their surroundings, their eyes opened by the game to local curiosities. But later that night, further on in my Poké-odyssey, wandering between PokéStops on an especially dowdy stretch of Boston's Commonwealth Avenue and peering into the sterile phone-world I was holding in my hand, I suffered acutely from the opposite sensation: that once you've bought into the game, once you're out there on the Pokésavannah, looking for boosted reality, a street devoid of Pokémon is lifeless, and basically pointless.
Keep reading here, as Parker muses on what makes an ordinary street enchanting.
---
What Do You Know?
1. On average, Americans move at least ____________ times in their lives.
Scroll down for the answer, or find it here.
2. The U.S. GDP, which grew more than 3 percent per year throughout the 1980s and 1990s, is now growing at a rate of about ____________ percent.
Scroll down for the answer, or find it here.
3. In the aftermath of Thai King Bhumibol Adulyadej's death, a significant number of citizens are commemorating him with ____________.
Scroll down for the answer, or find it here.
---
Reader Response
Don wonders, What's the matter with John McCain?
I don't know if your readers have seen this yet, but it seems that McCain has announced that his fellow GOP Senators will not confirm any Supreme Court nomination by Clinton. Trump is an ignorant, narcissistic, nasty piece of work. But McCain used to be a guy who remembered and honored (at least sometimes) the old bipartisan traditions of the Senate. His statement is just outrageous and inexcusable. What he's basically saying is that only Republican presidents get to appoint Supreme Court Justices.

I understand that their thinking is that they don't want the bias of the Court to shift from conservative to liberal. But the Court has shifted back and forth over the years, and we have managed to survive those changes. Apparently, today's Republican Party feels that the country somehow won't survive a Democratic administration or a liberal Supreme Court.
Read more here on McCain, his career, and his troubled party. If you can defend the senator, we'd like to hear from you: hello@theatlantic.com.
---
Verbs
Dog kisses questioned, SNL sketches ranked, power couples complicated, cuteness explained.
---