The Atlantic Daily: Definitive Answers
Trump dug in with "rigged," Clinton defended abortion rights, Iraqi forces advanced on Mosul, and more.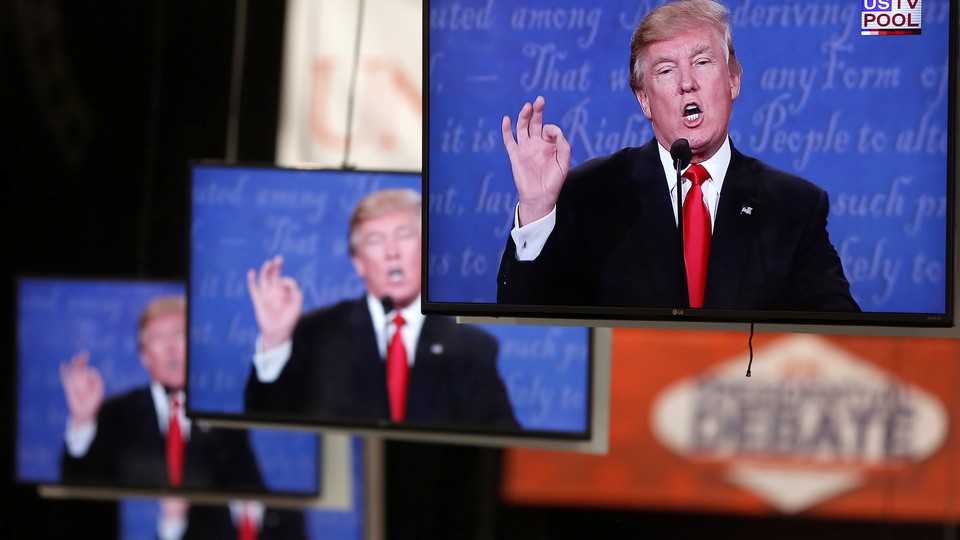 What We're Following
The Suspense Is Killing Us: The most shocking moment of last night's debate came when Trump refused to commit to accepting the election results: "I'll keep you in suspense." Today, in the midst of overwhelming criticism, he revised that answer: He'll accept the results—if he wins. Trump's other debate lowlight involved calling Clinton "such a nasty woman"—a classic example of Trump being unable to resist an opponent's bait. Alas for Trump, the insult didn't land particularly hard; feminists, including Clinton's supporters, had already reclaimed "nasty."
Speaking  of Hillary: One of her most powerful moments came in her defense of abortion rights. On a controversial subject that often leads candidates to hedge their answers, Clinton was clear in her support for a women's right to choose, placing emphasis on the deeply personal decisions—like those of our readers—that women, and not their governments, must be able to make. Her answer about the Clinton Foundation was weaker, but by the end of the night, it hardly mattered; her highly capable but cautious performance excelled against Trump and foreshadowed her likely presidency.
Meanwhile, in Mosul: Iraqi forces, along with Kurdish Peshmerga fighters and other allies, advanced on the ISIS stronghold "more quickly" than expected, according to the Iraqi prime minister. U.S. airstrikes are backing the operation, and an American soldier was killed today by an IED. Though ISIS propagandists are still spinning the battle as part of their own victory, they're so far outmanned by their opponents that the fall of Mosul looks inevitable. But that won't mean the fight is over; even without territory, ISIS could still endure.
---
Snapshot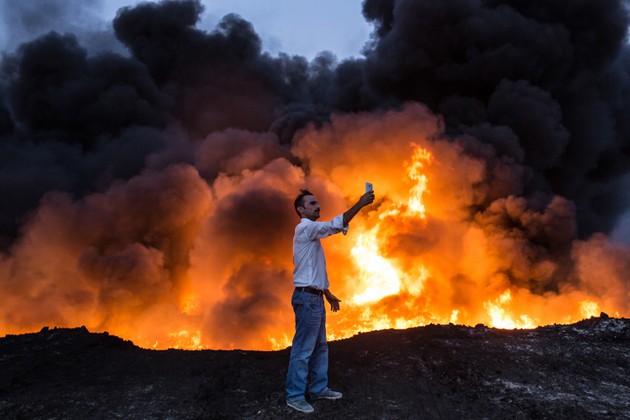 ---
Who We're Talking To
Joseph Turow, a communications professor, who explains how consumers are constantly watched—not only online, but also, increasingly, in physical stores.
Students at the University of  Texas at Austin, who share what it's like to live on a campus where students can carry guns.
Nic, a police officer, who asks whether it's healthier to work a night shift all the time or rotate between days and nights. James Hamblin has the answer.
---
Evening Read
Vann Newkirk asks, "Why is Nat Turner's story necessary?"
It's a question that's often subtly animated an ongoing debate about Nate Parker's film The Birth of a Nation, which tells a version of Turner's infamous 1831 slave revolt in Virginia. … Most of the movie's defenders believe that Turner's story carries a unique, overriding weight in black culture, whether for its historical significance or as a sort of animating founding legend of black resistance, and that Parker's film does a prima facie service in telling such a vital account. Whether The Birth of a Nationactually carries that burden, and whether it can be appreciated in spite of the besmirchment of its creator, depends on understanding the phenomenon of Nat Turner himself and what he has come to symbolize. The main problem with figuring out that phenomenon is that so much of the Turner we know is historical fiction, an impenetrable legendarium of many things that cannot be verified.
Keep reading here, as Vann unpacks the legends surrounding Turner and his rebellion. And speaking of historical fiction, a new PBS documentary explains why Hamilton matters.
---
What Do You Know?
1. To annoy Ayn Rand, William F. Buckley sent her postcards written in ____________.
Scroll down for the answer, or find it here.
2. The mood-stabilizing effects of lithium were discovered when a psychiatrist used it to help him inject guinea pigs with his manic patients' ____________.
Scroll down for the answer, or find it here.
3. Hoping to appeal to women, the Remington company designed its early typewriters to look similar to ____________.
Scroll down for the answer, or find it here.
---
Reader Response
Can the Trump campaign claim that the Florida recount of 2000 set a precedent for his preemptive challenge to the vote? Matt thinks not:
I've never written in before, but I would like to see the point made that Al Gore did NOT mount an election challenge to the 2000 election. In fact George W. Bush mounted the challenge, which is why he was the plaintiff. There is a reason that the case is titled Bush v. Gore and not the other way around. Simply put, Bush sought to intervene in the counting of ballots, not Gore. It's offensive to me, as an attorney, to see this basic fact disputed. It's in the caption of the case!  Maybe it's a minor point, but it again shows the utter dishonesty of the Trump campaign. Gore sought to have votes counted through the Florida courts. He was successful. Bush instituted federal litigation to prevent those votes from being counted. Bush was successful in federal court. Bush was the plaintiff in federal court—Bush brought the action in federal court—which is to say he challenged the results. This is undisputed.
Read more commentary on the matter here.
---
Look Back
The educational reformer and philosopher John Dewey was born on this day in 1859. In December 1941, when Dewey was 82 years old, Max Eastman profiled him in The Atlantic:
John Dewey, let me remind you, is the man who saved our children from dying of boredom as we almost did in school. The Encyclopaedia Brittanica in its article on Education puts it less succinctly: 'By 1900 the centre of gravity had shifted from the subject-matter of instruction to the child to be taught. The school, in consequence, had begun to change from a place where children prepare for life … to a place where children live. … These changes, largely due to the teachings of John Dewey, have become dominant purposes of the American elementary school of the twentieth century.' That is half of who John Dewey is, and the other half is a philosopher in the technical sense—a man who makes his living arguing about such questions as 'How We Think' and 'What Does Thought Do to Being?' The University of Paris, in conferring a degree upon him in 1930, described him as 'the most profound and complete expression of American genius.'
You can read Dewey's own writing on the ethics of animal experimentation in our September 1926 issue. But fair warning: Though Eastman's profile reveals a quirky, endearing Dewey who shines at cocktail parties in spite of his shyness and once, at 79, swims out to save a woman drowning in a lake, he also notes that the brilliant reformer's prose was exceptionally dull.
---
Verbs
Gorilla guzzles, Snoopy retires, Jack reaches, politicians phished.
---