The Atlantic Daily: Dangerous Ground
Iraq moved to retake an ISIS stronghold, Trump's claims of a rigged election threatened U.S. democracy, teachers tried to address kids' mental health, and more.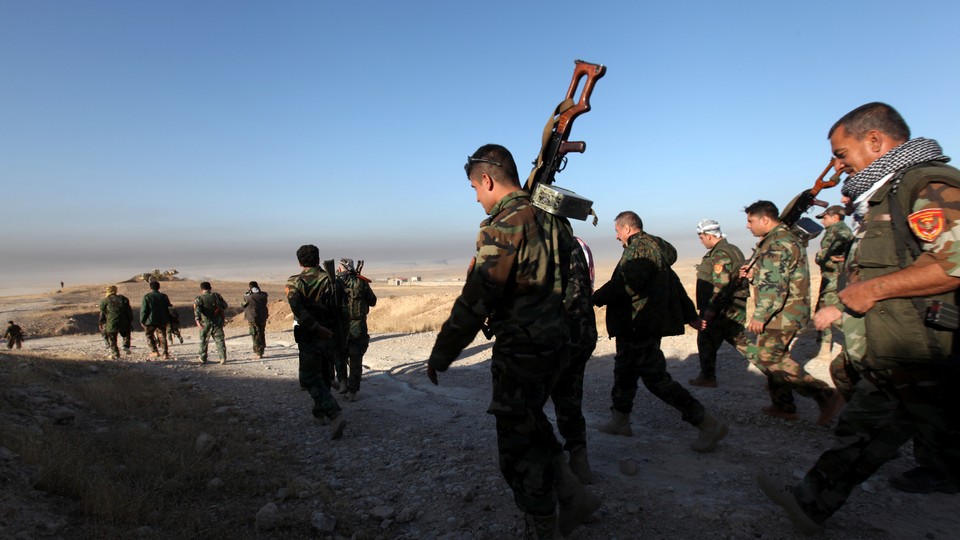 What We're Following
The Battle for Mosul: Backed by U.S. airstrikes and Kurdish fighters, Iraqi forces today began operations to retake the Iraqi city from ISIS. The terror group has controlled Mosul since 2014, and since then humanitarian groups have had no access to the city—leaving the 1.5 million trapped civilians particularly vulnerable right now. What else is going on in the world? Our news team is live-blogging the day's biggest stories all in one place: Ecuador cutting Julian Assange's internet connection, the economic cost of Brexit, record high-school graduation rates, and more.
Corrosive Claims: Donald Trump spent the weekend asserting that the 2016 election is "rigged" by the media, by potential voter fraud, and—much more disturbingly—by the electorate itself, thus sowing deep suspicion of the American system. His claims are absurd, but the stakes are high: Democracy itself depends on the losers accepting defeat—which Al Gore and even Richard Nixon did despite dubious election results.
The Pop Culture Is Political: One piece of evidence Trump cites for a "rigged" election? Saturday Night Live making fun of him. The comedy show also turned its gaze on his wife Melania, with a complicated parody that's both empathetic and insulting. Meanwhile, at an Amy Schumer show in Florida, about 200 people walked out when she criticized Trump, some saying they didn't want to hear the comedian get political. Of course, the dividing line between art and politics is blurry, but if you're looking for a little more escapism, we're marking the weeks before Election Day with a political movie club. This week's choice is Wag the Dog, and you can join the discussion with Megan Garber via hello@theatlantic.com.
What we covered this weekend: The same-sex marriage bans on Native American reservations, the two faces of Trump and his audiences, a groundbreaking album by the South Asian rappers Swet Shop Boys, the tax code of the ultra-rich, behind-the-scenes photos from Bollywood, the women who want neither Clinton nor Trump, and what it's like to be a first-generation college student.
---
Snapshot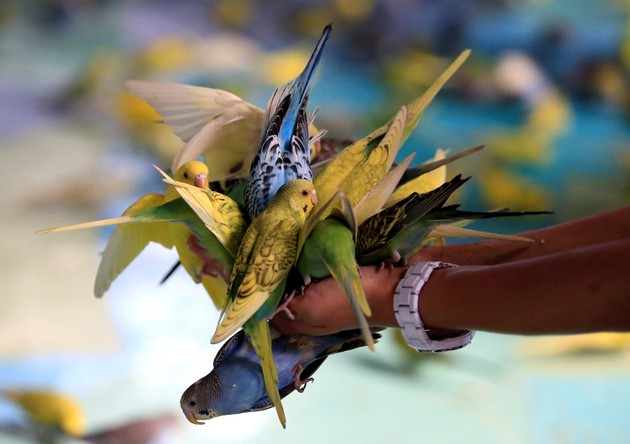 ---
Evening Read
Emily Goldberg on children's mental health:
Across the United States, up to one in five children suffers from a mental disorder in a given year, according to the Centers for Disease Control and Prevention. … Giving children access to mental-health resources early in their education, however, can play a key role in mitigating negative consequences later in life, said David Anderson, the senior director of the ADHD and Behavior Disorders Center at the Child Mind Institute.

"It's during childhood and adolescence where we have a large concentration of mental-health issues, and school is where many kids are spending a large portion of their day. That makes school the perfect place to focus mental-health resources," Anderson said. "Waiting too long to pay attention to student mental health can easily lead to school dropouts or other problems later in life."

Yet the majority of the nation's youngest students don't have access to mental-health resources at school.
Keep reading here, as Goldberg discusses how some teachers are working to fill the gap by incorporating mental-health topics into their classroom activities.
---
What Do You Know?
1. In 2012, the average American ate ____________ pounds of avocado, compared to about 1.5 pounds per year in the 1990s.
Scroll down for the answer, or find it here.
2. The original SAT, administered in the 1920s, had 315 questions and a time limit of ____________ minutes.
Scroll down for the answer, or find it here.
3. On average, for every dollar earned by a man, a Latina woman in the U.S. earns ____________.
Scroll down for the answer, or find it here.
---
Reader Response
A reader in Missouri can relate to a recent article on why the "safe space" debate is a problem for adjuncts:
I'm a 31-year-old female and have been an adjunct instructor for about nine years, at two giant state schools and a community college. I have been in and out of full time Non-Tenure Track (NTT) status. Like most of my adjunct colleagues, I have cobbled together as many courses as I could while juggling health problems and constantly shifting access to health insurance.

When it comes to safe space, [Oliver] Bateman's article really hit the nail. As he mentions, I've seen a whole range of reactions/responses from my fellow adjuncts over the years. What most of us have not thought about enough is how our own lack of safety contributes to our classrooms.
Keep reading here. If you're an adjunct professor, tell us: Have concerns about your job security influenced the way you handle controversial topics in class—or the way you respond to students' objections? We'd like to hear from you: hello@theatlantic.com.
---
About Our Ads
Kimberly Lau introduces a new feature on TheAtlantic.com:
In a lot of ad-blocking people's minds, security, privacy, and inconvenient user experiences seem to justify bypassing ads. Yet for our publication to continue to grow and be sustainable, we need to create an environment where readers can accept and feel good about ads alongside our work—or else support it in alternative ways.

So today we're rolling out a series of initiatives aimed at continuing to improve the security and user experience of our website, along with a new ad-free subscription option.
---
Look Back
On this day in 1931, Al Capone was convicted of tax evasion. If that sounds anticlimactic, at the time it was a victory: Past attempts to prosecute him for his violent crimes had failed. As Virgil W. Peterson wrote in our April 1945 issue:
During Capone's regime, at times Chicago was practically in a state of anarchy. Gang murders were commonplace events. Hundreds of murders were attributed to Capone and his henchmen. Yet, Capone was completely immune. The deputy commissioner of police of Chicago, explaining his helplessness in the situation, said, "I've arrested Capone a half dozen times, and each time found guns on him. The same goes for a hundred other gangsters around town. But what happens? The minute you get them before a municipal court judge, the defense attorney makes a motion to suppress the evidence. The policeman is cross-examined, and if he admits he didn't have a warrant for the man's arrest on a charge of carrying concealed weapons, the judge declares the arrest illegal and the hoodlum is discharged."
---
Verbs
Galileo challenged, ghost blimp bewilders, global moods mapped, Nobel voicemails ignored.
---