The Atlantic Daily: Clinton's Campaign Health Issues
Hillary Clinton's campaign suffered a pair of controversies, Syria prepared for a ceasefire, Americans marked 15 years since 9/11, and more.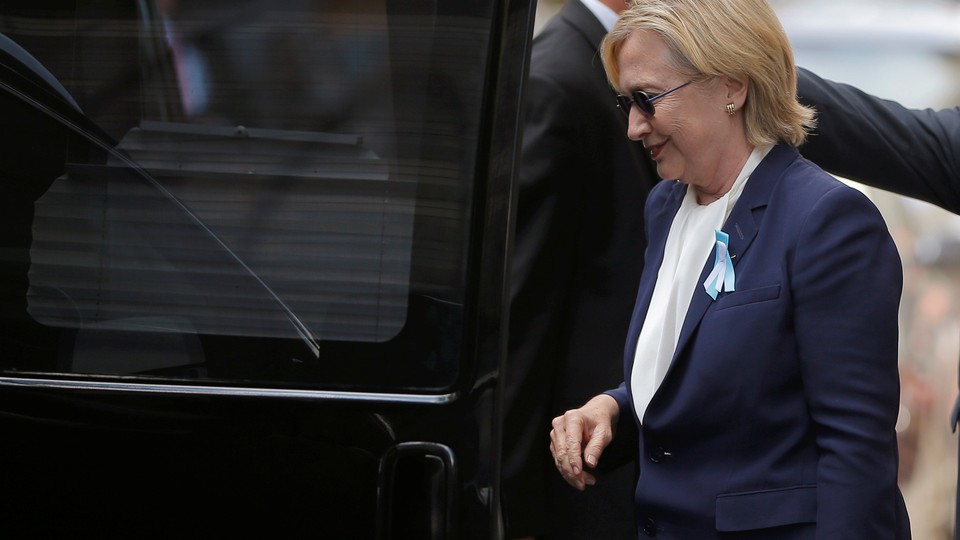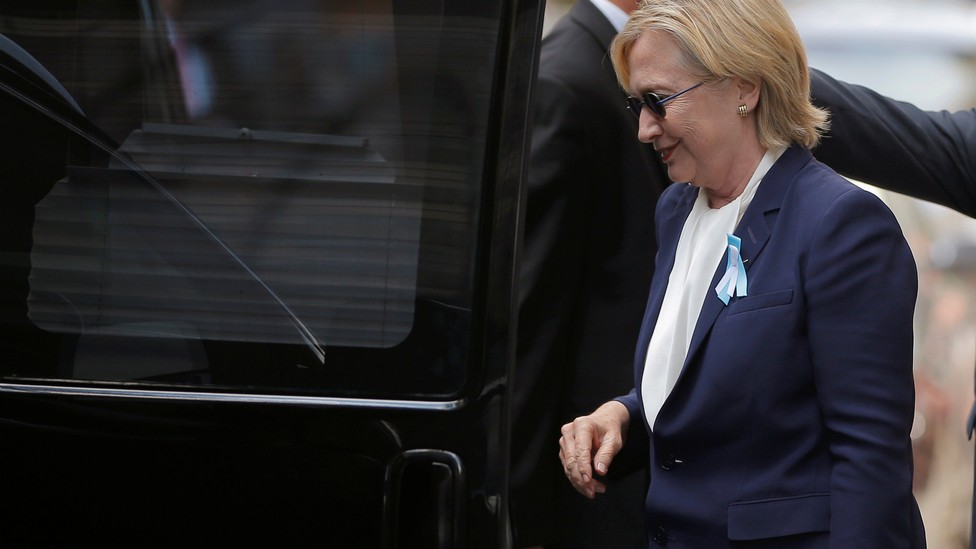 What We're Following
Hillary's Health: After the Democratic nominee departed early from a 9/11 memorial service on Sunday because she was "overheated," according to her campaign, her doctor later announced that Clinton had been diagnosed with pneumonia on Friday. Her condition is likely not serious, but the incident exemplifies an ongoing problem with her campaign: a lack of transparency that tends to turn what could be minor problems into major controversies. Clinton was already having a rough weekend; on Friday, she described "half of Trump's supporters" as people whose beliefs fit into a "basket of deplorables" such as racism, sexism, and xenophobia. The statement caused outrage on all sides of the political spectrum, with journalists heavily criticizing the generalization—even if, as Ta-Nehisi Coates writes, what Clinton said was true.
Quiet in Syria: A 10-day cease-fire is set to go into effect on Monday evening, after a weekend of intensified bombing from government forces on rebel-held cities. The truce, brokered last week by Russia and the U.S., will allow much-needed humanitarian aid to be delivered to the besieged city of Aleppo. But as President Bashar al-Assad vows to "retake every area from the terrorists," it's not clear how long the cease-fire will last.
What We Remember: Sunday marked 15 years since the terror attacks of September 11, 2001. Since then, the U.S. has been engaged in a costly, ongoing war that it hasn't paid for. Experts who have studied terrorism for decades before 9/11 say we still don't know what causes people to become terrorists, or how governments can best prevent such attacks. Yet as educators who teach schoolchildren about 9/11 have emphasized, this dark chapter of history also reveals the country's resilience and the triumph of compassion.
What we covered this weekend: North Korea's nuclear test, who might be in Clinton's cabinet, the conservative churches resettling refugees, church-like groups for the nonreligious, America's monopoly problem, the benefits of a casino, a journey from Chicago's South Side to college, and a short story about unintended consequences.
---
Snapshot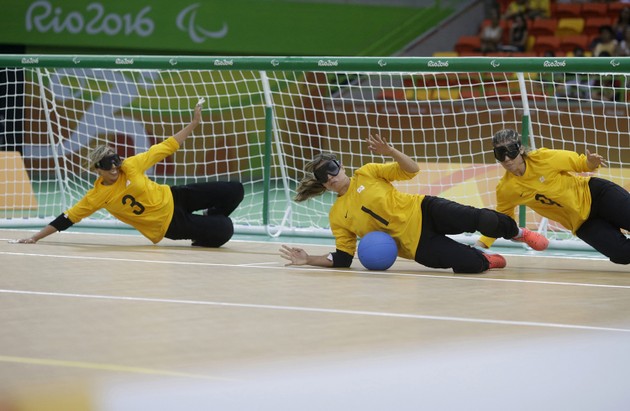 ---
Quoted
"When people choose a wealth manager … they have to pick someone they want to know everything about them: about Mother's lesbian affairs, Brother's drug addiction, the spurned lovers bursting into the room." —a wealth manager based in London
"None of us can afford to boycott the Trump hotel because we couldn't afford to stay here to begin with." —Ben Becker, a protester outside the Trump International Hotel in Washington, D.C.
"My teachers could have looked at me when I was a kid and said, 'Here's an African American, Latino kid; family in crisis; going to a New York City public school—what chances does he have?'" —John King Jr., the U.S. Secretary of Education
---
Evening Read
Ta-Nehisi Coates on O.J.:
My reaction to O. J. Simpson's arrest for the murder of his ex-wife Nicole Simpson and her friend Ron Goldman was atypical. It was 1994. I was a young black man attending a historically black university in the majority-black city of Washington, D.C., with zero sympathy for Simpson, zero understanding of the sympathy he elicited from my people, and zero appreciation for the defense team's claim that Simpson had been targeted because he was black.
Keep reading here, as Coates reexamines his own reaction to the case and reflects on what Simpson and his acquittal have meant to black Americans.
---
What Do You Know?
1. In 2010, undocumented immigrants paid $_______________ in taxes to the Social Security system—nearly all of it for benefits that they will never receive.
Scroll down for the answer, or find it here.
2. Between 2006 and 2014, the number of Asian Americans registered to vote in North Carolina increased by ____________ percent.
Scroll down for the answer, or find it here.
3. A new study provides increased evidence that major earthquakes are partly caused by ____________.
Scroll down for the answer, or find it here.
---
Reader Response
From a reader who was in Washington, D.C., on 9/11:
My other main memory of 2001 was that the Feds tried to cancel Halloween. Fear, you know. People in masks roaming around.

I went out after dark and met one couple coming out of a restaurant, both of them wearing the smallest of Mardi Gras masks. We exchanged knowing smiles, then went our ways.

Reaching Lafayette Square, I saw, in the light of a street lamp in front of the White House, a group of costumed Rollerbladers gliding back and forth. Later, as I walked up Connecticut Ave to the metro, I looked around and saw them gliding up the street, a snake of colorful reflective costumes and masks, through the green lights, then away.

Washingtonians don't give up Halloween easily.
Read more here, as well as further reflections from readers on where they were on 9/11.
---
Look Back
On this day in 1846, Elizabeth Barrett eloped with her fellow poet Robert Browning. As Harriet Waters Preston recounted in our June 1899 issue:
They met at the parish church of St. Marylebone (of all unromantic places!), and were united, after all, by the Anglican rite; the bride accomplishing her final evasion about a week later, by gliding out of the Wimpole Street house … while the stage father and the sympathetic but trembling sisters were at dinner. Husband and wife took the boat, that night, from Southhampton to Havre; three weeks later, in memory of Petrarch and Laura, he had carried her in his arms up the valley of the Sorgue to the fountain of Vancluse; and before the end of November they were settled in Pisa for their first Italian winter.
Read more here about the Brownings and their literary love affair.
---
Verbs
Careers future-proofed, Radiohead reimagined, bestsellers predicted, election comes unglued.
---