The Atlantic Daily: The Morning After
In the first presidential debate, Clinton looked polished, Trump looked callous, and over 100 million viewers looked on.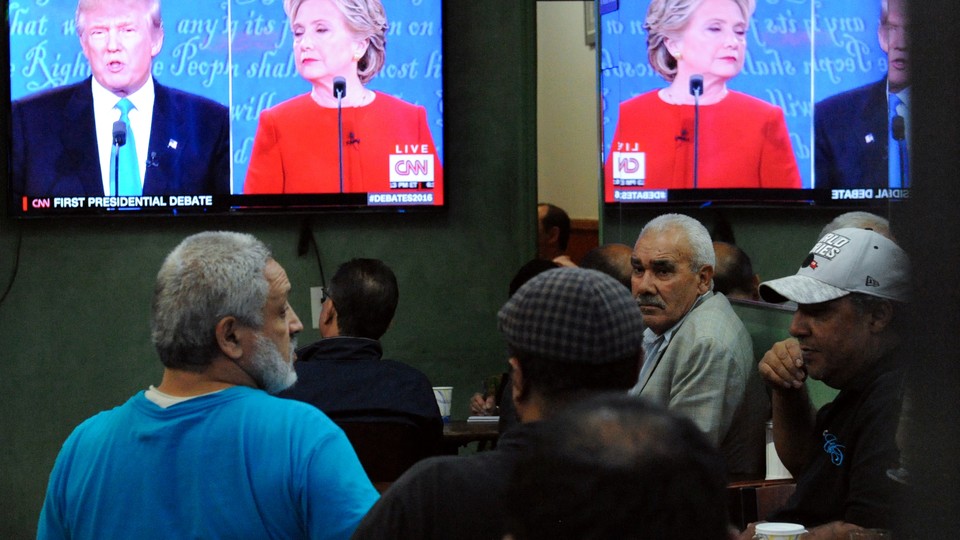 What We're Following
After the Battle: Last night, a record number of Americans—by some accounts, more than 100 million—tuned in for the first presidential debate between Hillary Clinton and Donald Trump. Who won? By all accounts, Trump performed poorly, and Clinton knows it—but her supporters, while proud and relieved, are still nervous. Perhaps most of all, the debate showcased the differences between the two candidates' temperaments, partly thanks to moderator Lester Holt's choice to step back and let the candidates interact. But next time, it won't just be up to the moderators: On October 9, for the first time, voters will be able to submit—and help select—the questions.
The General Welfare: One of the debate's most memorable moments came when Clinton confronted Trump with a 2006 quote in which he'd hoped to make money from a housing crisis—and he didn't deny it. "That's called business, by the way," the Republican said. To many, the comment suggested a shocking lack of concern for ordinary people, especially given that business leaders once saw themselves as contributing to the public good. But it's not surprising coming from Trump, who's been notably silent on the subject of community—something his party's conservative voting base has traditionally valued. If all that's hard to stomach, here's a look at how bankers live with the moral quandaries of the finance industry, and here's a movie with a heartwarming message about community's power.
Meanwhile, Outside the Political Bubble: The U.S. is sending more than $364 million in humanitarian aid to Syria; an Islamist militant has been sentenced to nine years in prison for destroying historic sites in Timbuktu; and the Americas have rid themselves of a deadly virus, which is no measly thing.
---
Snapshot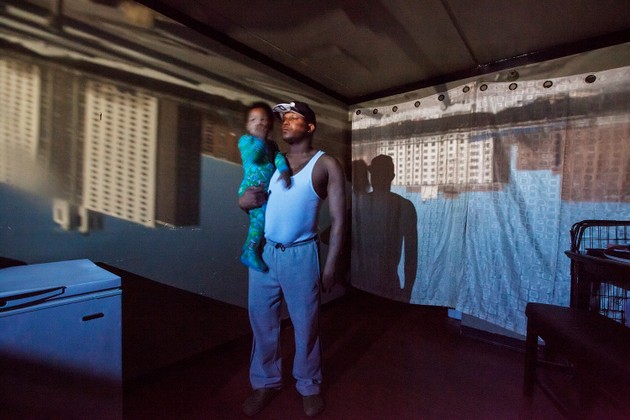 ---
Evening Read
Sara Goldrick-Rab on how financial aid betrays the modern family:
Consider how the financial-aid formula assesses what a student will pay for college. Families complete the Free Application for Federal Student Aid (FAFSA) and when they finish, they are told their "expected family contribution" (EFC). This is the number that parents are expected to pay to help send a young student to college, at least as long as the student doesn't have a spouse or child of her own. The formula leading to the number doesn't take into account the parents' debt, even from their own educations. Yet with the EFC, the government makes a clear assertion: When it comes to paying for college, parents should help their students.

But sometimes they can't. Sometimes, in fact, the money moves the opposite direction.
Keep reading here, as Goldrick-Rab talks to a student who's using his financial aid to help his parents and siblings. And check out a reader discussion about struggling to pay for college here.
---
What Do You Know?
1. Each year, Americans spend about $____________ on beer.
Scroll down for the answer, or find it here.
2. On average, it costs $____________ per year to send a preschooler to an accredited childcare center in the U.S.
Scroll down for the answer, or find it here.
3. There are just  ____________ radiologists in the entire country of Liberia.
Scroll down for the answer, or find it here.
---
Reader Response
Dave joins many other former fans of football:
Personally, I think it is gross the way that militarism, patriotism and heroism are all cozy bedfellows with the NFL, the NFL telecasts, and the promotion of each team's brand. These things do not belong together. Military ceremony, jet fly-overs and overt use of American symbology in the NFL game cheapens true patriotism and heroism.

Most importantly, I believe it carries the implication that the violence, force, and the untempered emotional support inherent in the game are necessary components of patriotism. This is dangerous and misguided.
Dave's comment on patriotism reminded me of a book I've been recommending to everyone in the past few years: Ben Fountain's novel Billy Lynn's Long Halftime Walk, which James Fallows discussed in his January 2015 cover story on the American military. It's the story of a group of soldiers that comes home from Iraq to get honored at a football game, but they find the spectacle painfully hollow. Read more on the NFL and patriotism here, and more from readers on the ethics of football here.
---
Look Back
On this day 415 years ago, the future King Louis XIII of France was born. In our April 1900 issue, Lucy Crump described his childhood:
The child Louis—or rather the Dauphin, for he had no name until his public christening when he was five years old—was a passionate, loving child, jealous and sensitive, morbidly fearful of ghosts, of ridicule, and of punishment, while at the same time warlike in his tastes, and hardy enough in all physical exercises. What his upbringing made him is a difficult problem to solve, for throughout his life Louis was overshadowed by those he lived with and crippled by constant ill health; but what that training was can be learnt in [court physician Jean] Herourard's journal, and a very curious training it seems to have been.
You can read about that training in a PDF of the issue.
---
Verbs
Trump sniffled, Clinton prepped, BioShock remastered, empty rooms rented, "the cyber" deciphered.
---