The Atlantic Daily: Shifting Stances
Trump finally acknowledged Obama's birthplace, another NFL player knelt for the national anthem, Deutsche Bank rebuffed DoJ, and more.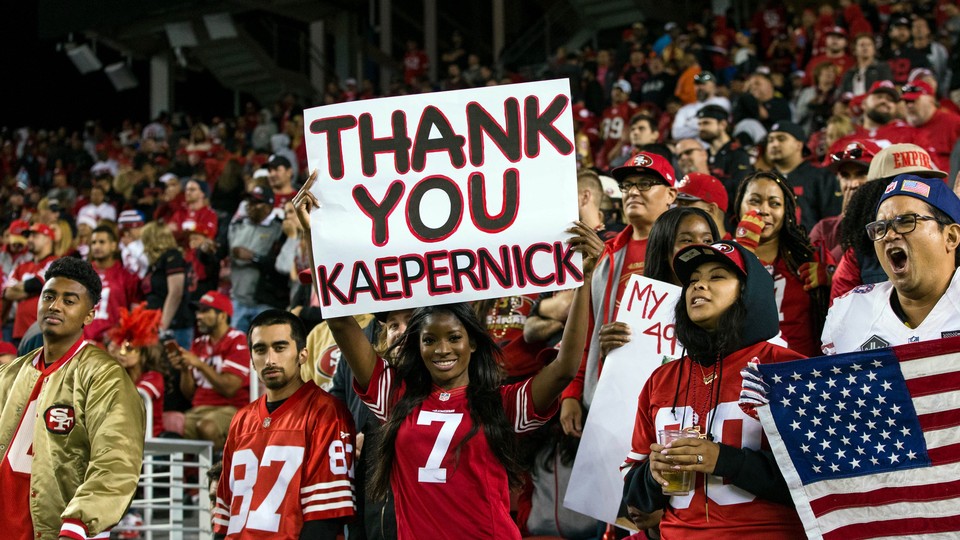 What We're Following
Game-Changers: As the first full week of the NFL season ends, another player, Broncos linebacker Brandon Marshall, has knelt in protest during the national anthem, following the lead of 49ers quarterback Colin Kaepernick in a gesture against police violence. Marshall lost two sponsors because of his decision, but he also gained another's support. Speaking of football deals, Twitter last night began streaming games on its website and apps. As Megan Garber writes, the deal could mark a subtle but significant shift in football-viewing habits, as fans start watching games alone instead of rooting for teams together. But for some longtime fans, their relationship to the game has changed much more dramatically: The NFL's handling of head injuries and off-the-field violence has destroyed their fandom.
The Truth Comes Out: Er, mostly. Donald Trump, who spent years fanning conspiracies over Barack Obama's birthplace, finally acknowledged that the president was indeed born in the U.S. Yet Trump did so with a speech and a statement that were filled with lies. One of the big ones: his claim that he "finished" the controversy. In fact, he's kept it going—and it won't go away too easily.
Don't Bank on It: The U.S. Department of Justice is demanding a $14 billion settlement from Deutsche Bank in its lawsuit over risky securities that led to the 2008 recession. The bank says it certainly won't pay that much. But its stock, which went down 8 percent after the announcement, is already suffering.
---
Snapshot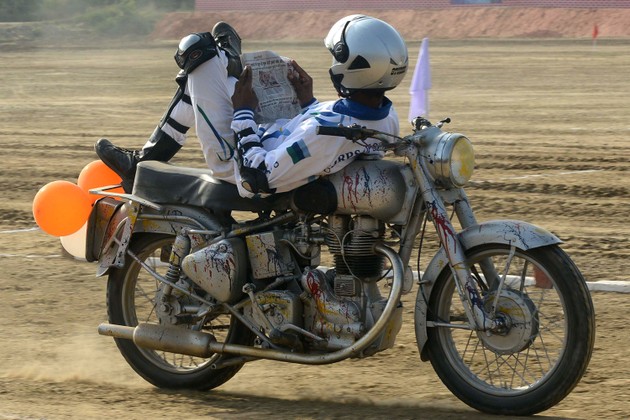 ---
Evening Read
Adam Kirsch on why some people hate poetry:
The most striking  thing about contemporary poetry is that no one seems quite satisfied with it. Non-poets, who generally don't read poetry, are only a little less enthusiastic than poets, who do. Indeed, hardly a year has gone by over the past quarter century without a poet or critic publishing an essay bemoaning the state of American poetry—from Dana Gioia's "Can Poetry Matter?," which appeared in this magazine in 1991, to Mark Edmundson's 2013 lament, "Poetry Slam: Or, the Decline of American Verse." And the sentiment dates back further. When Marianne Moore wrote a poem titled "Poetry," she began with the words "I, too, dislike it."
Read more here, as Kirsch reviews Ben Lerner's book The Hatred of Poetry and searches for a way to rediscover meaning in the genre. Can you make a strong case for poetry's value? Let us know: hello@theatlantic.com.
---
What We'll Be Watching
Last week, we asked you to nominate your favorite political films for our pre-election movie club—and now the votes are in. Megan Garber introduces the first selection:
We'll be watching The Candidate on Wednesday, 9/21, starting at 6:30 p.m. East Coast time. If you're free to watch it at the same time, please join us! I'll tweet some initial thoughts about the movie then. (The Candidate is available for free on Amazon Prime, and for $2-$3 on YouTube, iTunes, Google Play, and Vudu.) Watch it whenever is good for you, though, and join in the conversation whenever you'd like—via Twitter (I'm @megangarber), or via an email to hello@theatlantic.com.
---
What Do You Know?
1. ____________ percent of the packaged foods sold in the U.S. are kosher, although only two percent of Americans are Jewish.
Scroll down for the answer, or find it here.
2. In the past year, ____________ has taken in more than one million migrants.
Scroll down for the answer, or find it here.
3. On average, American student counselors handle ____________ students apiece.
Scroll down for the answer, or find it here.
---
Reader Response
What's it like to be a substitute teacher? Gary writes:
I was amazed when I "subbed" years ago how little students actually know about any subject. Now, you might get the high enders who will listen to you, but it's all a babysit for less than a 100 dollars a day. The teacher usually picks her sub anyway, so if you are not a buddy, only in an emergency will you be called to sub teach. I'm amazed that anyone with a pulse would do it. It's abusive to the person they call in.
Have you done it? We'd like to hear your stories: hello@theatlantic.com.
---
Verbs
Trump's hair mussed, commutes danced, compliments blocked, bullshit boycotted.
---