The Atlantic Daily: Problems With Patriotism
Donald Trump took a hardline stance on immigration, a quarterback's protest snagged on symbolism, the Dallas police chief announced his retirement, and more.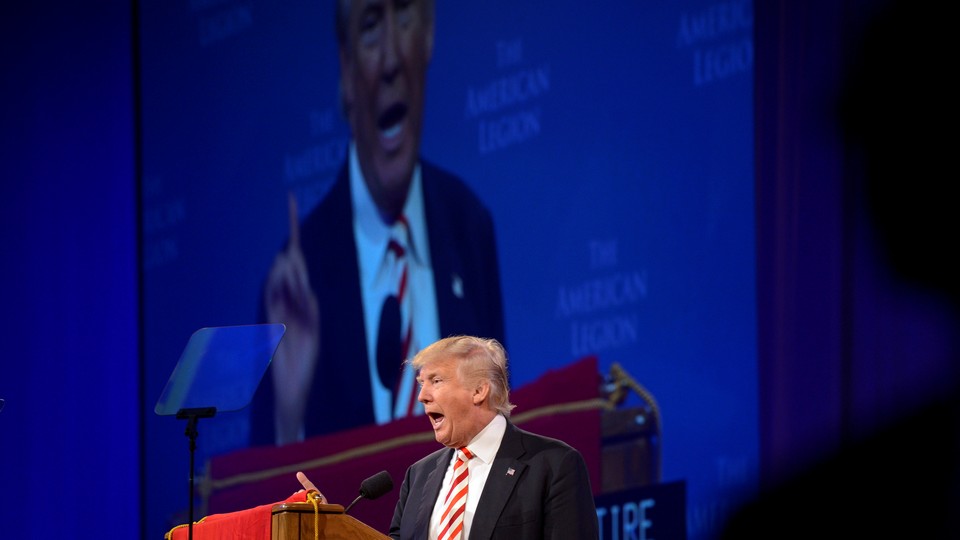 What We're Following
Trump's Immigration Policy: After two weeks of uncertainty about his stance on immigration, Donald Trump went back to the hardline policies he'd campaigned on during the primaries in a speech on Wednesday, repeating that he'd enact mass deportations, build a wall on the southern U.S. border, and make Mexico pay for it. In response, members of his Hispanic Advisory Council are reportedly stepping down. And yet, asks David Frum, is Trump's immigration policy—insofar as it prioritizes American interests—really so shocking?
A Tactical Error? Just how effective a protest is refusing to stand for the national anthem? Colin Kaepernick, the San Francisco 49ers quarterback who sat to protest police brutality, is facing intense criticism over his choice—and as Peter Beinart points out, his statement could have been better heard if he hadn't appeared to reject the anthem. But Garrett Epps, citing a 1940 Supreme Court case over a mandatory flag salute, argues that Americans should be wary of paying too much reverence to national symbols.
The Thin Blue Line: David Brown, the chief of police of Dallas, Texas, has announced his retirement after 33 years on the force. Brown became a national figure when a gunman killed five Dallas police officers in July; in the aftermath of the shootings, the police chief called on the city to "stop this divisiveness between our police and our citizens." There's more evidence of that divide today in Atlanta, Georgia, where a former officer has been indicted for murder after shooting an unarmed black man, Deravis Caine Rogers, on June 22. But meanwhile, in Camden, New Jersey, police officer Cabria Bell sees her day-to-day job as simply to serve the community. "Yes, I wear this badge," says Bell, "[but] behind all of this I am still somebody's daughter, somebody's spouse. I'm still a human [and] my job as an officer is to be here for you." Read the full interview here.
---
Snapshot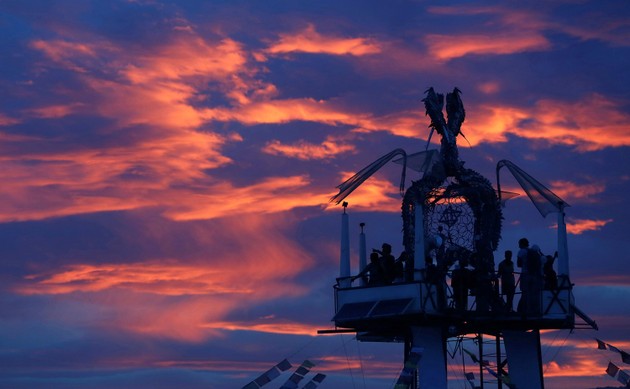 ---
Evening Read
Asher Elbein on the American comic-book artist Jack Kirby:
He drew monster comics, romance comics (a genre he had a hand in creating), westerns, and science fiction. In 1940, he and his fellow artist Joe Simon created Captain America. In 1961, he and Stan Lee collaborated on Fantastic Four, the first modern Marvel superhero comic. It was the start of a partnership that produced a pantheon of characters: Thor, Ant-Man and the Wasp, The Hulk, Iron Man, Black Panther, The Fantastic Four and Doctor Doom, The Inhumans and the X-Men, and far too many others to name. The Marvel comics universe and its accompanying blockbuster films simply would not exist without the cigar-chomping Jack Kirby. ...

Marvel's "Kirby Week" covers all of this in glowing fashion. But the articles all gloss neatly over the other side of the story: namely, the fact that Marvel fought a decades-long battle to keep Kirby from claiming creative and financial control over his creations, culminating in a legal dustup with his heirs that very nearly landed in front of the Supreme Court. The story of Kirby's struggle with Marvel is also one of the most public examples of the lengths to which even the greatest of creators had to go in order to get credit—and compensation—for his work.  
---
What Do You Know?
1. An average of ____________ Americans try smoking weed for the first time every day.
Scroll down for the answer, or find it here.
2. Only 1 percent of those who apply to become ____________ in New York City are accepted.
Scroll down for the answer, or find it here.
3. "Ronald Reagan's Ghost," who filed paperwork with the Federal Election Commission to run for president in 2016, is  ____________.
Scroll down for the answer, or find it here.
---
Reader Response
Last week, we asked you about your churchgoing habits—particularly, whether you attend or stay away for reasons that are separate from faith. One reader writes:
The cross-generational aspect of a church community is something I have always relished. A church is one of the few places where those over 70 and people in their 20s, 30s, and younger who aren't related (important!) mix on a very regular basis.

In addition, because it is a place where you go frequently and often share very personal information, it is a good place to meet—and get to become friends with—a diverse group of people.  It takes me out of my work-world bubble. Not only that, but as a fairly new transplant to downtown Chicago, it is a place where as a single 50+ woman I can go to meet people that's not a bar, online dating, or a health club.
Read more here. Do you have similar reasons for attending religious services? Tell us at hello@theatlantic.com.
---
Look Back
On this day in 1914, the last known passenger pigeon died in captivity after the birds were hunted into extinction in the late 19th century. As John Burroughs wrote in our April 1918 issue:
In my boyhood the vast armies of the passenger pigeons were one of the most notable spring tokens. Often late in March, or early in April, the naked beech-woods would suddenly become blue with them, and vocal with their soft, child-like calls; or all day the sky would be streaked with the long lines or dense masses of the moving armies. …

But that spectacle was never repeated as it had been for generations before. The pigeons never came back. Death and destruction, in the shape of the greed and cupidity of man, were on their trail. … The last time that my eyes beheld a passenger pigeon was in the fall of 1876 when I was out for grouse. I saw a solitary cock sitting in a tree. I killed it, little dreaming that, so far as I was concerned, I was killing the last pigeon.
---
Verbs
Fall movies previewed, eternity feared, Trump coverage quantified, rocket exploded, WWII escape maps worn.
---