The Atlantic Daily: Power Plays
Shimon Peres suffered a stroke, Clinton and Trump prepared to debate, hackers targeted Olympic athletes, and more.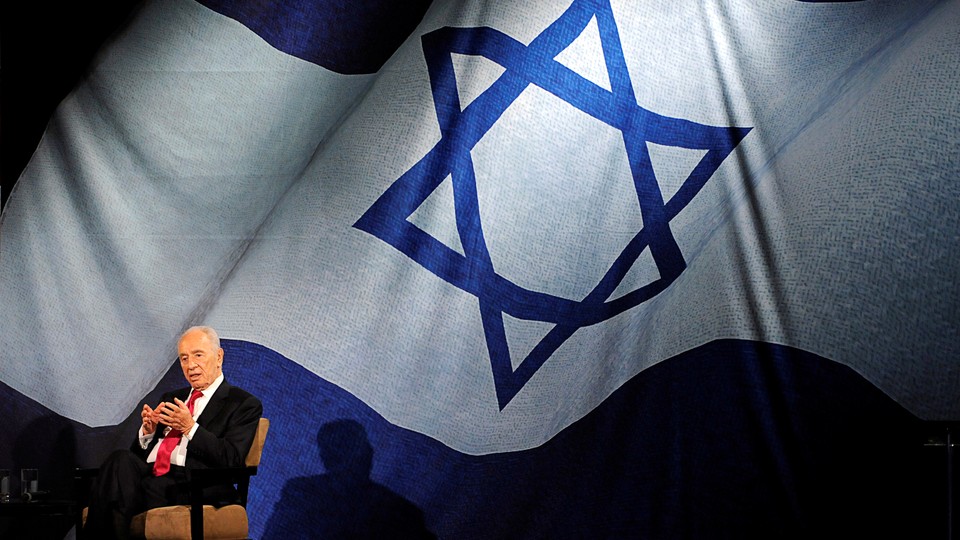 What We're Following
Developing Story: Shimon Peres, the former president of Israel, has been hospitalized and sedated after he suffered a stroke with significant bleeding. Here's what we know so far.
Hacks and Leaks: A hacking group known as the Fancy Bears Hack Team has released the medical records of U.S. Olympic athletes, including Simone Biles and Venus and Serena Williams, after breaking into the World Anti-Doping Agency's database. The hackers, who are believed to be working from Russia, claim the records show evidence of doping. Speaking of Russia, Edward Snowden, who has been living there as a fugitive since leaking classified information from the NSA in 2013, is asking President Obama to pardon him, claiming his whistleblowing benefited the U.S. But meanwhile, writes Bruce Schneier, there's nothing to stop hackers from manipulating the data they release—and those attacks could have even worse effects, for organizations and for the public.
National Discourse: Who will win in a Trump vs. Clinton presidential debate? James Fallows asks that question in the cover story for our new October issue, and experts offer their predictions. But one thing that seems certain is that the debates will be unlike any seen before in American politics. Other major changes in this year's election: the Republican platform is shifting left on the issue of child-care subsidies, and some lifelong Democrats in western Pennsylvania say they'll be voting for Trump.
---
Sage, Ink
---
Quoted
"Once you get yourself on that path where you're willing to find something delightful in laundry and in dishwashers, it means that you train yourself to be able to find it almost anywhere in almost anything." —Ian Bogost, who studies play
"The younger ones tend to ask, 'Marilyn, did I wear the right tie with my suit?'" —Marilyn Rivera, a doorwoman in New York City, on how residents greet her in the morning
"We need to speak to Germans face-to-face. After that, they can decide if we can build together a future or not." —Samer Serawan, a Syrian refugee, who leads tours in Berlin
---
Evening Read
Sophie Gilbert reviews the short-story collection Children of the New World, by Alexander Weinstein:
The 13 stories are set in broadly different visions of the future, some of them ravaged by climate change, others considerably more fanciful. ("The Pyramid and the Ass" imagines a world in which Buddhist reincarnation has been co-opted by a corporation named Soul Co. and George W. Bush has been president for 10 consecutive life cycles.) But the common thread is that humans seem to be remarkably unchanged. The emotional susceptibilities and moral quandaries that have ruined and redeemed us throughout history survive unscathed, condemning us to all kinds of high-tech misery. And, sometimes, to moments of enhanced humanity.
Read on here for some of those moments.
---
What Do You Know?
1. Last month, about half of all TV-owing households in the U.K. tuned in for the season premiere of ____________.
Scroll down for the answer, or find it here.
2. Of the U.S. elementary schools that offer sixth grade, only 35 percent offer sixth-graders time for ____________.
Scroll down for the answer, or find it here.
3. A 2009 study found that above a $__________ threshold, increasing incomes didn't seem to make Americans much happier.
Scroll down for the answer, or find it here.
---
Reader Response
Has football's concussion crisis led you to stop watching the sport? Matt Vasilogambros asked readers this afternoon, and we're already receiving a ton of emails. Albert writes:
I used to be a dedicated Bears and fantasy football fan, delighting as a spectator of the sport for many years.  However, hearing stories about the retired players', like Junior Seau, struggling with their minds due to concussion injuries, and looking at my 1.5 year old boy ... I asked myself: Could I live with myself if I were to promote my boy to become a football player who ended up with a mush brain in his 40s and beyond?  The answer is simply no.

It made me realize that I should no longer participate in the promotion of this sport. This is beyond the NFL; it starts from throwing that pigskin around in my backyard and enrolling my child in pee-wee football. So instead, I'll direct my children to other sports, like basketball, that are not concussion-prone.
Are you a current or former football fan with mixed feelings about the sport? If you've stopped watching, what changed your mind—and if you're still watching, what brings you back? We'd like to hear from you: hello@theatlantic.com.
---
Verbs
Lochte ambushed, kelp beloved, scientists bear-sieged.
---