The Atlantic Daily: Political Peril
Trump pulled closer to Clinton in the polls, Angela Merkel's popularity plummeted, self-driving Ubers debuted in Pittsburgh, and more.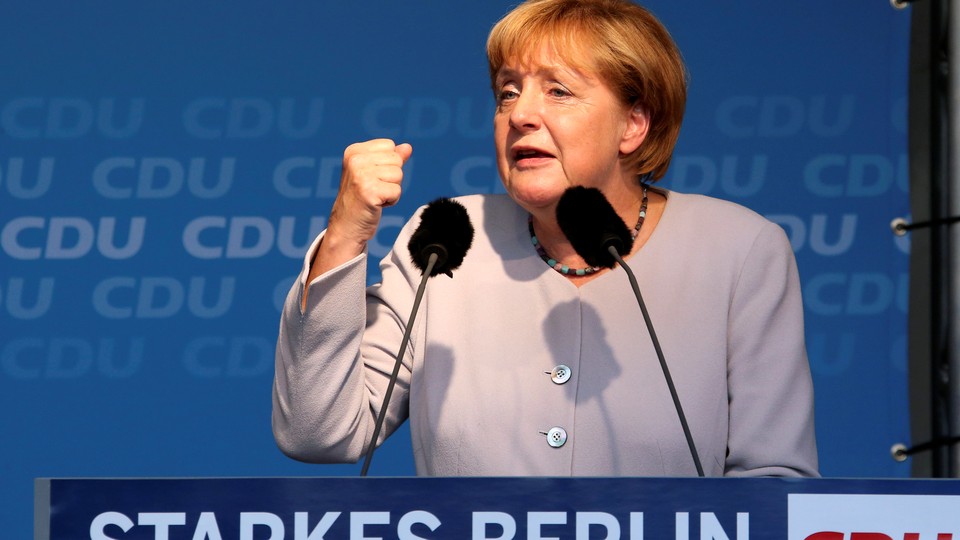 What We're Following
Merkel and Migrants: German Chancellor Angela Merkel is in political trouble. Her popularity has declined dramatically since last year, and last month her party, the Christian Democratic Union, suffered a severe blow when a far-right party, Alternative for Germany, came out ahead in a regional election. Merkel's political opponents, and even some in her own party, say she's failed to address Germans' concerns in the chaos of the migrant crisis. Yet thanks to Merkel's policies, Germany has dealt with its influx of refugees much better than most of Europe. What's really driving the German far right's rise, Paul Hockenos argues, is racism and Islamophobia—undercurrents that will be hard for Merkel to fight.
Trump's Breakout Moment? Hillary Clinton's lead over Donald Trump is shrinking, both nationally and in key swing states, according to a new poll released by CNN. In Florida, Trump is beating Clinton 47-44 among likely voters; in Ohio, he's winning 46-41. It's too early to say he's on a path to victory, but the new numbers are a warning to Democrats: Trump could win.
Drive On: Uber's fleet of self-driving Ford Fusions debuted today in Pittsburgh. Each car has a "safety engineer" sitting behind the wheel to take control in case of emergency, but they operate almost entirely on their own, and early passengers say they felt safe. That's lucky, since the "safety engineers" don't need any special qualifications. According to Kurt Meyers, a deputy secretary at Pennsylvania's department of transportation, "As long as there is a licensed driver in the driver's seat operating the vehicle, they do not need to be touching the steering wheel."
---
Snapshot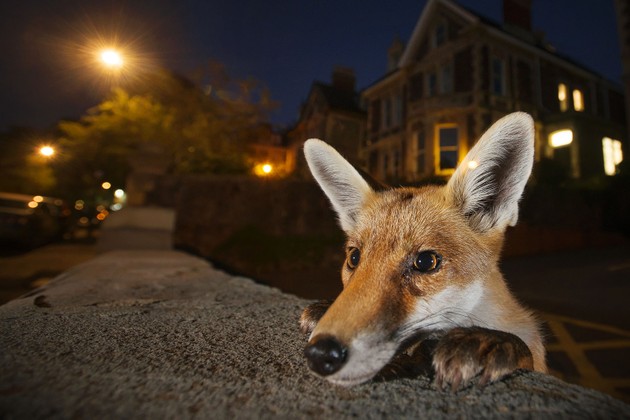 ---
Quoted
"Billary was great the last time, so of the two idiots, we might as well have the one who did a good job before." —Claudio Herrera, a voter in Colorado
"It used to be so revered, so exalted. You would sacrifice your bathtub for a week [to hold the fish before cooking it]. ... What the hell happened?" —Jeffrey Yoskowitz, a cookbook author, on gefilte fish
"When I was 9 years old my mother went to a child psychologist and said, 'I got this 9-year-old boy, and all he wants to do is hang around a funeral home.' That guy said, 'Well, he'll outgrow that.'" —Bob Arrington, a funeral director
---
Evening Read
Ashley Lamb-Sinclair reflects on her 3-year-old daughter's reaction to an animated movie:
I worried that even at her young age, she has been programmed to believe in the false image of the mean man with dark skin. She is constantly asking me, "Who is the bad guy here?" as if she has some instinctive need to pinpoint his location exactly so she can keep a watchful eye.

It's not an uncommon desire, really. I see it in my students during debate or in their argumentative essays. It seems that, for a typical 16-year-old, a person is either pro-choice or pro-life, pro-death penalty or anti, Team Kimye or Team Taylor. There is only black and white. In 11 years of teaching, I've seen near riots and actual riots break out based on which side of town students live, who said what on Twitter the night before, or which students have the right to use which bathroom. Teenagers, and toddlers apparently, are constantly in search of the other.
Keep reading here, as Lamb-Sinclair offers solutions for cultivating kids' empathy and respect. And look here for a reader discussion on how to teach ethics in school. Have something to add? Email us at hello@theatlantic.com.
---
What Do You Know?
1. Women without college degrees make up ____________ percent of Donald Trump's supporters.
Scroll down for the answer, or find it here.
2. Birth control implants have a failure rate of approximately one in ____________.
Scroll down for the answer, or find it here.
3. The part of the brain that processes harmony is located in the ____________.
Scroll down for the answer, or find it here.
---
Reader Response
We've had a flood of responses from former football fans who are fed up with the NFL's handling of head injuries. Kelsey writes:
I'm a 23-year-old woman who attended an SEC school and has suffered sports-related concussions. I'm also writing as a former football fanatic who's become completely disgusted with the sport, mostly the NFL, in the past few years. Their denial of concussion science is abhorrent, especially speaking as someone who took almost a full year to recover from two rugby-induced concussions. I fully expect for those injuries to impact my quality of life long-term, so I cannot imagine how much worse it is for someone whose career requires constant blows to the head.

I love the sport of football, but the NFL has ruined it.
Read more here. Are you a football fan or former player who can defend the NFL? We'd like to hear from you: hello@theatlantic.com.
---
Look Back
On this day in 1901, U.S. President William McKinley was assassinated by an anarchist. In our September 1901 issue, the editors wrote:
Lincoln's death was like the close of a great, mysterious tragedy. Garfield's had its own peculiar note of pathos. … But the circumstances of President McKinley's assassination have been such as to cause even more general and poignant sorrow to the nation as a whole. United as never before, enjoying an era of political good feeling, and universally attracted by the political good qualities of their President, the citizens of the United States, without regard to sectional or party differences, have been stunned and sickened by his murder.
You can read more about McKinley's murder here, and more about his presidency here.
---
Verbs
Trolls fed, bottle village built, chemicals compound, group texts triumph.
---