The Atlantic Daily: No Rest for the Weary
Protests continued in Charlotte, Trump's rhetoric fed racist stereotypes, diplomats struggled to stop fighting in Syria, and more.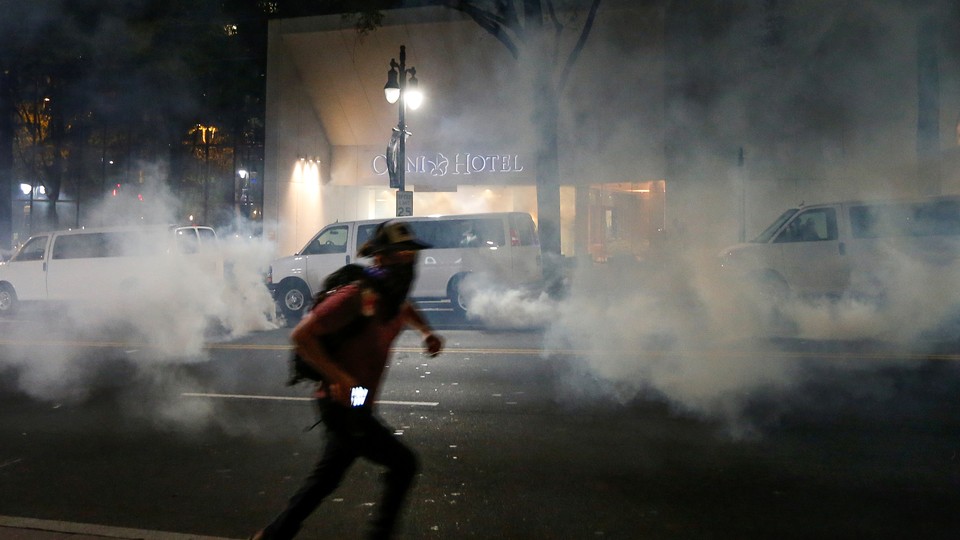 What We're Following
Just In: The Tulsa police officer who shot and killed Terence Crutcher on Friday, Betty Shelby, has been charged with felony first-degree manslaughter. In Charlotte, as protests continue over the death of Keith Scott, the police chief says bodycam video of the shooting supports officers' account of what happened, though it doesn't show clear evidence that Scott brandished a gun at police. One protester was shot last night, apparently by another protester, and is in critical condition. North Carolina's governor has declared a state of emergency. As David Graham writes, it's a rude awakening for a city that's tried to see itself as a beacon of racial harmony.
The Rhetoric of Racism: Donald Trump claims to be concerned about black Americans. But his heavily exaggerated descriptions of the social ills affecting black communities does little more than feed into negative stereotypes—and as Adam Serwer writes, Trump's comments fall into a long history of discriminatory policies that masquerade as attempts to help the people they target. Meanwhile, a new report on hate crimes—while noting there have been very few incidents in which perpetrators of hate crimes invoked Trump's name—suggests that political rhetoric can play in a role fueling or preventing such crimes. How much of a role? When, after the San Bernardino terror attack, Trump called for a ban on Muslims entering the U.S., the report says anti-Muslim hate crimes increased by 87.5 percent.
No Peace in Syria: After a ceasefire in the Syrian Civil War collapsed this week, diplomats met in New York today to attempt to repair the truce, and the UN said it would resume deliveries of aid that had been halted after an airstrike hit one of the convoys. But Syrian President Bashar al-Assad says the war is likely to "drag on" indefinitely. Assad's advantage over the rebels is more secure than it's been since the fighting began.
---
Snapshot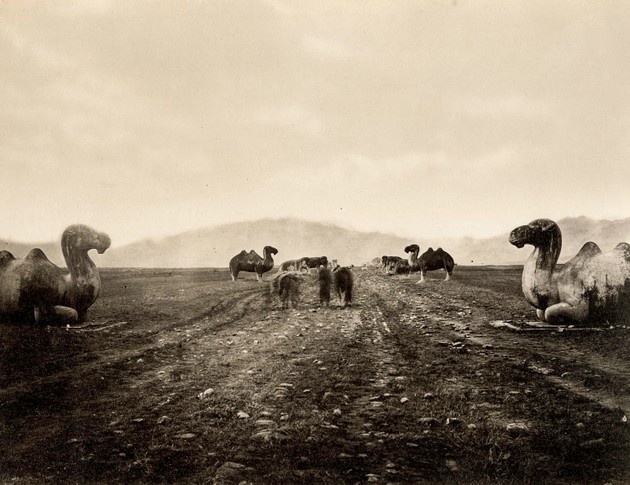 ---
Quoted
"It almost feels like this is the transition from the era of Brangelina to the era of Kimye." —Vanessa Díaz, who studies celebrity media, on the Jolie-Pitt divorce
"There's an expectation that … in the last 10 years, we'd have started from scratch, figured out a theory of change, and fixed the world." —Joshua Tauberer, a software developer and activist
"It doesn't mean you can't learn. It just means you haven't been taught in a way that makes sense." —Rae Jacobson, who has ADHD and dyscalculia, on what it's like to have a learning difference
---
Evening Read
Kyle Chayka on Instagram ads:
We look to Instagram for a brief glimpse into someone else's life, a sympathetic social connection. The depressing reality is, that moment of vulnerability makes it even better for advertising.

How best to invade the platform? One marketing approach is to co-opt tastemakers that are already popular on Instagram, sending freebies to individual accounts with massive followings. But the other is giving the brand its own semblance of life through sponsored posts, as if the company were just another human posting chill vacation pics.

This is why I feel so creeped out by the beer ads: They make it look like an inanimate object is out having a great time with its #squad.
Keep reading here, as Chayka analyzes just what makes beer-brand Instagrams so creepy—and compelling.
---
What Do You Know?
1. Half the guns in the U.S. belong to 3 percent of the population, who own an average of ____________ guns each.
Scroll down for the answer, or find it here.
2. Ten to 15 percent of adults, two-thirds of them women, suffer from ____________.
Scroll down for the answer, or find  it here.
3. The Facebook reaction emoji that indicates ____________ is especially popular in the U.S., Russia, and Australia, but less so in Brazil, Turkey, and Poland, according to a recent study.
Scroll down for the answer, or find it here.
---
Reader Response
A reader shares his story of substitute teaching at a Newark public school:
My first few weeks weren't bad. I was able to establish myself and began offering lessons to students before school. I started a school drum line and was doing OK. It was not "easy" by any means, but I was holding my own and getting work done.

By December, however, the school began slipping into complete chaos. Fights became a regular occurrence, and I felt like I was breaking up two a day. One day a fight between two fifth-grade boys became so intense that I had no choice but to go into the scrum and try to break things up. I did not lay hands on anyone, but I was trying to get between the boys when one of them turned around and began choking me.
---
Verbs
Sacramento mayor pied, Syrian refugees welcomed, fry-able fish shared, unimpressed Hillary impresses.
---