The Atlantic Daily: Meetings of Minds
Clinton and Trump debate at Hofstra, FARC and Colombia sign a historic peace deal, photo collectors find a connection with strangers, and more.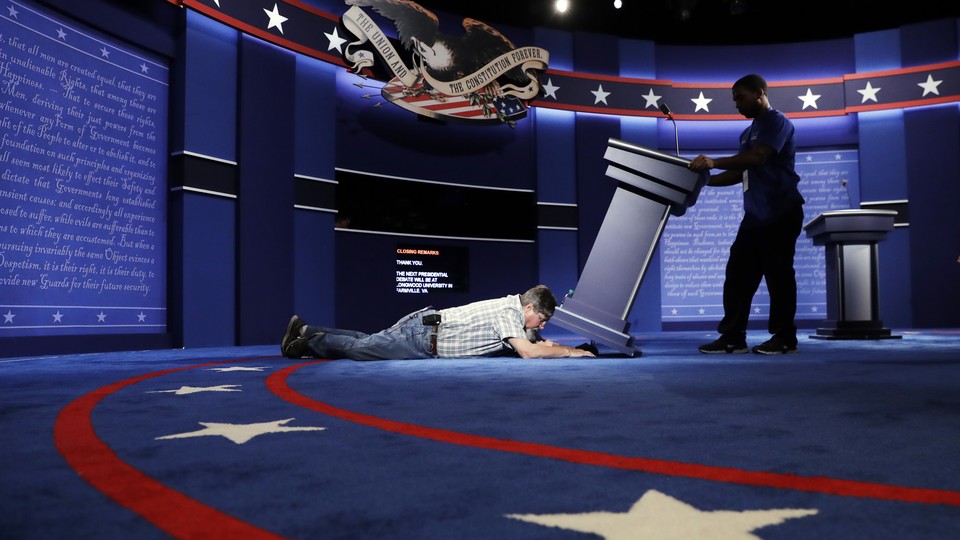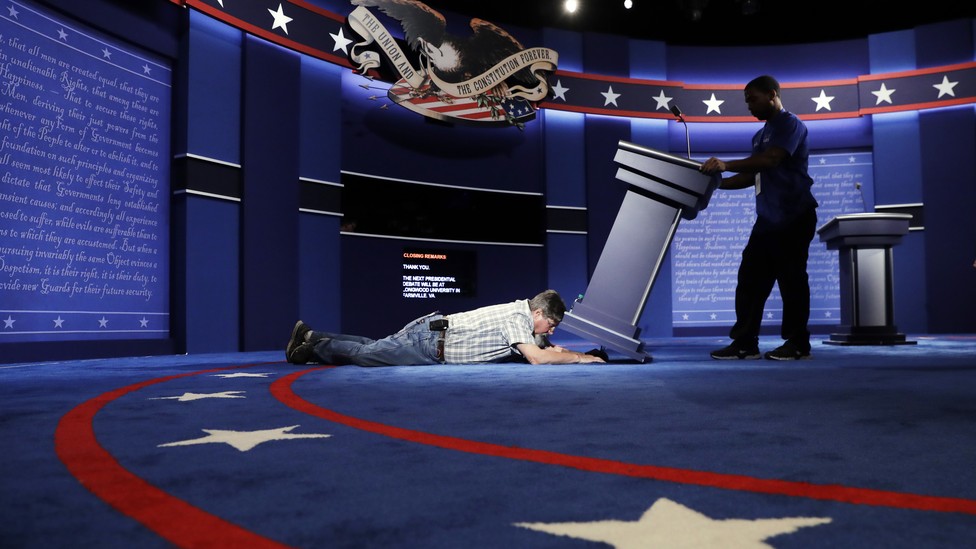 What We're Following
Pitched Battle: The first U.S. presidential debate of the 2016 general election begins tonight at 9 p.m. ET. Our politics team is live-blogging the big event. As longtime debate expert James Fallows writes in our current cover story, Hillary Clinton vs. Donald Trump will be a contest of polar opposites. But as the candidates face off at Hofstra University, they've never been closer in the polls. Here's what they will need to win.
Precious Peace: Nearly 60 years of war came to an end this evening when Colombia signed a peace deal with the Revolutionary Armed Forces of Colombia (FARC). The rebels, now removed from the E.U.'s list of terrorist organizations, will disarm and form a new political party, while Colombians will vote October 2 on whether to formally accept the deal. It's expected they'll vote yes, but the road to peace—and particularly the disarmament process—could still contain some obstacles.
Eyes on the Law: The U.S. Department of Justice has awarded a total of $20 million dollars to police departments across the country to help pay for body cameras. But as a new North Carolina law imposes strict limits on who can view the footage, it's unclear how much this measure can fulfill the DoJ's goal of restoring public trust in police. This can't hurt: Police in Houston today succeeded in stopping a mass shooting, killing the attacker. Nine people were injured, but they are expected to make full recoveries. Our news team has all the updates.
---
Snapshot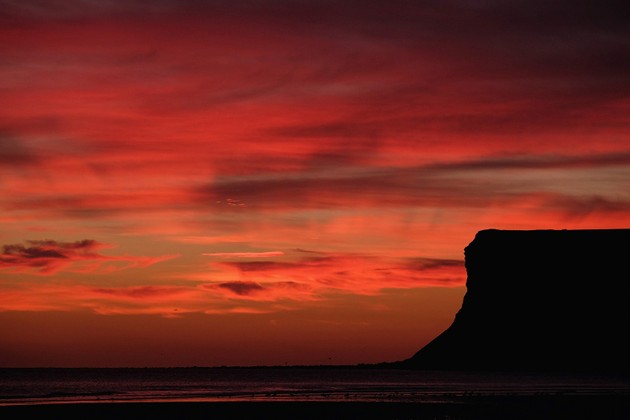 ---
Quoted
"Nobody ever said, 'Hey, where do I find a cult in the yellow pages? How can I join?'" —Daniel Shaw, a psychotherapist and former cult member
"You'd be surprised at the number of interesting things you can find if you jump into the water in the middle of nowhere." —Steven Haddock, a marine biologist
"We all got teary-eyed. We were handing her the key to unlock the doors to this magical place." —José Quiñonez, a 2016 MacArthur fellow, on showing a woman her credit score for the first time
---
Evening Read
Roc Morin on a stranger's family photograph:
The ancestral portrait was passed down as an heirloom, but to [Dan] Lenchner, it is also a collectible—one of 15,000 other images that he has bought over the years. The 70-year-old has published several books of found photographs, displaying them in pairs intended to evoke specific connections between disparate subjects: a prisoner and a baby, kids with toy guns and a wounded soldier, a woman in a hijab, and a woman in a catcher's mask.

Among these, as among all snapshots, there is a broader connection too. Walker describes it as a shared relationship to time. "Every person in a photo is older than when that photo was taken," she elaborated. "I look at a photo and I know someone is probably dead and that one day I'll be dead too. There must be some secret of time held in these images. I can't help thinking that if I just study them hard enough, I'll finally be able to understand it."
---
What Do You Know?
1. Depictions of heaven in the 19th century and earlier represented it as one big community of ____________.
Scroll down for the answer, or find it here.
2. Hawaii, Wyoming, Nebraska, Iowa, and Vermont are the only states that don't legally require ____________ in schools.
Scroll down for the answer, or find it here.
3. A new study suggests that pregnant women who experience ____________ may be at a lower risk of miscarriage.
Scroll down for the answer, or find it here.
---
America by Air
"The pride of the people who care for the land jumps out at you" in this photo of a farm near Mason City, Iowa, writes reader Ray Wasilewski: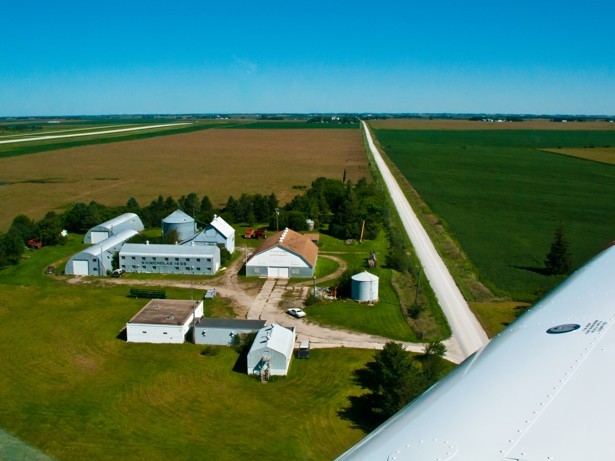 See more from our ongoing America by Air photo series here, and send your own aerial snapshots to hello@theatlantic.com—particularly if you've got a great view from CT, GA, ME, MS, NM, ND, RI, VT, or WV.
---
Reader Response
J.S. reviews the first film in our pre-election movie club:
The Candidate is a comedy based on close observation of what actually happens in political campaigns. Through the eyes of the politician-in-training, we learn, for instance, how it doesn't just matter what you say during a TV interview, but that you remember not to look up, because on camera that makes you look stupid. And that the powers of incumbency include being able to overwhelm a smart analysis, say of the causes of brushfires, with spectacle: swooping in by helicopter, deus ex machina, to announce that you've just secured the President's promise of disaster relief. And that being effective means staying on message, which means repeating the same formulaic lines until they start to sound like random nonsense even in your own head.
Read more here, and join the discussion via hello@theatlantic.com. And for a fictional antidote to tonight's debate, watch The West Wing's debate episode—which, as Megan Garber writes, captures the drama of American politics' biggest spectacle while also providing some refreshing moral clarity.
---
Verbs
Obelisk grounded, hysteria resurrected, expectations lowered, hippo teeth examined, cargo shorts explained.
---