The Atlantic Daily: A Shift in Perspective
Footage of the events surrounding Keith Scott's death was released, Ted Cruz reversed his position on Trump, a new museum deepened America's narrative of black history, and more.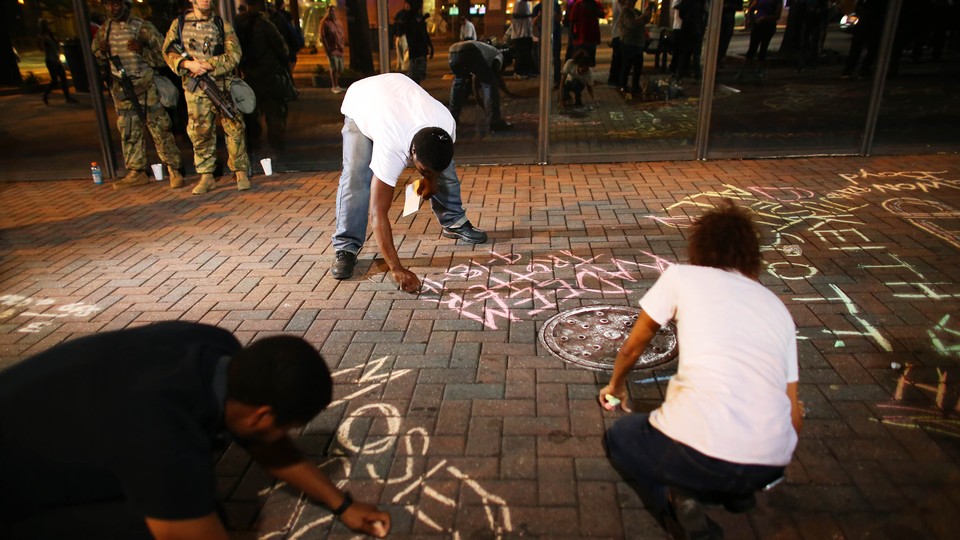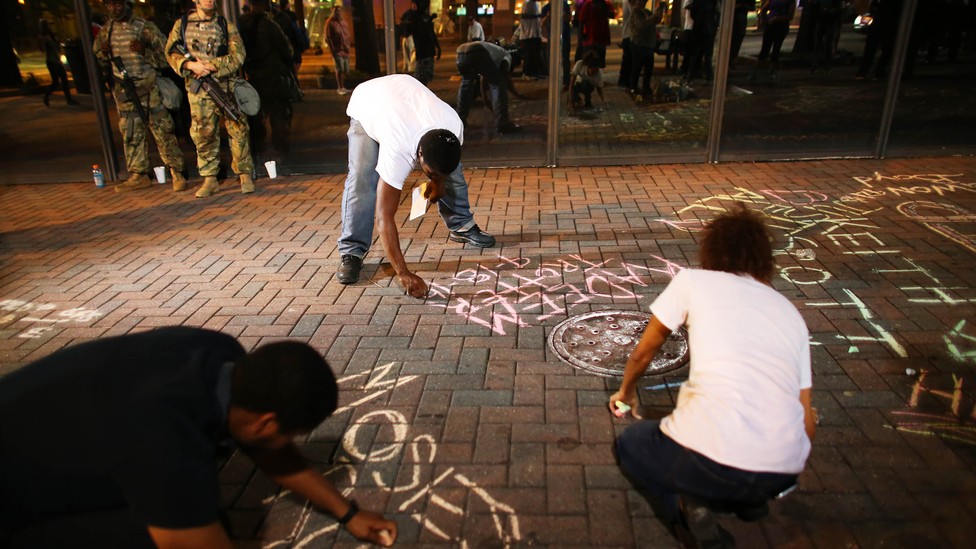 What We're Following
Today in Charlotte: Cellphone footage of the moments leading up to the death of Keith Lamont Scott has been released by the Scott family's lawyers. The video was taken by Scott's wife, Rakeyia Scott, who can be heard saying, "Don't shoot him. Don't shoot him. He has no weapon." Officers in the video can be heard shouting, "Drop the gun." Body-cam video of the shooting has not yet been released, though police say it will be. Meanwhile, the protester shot by another civilian during Wednesday night's demonstrations has died. He was 26 years old.
Middle Eastern Violence: Syrian government forces are bombing Aleppo again after talks to restore a ceasefire failed. In the latest round of airstrikes, dozens of civilians were killed. Over in Iraq, ISIS attacked U.S. troops with a rocket containing mustard gas this week—the first time chemical weapons have been used against the U.S. in the country, though ISIS has been known to use them. No soldiers were injured in the attack. Meanwhile, in Yemen, a war is ongoing that's much less well known in the U.S.—even though, through an arms deal with one of the aggressors, Saudi Arabia, the U.S. is helping to facilitate it.
About-Facebook: On the campaign trail, Ted Cruz called Trump "utterly amoral" and a "pathological liar." On the convention stage, he publicly refused to give the party nominee his support. But in a Facebook post today, the Texas senator announced he's endorsing Trump for president. It's a shocking move, completely at odds with Cruz's uncompromising political brand, and it's likely to lose him a lot of goodwill. So, what changed his mind? Cruz gave six reasons, one of which is to be found in the list of 10 more potential Supreme Court nominees that Trump released today.
For more campaign updates, subscribe to our Politics and Policy newsletter.
---
Snapshot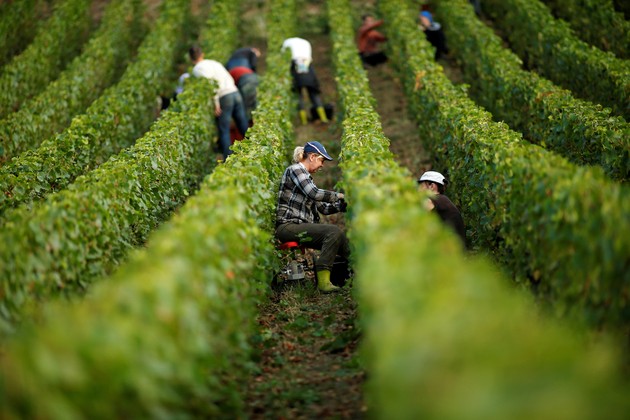 ---
Who We're Talking To
Today we interviewed:
Donald Trump, the Republican nominee for president.
Jennifer Lucio Vargas, an event planner in Miami, Florida.
Alison Gopnik, a professor of psychology and philosophy and author of a new book on parenting. "The day before you were born always looks like Eden," she says. "And the day after your children were born always looks like Mad Max."
---
Evening Read
Vann R. Newkirk II on African American history:
Black history is usually portrayed as the opposite of unlikely. Even the most well-meaning and well-sourced books and films that make up most of America's black history canon tend toward a view of an inevitable journey to progress that is all swelling strings and sepia photographs: a series of still images from slavery to marches on Washington to freezing inaugural processions down the National Mall. The problem with that approach is that it's hard to reconcile the musculature and endurance of the racism that black people still endure with the idea that freedom is their destiny.

A trip through the National Museum of African American History and Culture, which will be unveiled this weekend to the public in a suitable pageant of pomp and circumstance, should disabuse visitors of that notion.
Read more here, as Newkirk examines how the museum reckons with pain and illuminates a different idea of progress.
---
What Do You Know?
1. In the U.S., consumers spend about ____________ percent of their time on their phones.
Scroll down for the answer, or find it here.
2. In August, the Clinton campaign spent $____________ every five seconds. For comparison, the Obama campaign spent $166.67 every five seconds in August of 2012.
Scroll down for the answer, or find it here.
3. In Fairfield County, ____________, one of America's least equal areas, the top 1 percent of earners makes 73 times the average of the bottom 99 percent.
Scroll down for the answer, or find it here.
---
Reader Response
A story about the growing number of Americans who check "other" on a list of racial categories sparks this memory from a reader:
This reminds me of when I was in high school and my grade was taking some standardized test. When we were filling out the personal info part, a Latino kid asked a teacher what he should put for race because the only options were black, white, Alaskan native, Asian, Native, and no Latino/Hispanic option for ethnicity. After much thinking the teachers just told all Latinos to fill in white. Obviously, many were weirded out because they weren't white.
Read more here. Does your racial background resist categorization? We'd like to hear from you: hello@theatlantic.com.
We're sorry about the cliffhanger caused by a broken link in last night's newsletter, which was supposed to direct to a Note from a substitute teacher who was choked by one of his fifth-grade students. He's okay now; you can read what happened here.
---
Verbs
Trump trolls funded, Rick Perry danced, organizational failings ranked, political chaos explained, garbage fire heals.
---