The Atlantic Daily: When Women Lead
Sexist backlash marred the prospect of a Clinton win, climate change threatened a small island nation, Pottermore promised yet more Potter, and more.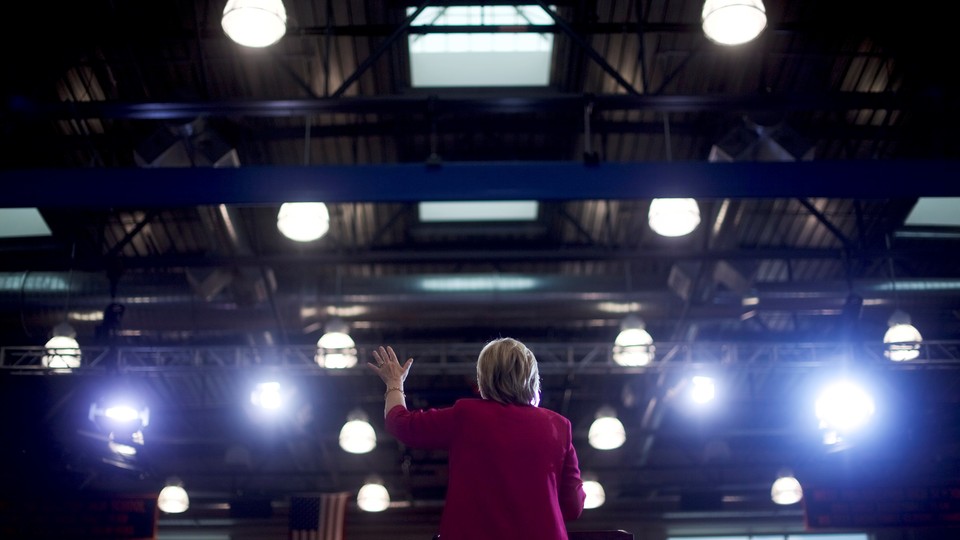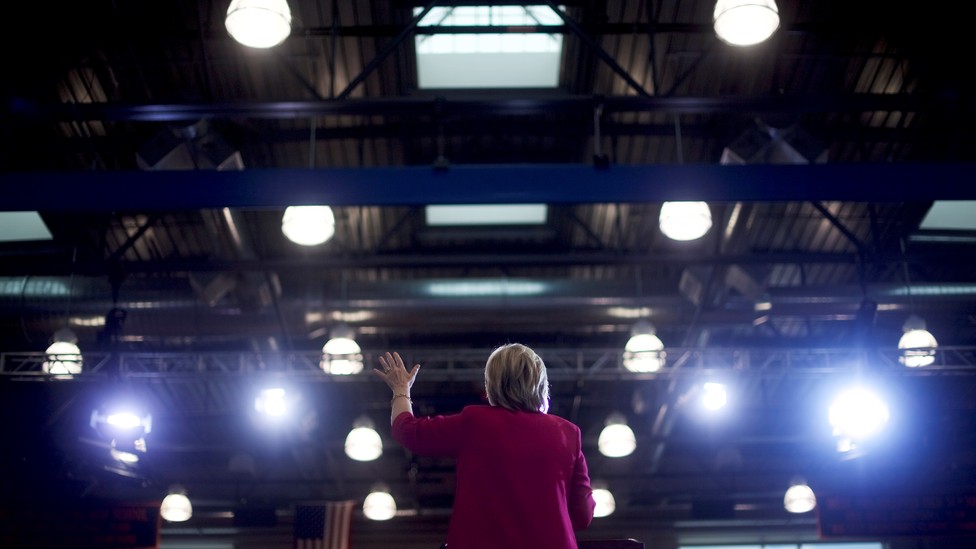 What We're Following: When Women Lead
What will it mean for American women if Hillary Clinton wins the White House? The historic election would shatter the nation's highest glass ceiling—but it also would usher in a new era of public misogyny. As Michelle Cottle writes, "So goes progress: Two steps forward, one step back(lash)."
Women around the world rise to and excel in leadership positions—thanks in part, as one researcher found, to the leaders they encounter in their families as well as in public. And there's much more that can guide—or complicate—a woman's path to power. Read all our coverage of women in leadership here, and scroll down to see Amy Schumer's guide to self-confidence, readers' insight into the gender pay gap, and much more.
***
Rising Waters: In one of the most poignant moments of the Rio Olympics, weightlifter David Katoatau of Kiribati celebrated his performance with a dance—not because he won, but to raise awareness about his country, a Pacific island nation that's drowning as sea levels rise due to climate change. Meanwhile, in Louisiana, historic flooding has damaged tens of thousands of homes and displaced more than 8,000 people, but the U.S. media seems to be looking the other way.
The Never-Ending Story: Three new e-books about Hogwarts from the website Pottermore will be released next month, despite J.K. Rowling's earlier statement that the boy wizard's story had ended with this summer's play The Cursed Child. Elsewhere in fandom, the new droid featured in trailers for Rogue One, the forthcoming film from the Star Wars franchise, seems to be putting a darker, more morally complex spin on the role of the galaxy's robots—a twist that could inject new life into the beloved series.
---
Snapshot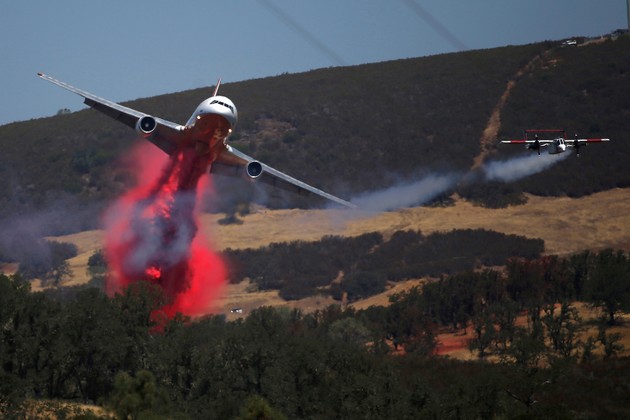 ---
Quoted: The Comfort-Zone Edition
"The classroom has to be the space where everybody comes and is uncomfortable." —Tressie McMillan Cottom, a sociology professor
"We thought this would be a way to help them … try to avoid interactions with large whales." —Mark Baumgartner, a marine ecologist, on placing a whale-tracking buoy in a Coast Guard training range
"It's actually very difficult to draw lines between right and wrong in an area where we're essentially saying two things at once: Be aggressive, take risks, make money—but don't hurt people while you're doing it." —Sam Buell, a law professor, on white-collar crime
"Rising cost of university + falling membership in the middle class equals terrified parents who create anxious kids. Guilty." —an Atlantic reader on the stress of student success
---
Evening Read
Megan Garber on Amy Schumer's new essay collection:
The Girl With the Lower Back Tattoo is named ... for Schumer's "tramp stamp"—hers features tribal art of indiscriminate origin, courtesy of a tattoo artist who, inking under the influence, slightly skewed its angle—and in its pages Schumer compares herself to a Cabbage Patch Kid, a Garbage Pail Kid, "that eighties doll Kid Sister," "an old sunken ship covered in plankton and kelp," and "a still of Rupert Murdoch in a rocking chair."

Those jokes, though, are relatively rare. The book instead offers, overall—for author and reader alike—a compelling kind of catharsis: It is, contrary to the postmodern parfait that is Schumer's standard act, decidedly un-layered. It is Schumer, the celebrity, shedding Schumer, the schtick. It is a memoir that is also an unapologetic paean to self-love. In that, The Girl With the Lower Back Tattoo finds a new way for Schumer to be radical: It treats feminine self-confidence not in the way it is too often regarded, as a BrainyQuotable truism or an inborn gift or a fuzzy aspiration or, indeed, a source of shame, but rather as a skill like any other—something that is developed and worked at and thus, most importantly, earned.
---
News Quiz
1. Liberland, a self-proclaimed country founded as a libertarian paradise, is located in the heart of ____________.
(Scroll down for the answer, or find it here.)
2. Heart attacks are most common—and most damaging—in the first three hours after ____________.
(Scroll down for the answer, or find it here.)
3. In Antarctica, some microbes stick to the ice by using ____________ as grappling hooks.
(Scroll down for the answer, or find it here.)
---
America by Air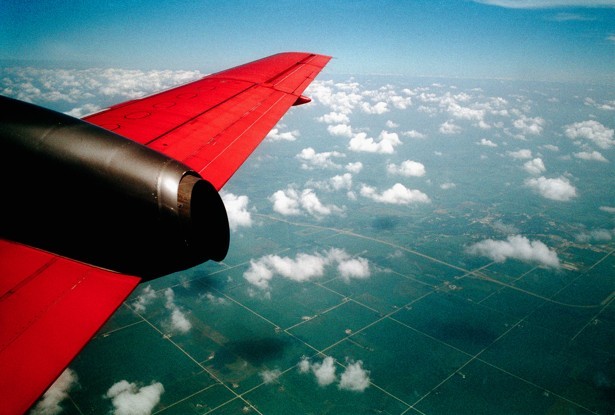 ---
Reader Response
A reader joins our ongoing discussion on the gender pay gap:
There are many factors involved in choosing a job, and some things will be valued more than an incremental increase in pay. As a man who works as a schoolteacher, I have firsthand experience in why someone might choose a lower-paying career.

It is important to note that jobs that are traditionally considered "male" are consistently paid better than very similar jobs that were seen as "female." For instance, why should doctors be paid so much more than nurses, especially nurse practitioners? Or why should college professors be seen as higher in pay and prestige than K-12 teachers? But even today, as more and more men enter these once almost exclusively feminine fields, the pay remains low.
Read more here, and share your own experience via hello@theatlantic.com.
---
Track of the Day
What's your favorite music to work to? Reader Lauren, a novelist, recommends "The Twins (Prague)" by Max Richter: "a short but beautiful piece that always seems to bring out dramatic scenes from within, and onto paper." Listen here, and send your recommendations to hello@theatlantic.com.
---
Look Back
On this day in 1807, the world's first commercial steamboat service began operating on New York's Hudson River between Albany and New York City. After that, as H.T. Tuckerman wrote in our December 1866 issue,
the vast system of ferriage was established which inundated the main avenue of the city with a perpetual tributary stream of floating population from all the outlying shores of the Hudson and East Rivers, Staten and Long Islands, and the villages above Manhattan. … The beautiful pigeons that used to coo and cluster on the cobble stones had no resting-place for their coral feet on the Russ pavement, so thickly moved the drays, and so unremitted was the rush of man and beast.*
---
Verbs
Music festivals fast-laned, star reborn, hedgehog officers recruited, bakerygoers baked, chopstick challenges solved.
---
*The newsletter dated August 16, 2016, mistakenly stated that the Klondike Gold Rush began in Alaska. In fact, it began in Yukon, Canada. We regret the error.