The Atlantic Daily: Trump's Troubled Campaign
Scandals surrounded the new Trump campaign chief, France's high court overturned a ban on the burqini, the judge in the Stanford rape case stepped aside, and more.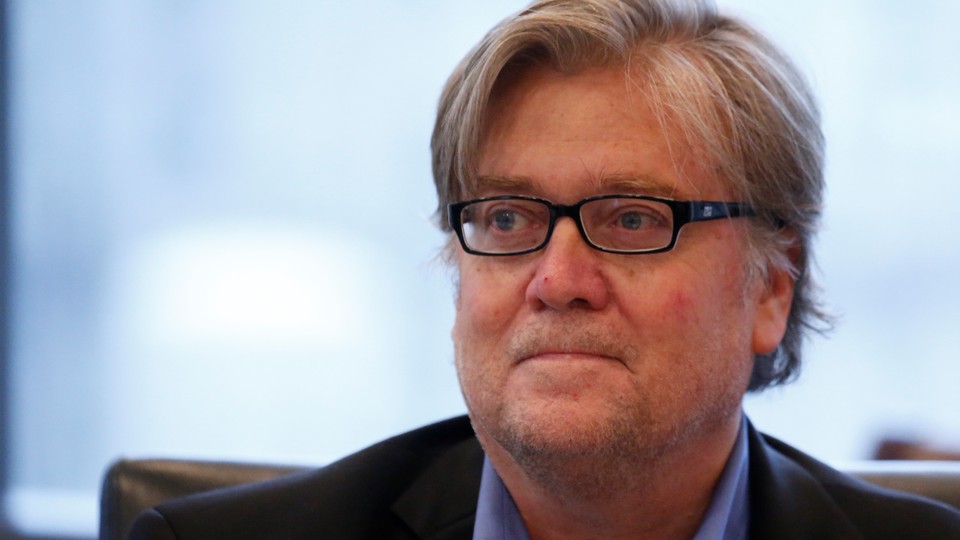 What We're Following
Stephen Bannon's Scandals: The former head of Trump's campaign, Paul Manafort, resigned just a week ago amid scandal, and so far his successor, Stephen Bannon, isn't faring much better. Charges of domestic violence filed by Bannon's ex-wife in 1996 emerged last night, followed by news that he's registered to vote at a vacant house in Florida—which could mean voter fraud.
Battle of the Bans: France's high court has overturned the burqini ban in the town of Villeneuve-Loubet, ruling that a woman's choice to wear the full-coverage swimwear represents no real threat to the public order. The decision sets a precedent for the more than 20 other towns that have banned the burqini—though several mayors are insisting they will continue to fine women who wear it. France's nationwide debate over the burqini bans has centered on what wearing Muslim religious dress really signifies. To help clear things up, here's a short film featuring American women who wear the hijab.
Crime and Consequences: Aaron Persky, the judge who presided over the controversial case of a Stanford student who sexually assaulted an unconscious woman, has stepped aside from his role in all criminal cases, requesting a reassignment to civil suits. After Stanford announced this week it would ban hard liquor at undergrad parties in an effort to prevent rape on campus, Persky's ruling—which apparently accepted the perpetrator's characterization of his crime as a drunken mistake—has been back in the spotlight. "We can and will always find an excuse to explain why assaults happen until we decide that rape and assault are not inevitable constant forces," one reader writes. "Let's stop excusing away assault and actually hold perpetrators accountable." More reader discussion here.
---
Snapshot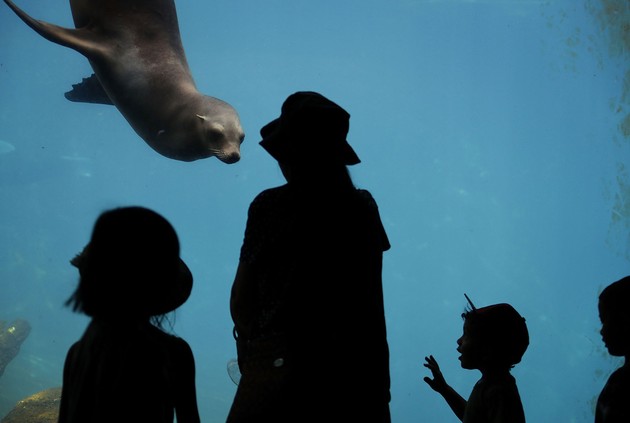 ---
Quoted
"Guess what? It's like Ghostbusters, man. When there's a problem anywhere else, call Ghostbusters. We're Ghostbusters." —Joe Biden, vice president of the U.S., on America's international role
"Our market is to appeal to a very irrational customer." —Randy Treibel, who buys Trump and Sanders campaign merchandise in bulk to sell on Amazon
"Oh shit, I might've started a church." —what Jodi Houge, a Lutheran pastor, said when people began attending her weekly services in a coffee shop
---
Evening Read
Gregory Zinman on holograms:
In April of last year, a nighttime rally was organized on the steps of the Spanish parliament to protest a new law that severely curtailed a number of civil liberties. Euphemistically named the "Citizen Safety Law," the new regulations prohibited, among other things, public assembly near government buildings. Thousands of demonstrators shouted slogans and waved placards. Arrests were surely imminent.

None were made, however, because no one was really there—the protest was a holographic projection, a virtual end-around of repressive authority. In a video posted online, a spokeswoman for the movement prophesied: "Ultimately, if you are a person, you won't be allowed to express yourself freely. You will only be able to do it if you are a hologram."
Keep reading here, as Zinman unpacks the history of this science-fiction-like technology—and its real-life future.
---
What Do You Know?
1. Hawaii's Papahānaumokuākea Marine National Monument is home to more than 7,000 marine species, as well as five sunken ____________.
(Scroll down for the answer, or find it here.)
2. Though ____________ appeared in Rome as early as the first century A.D., they fell out of use during Europe's Dark Ages and weren't used in homes again until the 1500s.
(Scroll down for the answer, or find it here.)
3. It costs ____________ per year to keep someone in prison in California.
(Scroll down for the answer, or find it here.)
---
Reader Response
After Clinton yesterday attacked Trump's racist rhetoric, why haven't Republican leaders stepped up to defend him? This reader has a strong theory:
I think you might be missing the GOP strategy here regarding Sec. Clinton's bigotry speech, and the fact that no Republican came forward to defend Donald Trump. Republicans know that she spoke the truth—the indefensible truth about Donald Trump—and they want to squelch any discussion about it. That's what they are doing.

Because they don't want this speech on the airwaves, debated on panels, over several news cycles, with more and more of the dirty laundry getting debated in the mainstream news cycles, leading the Nightly News with dramatic music. Screaming headlines. Any any—ANY—statement by a Republican will trigger that discussion that no GOPer wants.
---
Look Back
In the news on this day in 1944, Charles de Gaulle, the leader of Free France, returned to a newly liberated Paris. Curtis Cate encapsulated the moment in our November 1960 issue:
When, in August of 1944, De Gaulle made his triumphal entry into the Hotel de Ville in Paris, one of his companions regretted that the windows were not open so that the General might receive the acclamations of the crowd massed outside to hail the re-establishment of the Republic. "It is unnecessary," the General answered calmly, "for the Republic has never ceased to exist. I was the Republic."
---
Verbs
Parks instagrammed, hookups exalted, Lochte sponsored, dadhood embraced.
---