The Atlantic Daily: Trump, the Multiverse, and Other Great Uncertainties
The GOP nominee wavered on immigration, the multiverse shrank human creativity, Facebook failed to spot the truth, and more.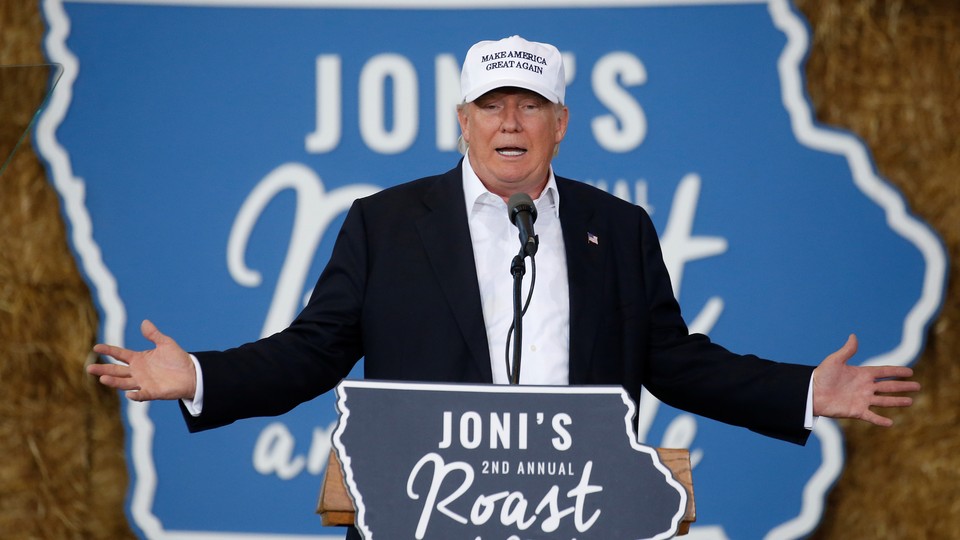 What We're Following
An Undocumented Opinion: Donald Trump has walled himself into a corner on immigration. After winning the primaries thanks to a voter base that heavily favors deporting undocumented immigrants, he risks losing a key source of his support if he changes his mind. But the problem might run deeper than that. As Peter Beinart writes, it's not so much that he's changing his policy, but that he's suddenly being forced to formulate a clear one in the first place.
Tragedy in Yemen: More than 50 people are dead and dozens of others are wounded after a suicide bomber struck a military compound in the city of Aden, Yemen. ISIS has claimed responsibility for the attack, which targeted new recruits to a militia allied with Yemen's deposed president.
On TV: Fox News, which turns 20 this fall, is the most-watched cable network in the U.S. But Derek Thompson argues that the network may be reaching its peak: Fox News is most popular among older white men, with half of its viewers over 68, and its audience isn't getting any younger. Meanwhile, last night's MTV Video Music Awards showcased an entirely different group of influencers, with Beyoncé, Rihanna, and Kanye West demonstrating black musicians' power to push social change through pop music.
What we covered this weekend: The rise of American "others," the outsourcing of education, the latest on Italy's earthquake, the morals of loving machine guns, an ode to America's national parks, and what it's like to be black and Mormon.
---
Snapshot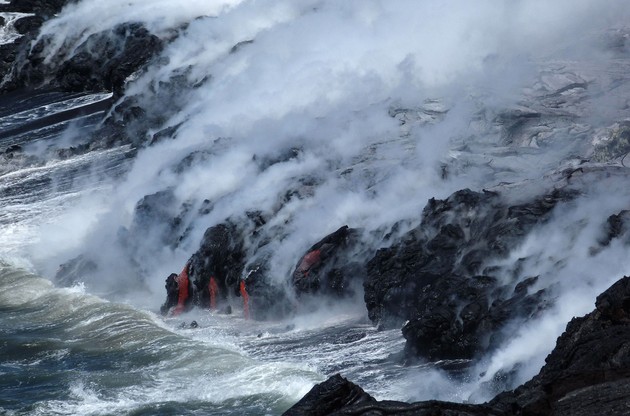 ---
Quoted
"If someone was to say something about broccoli, you wouldn't feel sucked into the argument." —Anita Vangelisti, who studies interpersonal interactions
"If I do it right, nobody notices; but if we do it wrong, everybody's going to notice." —Eileen Velez-Vega, a civil engineer
"Trump can point to this and go 'See, the system is rigged,' and I personally worry that such language might inspire some fraction of his followers to commit a violent act." —Nicholas Weaver, who studies computer security, on the dangers of  electronic voting
---
Evening Read
Sam Kriss on the problem with the multiverse idea:
You might not like what I'm about to say about the multiverse. But don't worry; you've already had your revenge. If there are an infinite number of parallel universes, there will be any number of terrible dictatorships, places where life has become very difficult for people who like to string words together. Somewhere out there, there's a society in which every desperate little essay like this one comes with a tiny, unremarkable button: push it, and the author will be immediately electrocuted to death. …

Somewhere in all the possible worlds you're skipping about in a luxury yacht, while I'm chained, terrified, to the bow, gasping through mouthfuls of seawater. Somewhere your band of riders burned my village to the ground, and you're drinking a toast to the gods from my jewel-encrusted skull. You can want all of this, and there's no need to feel guilty: it could happen, so it happened; that's all.
Continue reading here, as Kriss makes the case that the multiverse actually limits the human imagination, not expands it.
---
What Do You Know?
1. When monkeys live in captivity, their ____________ become a lot more like humans'.
Scroll down for the answer, or find it here.
2. In 2014, the horror movie ____________ earned 20 times what it cost to produce.
Scroll down for the answer, or find it here.
3. The commercial jingles "Like a good neighbor, State Farm is there" and "I am stuck on Band-Aid brand, 'cause Band-Aid's stuck on me!" were both written by ____________.
Scroll down for the answer, or find it here.
---
What We're Making
Calling all inventors! The Atlantic's Andrew McGill has been spending the summer building stuff to make life simpler. So far, he's created a silent, Slack-powered doorbell, an app that finds open bikeshare stations, a computer script to improve your DMV experience, and a button that orders your favorite salad. We've also heard readers' ideas for a better bike-rack monitor and a sensor that keeps you from forgetting your keys. What have you built in the past, and what are you working on now? Tell us about it via hello@theatlantic.com.
---
Reader Response
What should America do about its welfare policies? This reader, whose daughter suffers from a rare disease, lost her job in 2014 and found she couldn't qualify for government assistance:
No day care would take my daughter because of her condition. They didn't have the proper equipment to keep her safe. No friends would babysit because they were afraid of her. … But even if I had found another job, I would not have been able to find one making what I was making that would allow me to take off two days a week to make doctor's appointments my child needed to survive—not to mention the several surgeries and hospitalizations.

I have always worked, often more than one job, since I was 14. But, now I needed help. I applied for TANF [Temporary Assistance for Needy Families] and was told that I would not qualify for any services because I was "work-ready."

Nothing. All my hard work. All the taxes I have paid. I could get nothing.
Read more here. Have you applied for welfare under similar circumstances? Share your own experience via hello@theatlantic.com.
---
Look Back
Atlantic co-founder Oliver Wendell Holmes Sr.—the physician, poet, and professor who gave the magazine its name—was born on this day in 1809. If he were alive today, he might still find certain aspects of the media landscape familiar: As he wrote in our September 1861 issue about newspapers and railroads, "This perpetual intercommunication, joined to the power of instantaneous action, keeps us always alive with excitement."
---
Verbs
Facebook faked out, philanthropy judged, debates debated, Gene Wilder remembered.