The Atlantic Daily: Trump and Taxes, Delta's Delays, Women's Gymnastics
Donald Trump spoke about his economic platform, a computer outage stalled Delta's flights worldwide, the women's gymnastics team balanced strength and femininity, and more.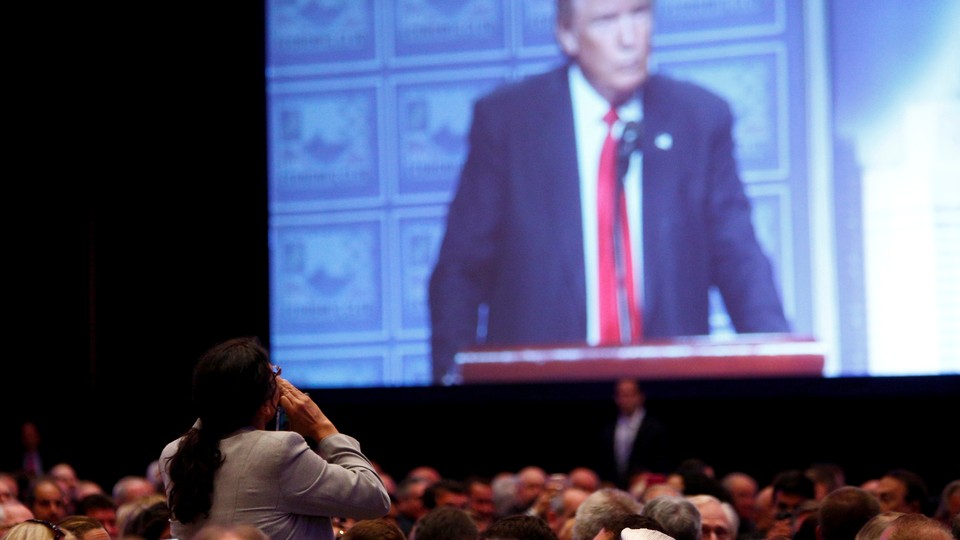 What We're Following
A Taxing Dilemma: Donald Trump spoke in Detroit about his plan for the U.S. economy, which includes both widespread tax cuts and—unusually for a GOP platform—affordable child care. But history might not be on Trump's side when it comes to the tax cuts: Past patterns show that taxes rise when people are unhappy with the nation's wealth distribution, which means the U.S. may be due for a major tax hike for the rich.
Failure to Launch: Delta's departing flights were grounded worldwide today after an early-morning computer outage at the company headquarters in Atlanta, Georgia. Almost 6,000 flights had been scheduled altogether. At 1:30 p.m., the airline said it had canceled 451 flights outright and was operating 1,679.
A Delicate Balance: The team finals for women's gymnastics in Rio take place tomorrow, placing a spotlight on some of America's most talented athletes—and most inflexible cultural norms. Equally demanding in athletics and aesthetics, writes Megan Garber, women's gymnastics reflect our ambivalence about strength, youth, femininity, empowerment, and more.
What we followed this weekend: The Olympics opening ceremony, a photo that captures the tragedy of vigilante killings in the Philippines, a U.S. Army-run assault-rifle marksmanship camp for kids, Trump's intellectuals, Clinton's faith, convenience-store innovations, the reclusiveness of Frank Ocean, and the elegance of Ichiro.
---
Snapshot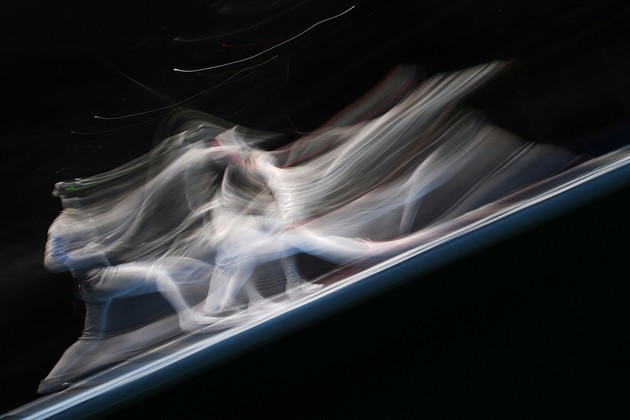 ---
Quoted: The Under-the-Radar Edition
When you don't know what you don't know: "We're in this new age of incomprehensibility. … [It] is too easy to say, 'Oh, I don't know what I'm doing. Everything is magical and I don't understand it.'" —Samuel Arbesman, who studies technology
When what you don't know can't hurt you: "It's one of the few times in medicine that it's far more important to begin treatment and ask questions later." —Jason Persoff, a professor of medicine, on cardiac arrest
… and when it comes back to haunt you: "What's been going on with the presidential discourse has allowed this alligator to crawl out of the swamp. It's been living there. We haven't been seeing it. We haven't been focused on it much. But now it's back." —Caroline Fayard, who is running for U.S senator in Louisiana, on her opponent, white supremacist David Duke
---
Evening Read
Ed Yong on the mosquitoes that could help beat dengue and Zika:
These mosquitoes are Aedes aegypti, a black-and-white species that transmits the virus that causes dengue fever. Through its bites, it infects as many as 400 million people every year. [Biologist Scott] O'Neill has never had dengue himself, but he has seen others go through it. He knows about the fevers, headaches, rashes, and the severe joint and muscle pains. He knows that there is no vaccine or effec­tive treatment.

The only real way of controlling dengue is through prevention. We can kill Aedes mosquitoes with insecticides. We can stop them from biting, using repellents or nets. We can remove the open, stagnant water in which the insects breed. But despite these strategies, dengue fever is still common, and increasingly so. O'Neill's plan, unorthodox though it sounds, is to beat the disease by releasing even more of the Aedes mosquitoes that carry it. But his insects are different from their wild counterparts. O'Neill has loaded them with a marvelous bacterium called Wolbachia.
Continue reading here.
---
Daily Quiz
1. On average, U.S. households are expected to spend ____________ apiece on back-to-school shopping this year.
(Scroll down for the answer, or find it here.)
2. One percent of the world's annual cotton production is consumed by ____________.
(Scroll down for the answer, or find it here.)
3. For the first time ever, at 36 percent of the labor market, ____________ workers make up the largest group of American workers in 2016.
(Scroll down for the answer, or find it here.)
---
Reader Response
What it's like to grow up under authoritarian rule? A reader writes:
I was born and raised in the Dominican Republic. My father was also one of many Dominican men who served under the dictatorship of Trujillo. My father was a man of his time. He arrived in the early '50s to the capital of Santo Domingo from the province of Puerto Plata. Back then he was a young man with dreams of becoming a high-ranking individual in La Guardia de Trujillo. He could barely read and write but he always had the ambitions of being near El Generalissimo. Trujillo was his idol and he intended to emulate him at all costs.

In those days, the Dominican military was a way to upper mobility for men like my father—men of humble backgrounds and little education who aspired to rise up in the ranks and become a general or part of the military mystique that was well-respected and adored by many Dominicans of his generation. My father would eventually become the chauffeur for one of Trujillo's senior ranking officers. This was a duty that he was very proud of because it was a highly coveted job.
Read more here, and share your own story at hello@theatlantic.com.
---
Verbs
Trees eavesdropped on, kitten rescued, baby-friendliness ranked, "Clock Boy" lawsuit filed, turtle-painting banned.
---