The Atlantic Daily: The Least-Loved Leaders in Latin America
Donald Trump met with Mexico's president, Brazil's Dilma Rousseff was removed from office, warring factions in Colombia neared peace, and more.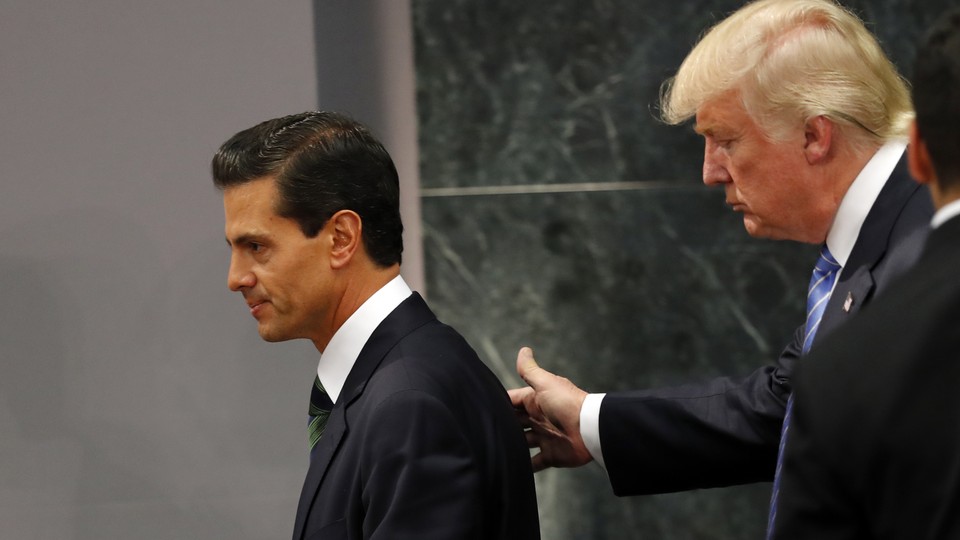 What We're Following
The Most Unpopular Men in Mexico: That's Donald Trump—who launched his campaign last year by calling Mexican immigrants drug dealers and rapists—and Mexican President Enrique Peña Nieto, whose approval rating is 23 percent. The two met this afternoon in a seemingly last-minute decision that seemed calculated to make both of them appear more statesmanlike. The meeting went smoothly, with Peña Nieto asserting the need for the U.S. to respect Mexico but declining to chastise Trump for his past comments. As for the infamous wall Trump planned to make Mexico pay for, the politicians didn't discuss it but Peña Nieto says he made clear his country won't pay for it.
A Leader Steps Down: The Brazilian Senate voted today to impeach President Dilma Rousseff over accusations that she concealed the country's financial problems during her re-election campaign in 2014. Vice President Michael Temer, who has served as interim president since May, has been sworn in to replace her and will finish out her term, which ends in 2018. Rousseff, who has denied any wrongdoing all along, has vowed to appeal the decision.
Conflict in Colombia: After decades of violence, a formal ceasefire between the Colombian government and the Revolutionary Armed Forces of Colombia went into effect this week. The agreement marks a new era of peace for the nation—but, argues Daniel Lansberg-Rodríguez, it could also mean the start of a new kind of conflict, as FARC leaders face the challenge of working with their former enemies.
---
Snapshot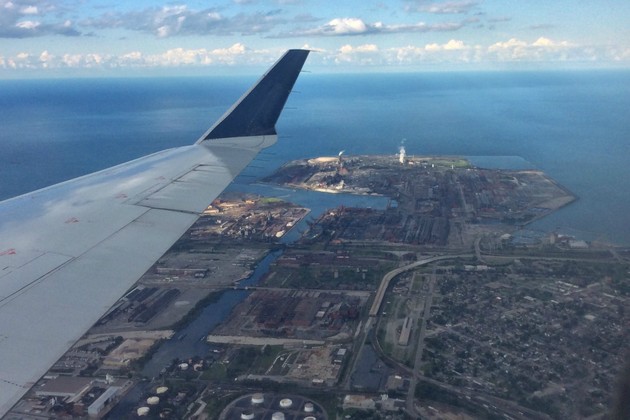 ---
Quoted
"I have a patient who reported coming in for a broken limb ... and being sent out of the emergency room because the doctors determined they were trans—which is entirely unrelated to the situation." —Joshua Safer, a doctor who specializes in transgender medicine
"When we look at these rocks, we're getting a wonderful, fortuitous snapshot of a very ancient time." —Allen Nutman, a geologist, on the world's oldest fossils: 3.7-billion-year-old bacterial structures
"A day doesn't go by that I don't see people come in with Q-tip-related injuries." —Jennifer Derebery, an inner-ear specialist
---
Evening Read
Robert O'Connell on the Boston Red Sox slugger David Ortiz, who's announced his retirement after 20 seasons:
At the plate, Ortiz is a hulking, happy presence, the mean rhythm in his bat offset by a lightness in his face, a smile that never quite leaves. Standing in the left-handed batter's box, he looks like a monument to himself, round torso and trunks for limbs. His swing is an expert sweep, which discerns type and location of pitch with impossible precision. It is honed and spectacular.

All of baseball's nuance disappears when Ortiz hits. He tries to do only one thing: send the pitch over the wall. He's good enough at this that his appearances over the course of a game amount to seismic events. Things can look entirely different after Ortiz has done his work than they did before. Deficits turn to leads, close games to blowouts, worry to celebration.
Continue reading here, as O'Connell considers the ghosts in Ortiz's past, and what his legacy might be.
---
What Do You Know?
1. _____________ hurricanes have hit Hawaii since 1949.
Scroll down for the answer, or find it here.
2. Between 2007 and 2013, the number of U.S. teens having unprotected sex decreased by ____________.
Scroll down for the answer, or find it here.
3. To attract women to the Jamestown Colony in 17th-century America, the Virginia Company offered them clothes, furnishings, land, and free transportation from England—for which the women's prospective husbands reimbursed the company with ____________.
Scroll down for the answer, or find it here.
---
Reader Response
Does the University of Chicago's statement that it won't tolerate trigger warnings misunderstand their use? An alumna—who now teaches in a college setting—reacts:
I wholeheartedly support the basic idea that universities ought to have a strong, unflinching commitment to academic freedom of speech, and I think numerous institutions have dangerously compromised that ideal recently.

That said, I use trigger warnings periodically on syllabi. ... For me, it always seemed to be common sense that when you find yourself, say, assigning a graphic description of rape, you might give your students a heads-up, during the prior class meeting, concerning what they are about to read. … The point of giving due warning, for me, is not to silence debate but rather to prepare people so that they can (hopefully) move beyond their understandable initial reactions of shock, horror, disgust, and trauma and enter into an intellectual discussion of the materials and questions at hand.
---
Verbs
Lips read, Trump taught, Marianne multiplied, Instagrams enlarged, technology listens, Mr. Rogers lives on.
---