The Atlantic Daily: The Russian Connection, Milwaukee Burning, Living With Fear
Trump's campaign manager accepted $12.7 million from a pro-Russian politician, a shooting in Milwaukee led to violent protests, nations accepted terrorism as a constant threat, and more.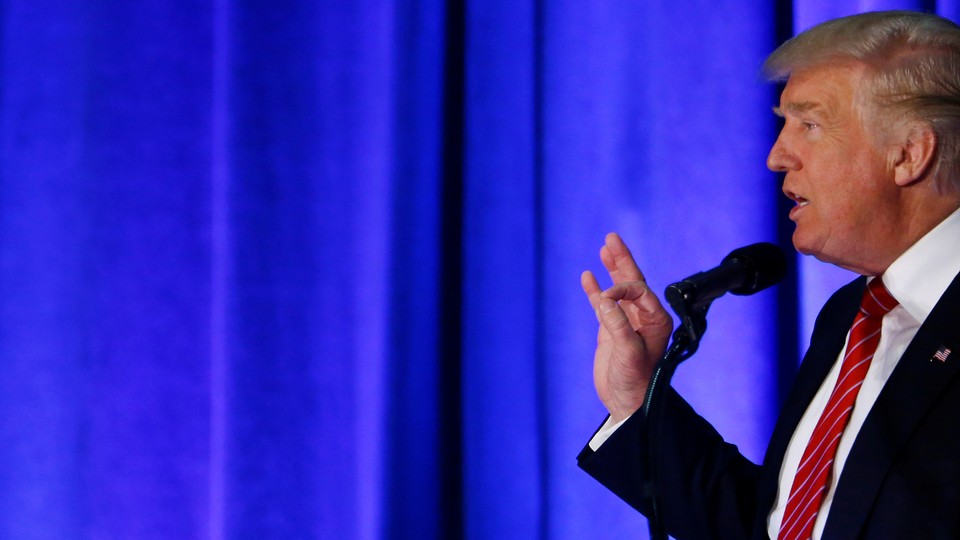 What We're Following
Trump's Russian Connection: Just how closely is Paul Manafort, Donald Trump's campaign manager, tied to Vladimir Putin? Over the weekend, the New York Times reported that Manafort received $12.7 million in secret payments from a pro-Russian political party in Ukraine. The news broke on the eve of a foreign-policy speech from Trump, in which he made vague revisions to his proposed immigration ban and blustered about Iraq's oil.
Violence in Wisconsin: Protests in Milwaukee over the officer-involved shooting death of a black man, who was armed and running away from police, turned violent on Saturday night as crowds threw rocks and set fire to buildings. In the aftermath, Milwaukee's police chief said an investigation would take place, and readers debated the causes of both the shooting and the protests and rioting that followed.
Fear Itself: There's no way for the U.S. to stop every terror attack, argues libertarian journalist Katherine Mangu-Ward, and the considerable funds the government has devoted to national security could be better spent improving citizens' lives in other ways. Around the world, governments from France to Israel are taking a similar stance, seeing terrorism not as an existential threat to be stamped out at all costs, but simply as a danger to be dealt with. Like learning to live with the threat of hurricanes or traffic fatalities, learning to live with terrorism allows countries to develop better systems for prevention and recovery—and in the long run, that lessens terrorists' power.
What we covered this weekend: America's love of bank robbers, Cambodia's child boxers, Snapchat's racism problem, Trump's and Clinton's Southern strategies, and Trump's perfect match.
---
Meanwhile, in Rio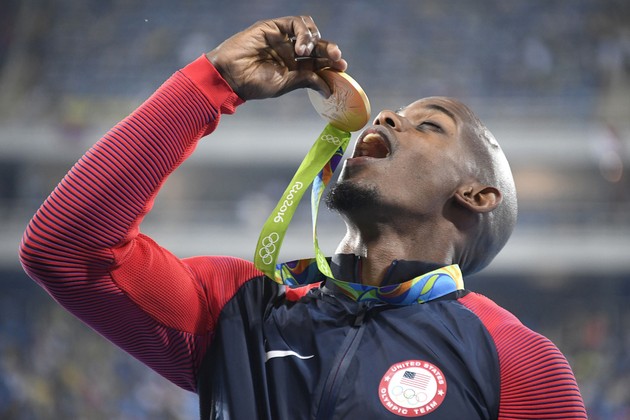 ---
Quoted: The What-Not-to-Do Edition
Keep it legal: "If our clients were doing what the police are doing, it'd be called robbery." —James King, a public defender in Washington, D.C., on property seizures
Keep on track: "You don't just go up to a random mountain and start digging. You go up to the ones that are most promising." —Martin Elvis, an astronomer, on the search for natural resources in space
Keep it real: "What you don't see from Chevrolet is a lot of CGI wizbangery. We are about real things. But it has to be dramatic!" —Steve Majoros, the marketing director of Chevrolet, on the company's ads
---
Evening Read
Ian MacDougall on the espionage case that lost the space race:
On January 2, [1957, Jack] Nickerson had spent the morning  in an interrogation room lying to [Army inspector general David] Ogden. At 41, Nickerson had the owlish and benign look of a small-town schoolteacher—tall and lanky with round tinted eyeglasses and a gently receding hairline. When Ogden passed him the leaked document, Nickerson hesitated, then prevaricated.

"It may well have been transmitted to the enemy," Ogden told him. "Whoever wrote it might find himself charged with espionage."

Nickerson was befuddled: "How could that possibly be true?"

"You will find out," Ogden said. Ogden had other interrogations scheduled, and Nickerson agreed to report back at 3 o'clock that afternoon.

Three o'clock came and went. Nickerson didn't show. Casual passersby never ambled down the Nickerson family's rustic road. In one direction, it dead-ended at the arsenal's bombing range, and in the other, it ran into the reservoir, where a military-police boat patrol was stationed. So Nickerson knew what to expect when he heard unannounced visitors at his door. An M.P. burst into the house and put him under arrest.
Continue reading here.
---
What Do You Know?
1. In 2014-2015, international students from ____________ brought $9.8 billion into the U.S. economy through their tuition and fees.
(Scroll down for the answer, or find it here.)
2. SPF 30 sunscreen is ____________ percent more protective than SPF 15.
(Scroll down for the answer, or find it here.)
3. Though 4.6 percent of American construction workers nationwide are unemployed, they're doing much better in the state of ____________, where the industry's unemployment rate is only 2.4 percent.
(Scroll down for the answer, or find it here.)
---
Reader Response
What's driving gentrification in Portland, Oregon? A reader writes:
I lived in Portland in the 1970s and have a child who lives there now. Urban renewal was not motivated by race; it was motivated by money. If you lived in a cute or interesting neighborhood and someone with more money came along and wanted to live there too, they got to stay and you had to go.

I had to leave Portland because I did not have the money or the job to stay. I had lived there for four years. The first year I lived within six blocks of the medical school, but by my last year of living in "Portland," I lived in Tigard. I could have either lived in Tigard or I could have lived in Gresham. I was not pushed out of the downtown area because of my race; I was pushed out because of money.
Read more here. If you're a Portland resident with thoughts or stories to share, let us know.
---
Track of the Day
What's your favorite music to work to? Reader Christopher recommends a track by Dosh, an electronic musician based in Minneapolis—and also the sound of Wikipedia edits. Listen here, and send us your own recommendations via hello@theatlantic.com.
---
Look Back
On this day in 1771, the Scottish writer Sir Walter Scott was born. As one Atlantic critic wrote, with his sweeping historical romances, "he took a whole century and packed it full of living people" (September 1880 issue).  Immensely popular as both a poet and a novelist, Scott "attacked the public twice over … and tackled it both times easily" (November 1904). Meanwhile, in his journals, he displayed "a fine dignity as of a man who had a serene consciousness of his own worth, social and personal, which needed no demonstration to himself or to others" (February 1891).
---
Verbs
Weiner catfished, chicken prices investigated, tortoises reviewed, stolen antlers returned.
---